Your questions answered!


Read the answers to the most commonly asked Neopets questions this week in the Editorial section. Each week the most popular questions will be answered by one of the creators of Neopets, so keep checking back to stay updated.


---
Quote of the Week
The world stayed the same, but constantly changed. It was slow, but steadily moving forward, or backwards, or in every direction all at once.
---
| | |
| --- | --- |
| Happy New Year Neopians! Y19 was an amazing year filled with new games, new avatars, a Charity Corner, Games Master Challenge and even a new plot. And, Y20 is expected to be even more awesome! I can't wait to see what Y20 has in store for Neopians. Here are 10 tips to make Y20 the best ever! Set Goals For The Year My favorite New Year's tradition is resolutions. The new year is full of possibilities and is an awesome opportunity to improve yourself and your Neopets. What better way to start the year than to challenge yourself and set new goals! Whether it be obtaining a new avatar, building your gallery, winning a trophy (or two), or putting together that perfect customization—you can do it! The best way to keep a resolution is to set smaller goals within a larger goal, keep track of your progress and have fun! | Choosing a paint brush to paint your Neopet can be a difficult and expensive choice (brushes can cost several million NPs!), and not every Paint Brush is available for every pet. Some paint brushes come with accessories and clothes, which you may want to take into consideration while choosing new colours. For example, the Relic Peophin looks quite subtle and perhaps even dull. So when it came to painting my own Peophin, I chose to Paint my Peophin with a Royal Paint Brush and a Mystery Island Paint Brush. These two Paint Brushes gave me the clothes and accessories saved to my closet. I then Painted my Peophin with a Relic Paint Brush – my Relic Peophin now has some Royal Peophin and Mystery Island accessories to make it more exciting. Of course, not everyone wants to spend the NPs on several Paint Brushes for the single Neopet. |
Best NC Items of 2017




Given the new year I wanted to take the time to discuss my favorite NC items of 2017. Now there were so many items to choose from, so I got to admit it was pretty hard to come up with such a limited list. I tried to add a variety of different items but I feel my bias has come out a little bit. I tend to like backgrounds the most of any other NC items…But here it is! My top 10 items of 2017! (Please note: This list is just my personal opinion!)
---
Other Stories
"Edimira's Plushie Picnic" by alvissofcaldia
Sitting on an Antique Four Poster Bed (which was set next to the wall) was a female Faerie Xweetok who had just woke up to the sun shining through her hotel bedroom's window. The Xweetok yawned and stretched her arms, she glanced around and noticed that her favourite plushie – a Lilian Fairweather Plushie had fallen from her bed. "Tsk, tsk, Lilian! You'll get hurt if you keep falling off like that. Maybe I should make you your own bed someday" she scolded the plushie who just looked at her with a smile. "I know, I can't be mad at you as you are my absolute favourite plush" the Xweetok exclaimed and hugged her plushie tight and looked around her room. A Purple Wardrobe was seen on the opposite side, full of her favourite Xweetok clothes. On top of the Purple Wardrobe was a: Baby Xweetok Plushie, Faerie Xweetok Plushie, Cloud Xweetok Plushie, Mutant Xweetok Plushie, White Xweetok Plushie, Cherub Xweetok Plushie, Borovan Time Xweetok Plushie and an Orange Xweetok Plushie. Near the window, was an Elegant Wooden Desk – which had a Faerie Desk Lamp, Pretty Fyora Potted Flowers, Electric Notepad and a Basic Pencil. Next to the desk was a Deluxe Canopy Petpet Bed, which belonged to an Ona named Magic who was currently sleeping in it.
"Leave Your Preconceptions at the Door" by racoon188
Val walked distractedly through the library, flipping pages and muttering to himself. "No, surely it was in this volume. I could have..." THUMP! Val knocked over a side table again. "Sorry," he said without looking up. He skirted around the table. "Val, at least pick it up if you're going to knock it over!" Pegs cried, exasperated. "Or, you know, sit down when you're reading?" Val paused. "Did you say something?" Pegs sighed dramatically. "Just shouting at the wind. Did you find that reference yet?" "No!" Val snapped the book shut and sat down. "I was certain I read it in Volume 2, but it could have been...well, anyway, it's somewhere in the Tomes of Vyssa." Pegs' chair creaked as he sat down. "Well, one fragment of one shard of one vase isn't going to get us very far without any reference material, chap." "Sherd," Val corrected automatically, lost in thought. "Beg pardon?" The Gelert looked up, but didn't seem to really be looking at his companion. "Potsherd. Glass has shards, pots have sherds." "Right." Academic distinctions were not Pegs' priority. That's where Val came in. "At any rate, isn't there anything to go on?" he asked, gesturing at the table in front of them. "Mmm." Val looked down at the 'sherd' in front of them. Pegs had found it on his last trip to Sakhmet.
"Hitomi the Witch:Part Eight" by downrightdude
PART EIGHT: WON'T YOU DO THE HONOURABLE THING FOR ONCE? "Are you really a wizard, Kyuske?" Hitomi gasped. "Does this mean you can poof us up some cupcakes?" asked Erika. Kyuske shook his head. "I have yet to receive access to my powers. I've actually been waiting for the past four years, but unfortunately, nothing has happened yet." He sighed. "The only thing I've been able to do is use my sword-fighting skills to combat any evil witches I encounter—I can sense their presences, yet I've always been unsuccessful with defeating them since they can wield their magic towards me." "What about their victims?" Hitomi asked. "Do they lose their Spell Charms?" "I'm afraid so. And they're willing to give them up in exchange for their own safety," Kyuske explained solemnly. He turned to Hitomi and added, "I apologize for arriving too late to assist you. The day of your coronation was the same day I returned to Shenkuu. If I had been able to warn you…" Hitomi placed a hand on his shoulder. "It will be okay, Kyuske. After all, it's not like any of us could have predicted Kirara's actions." She nodded firmly. "The only things we can do now are continue with our lives and push forward." Kyuske shook his head. "Kirara will most definitely strike again," he insisted, "and her next attack will be far more unpredictable and reckless.
---
Feeling Friendly?


This week's issue is brought to you by: The Money Tree
Search the Neopian Times


---
Great stories!
---------
---------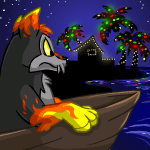 Elaine's Expedition
The sky was on fire.

There was no denying that the sunsets from the dock of her home on Krawk Island were beautiful. Tonight's display was a mix of pastel oranges and vibrant pinks – a view that could not be captured in a picture.

Also by afsheen_27



by milkshakes004
---------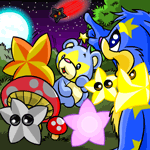 Becoming A Superstar!
Maybe you have been lusting after fame for years, maybe since you were born, or maybe it is just a new fascination that you have. No matter how long you have been wanting to be known worldwide, I can help you achieve your superstar dreams.

by randmar
---------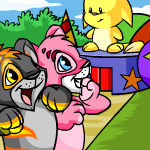 Running A Toy Shop!
You've been sitting around for months now, trying to figure out the most lucrative way to make a ton of money while also doing something you find enjoyable. That's the Neopian dream, isn't it?

Also by beanlein and hawkydreamerz



by imcatcrazy11
---------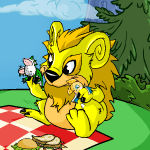 Edimira's Plushie Picnic
Sitting on an Antique Four Poster Bed (which was set next to the wall) was a female Faerie Xweetok who had just woke up to the sun shining through her hotel bedroom's window.

by alvissofcaldia
---