Your questions answered!


Read the answers to the most commonly asked Neopets questions this week in the Editorial section. Each week the most popular questions will be answered by one of the creators of Neopets, so keep checking back to stay updated.


---
Quote of the Week
After all you are a very magical girl...
---
| | |
| --- | --- |
| We've all had it happen. You start playing Volcano Run II. You get to your best distance ever, and then something always goes wrong. A fireball goes way higher than you'd think, a rock moves faster than you'd expect, your finger slips on the mouse, and all of a sudden, Glubgar's on fire and you're down a life and really, really bitter about it. Will you ever get that avatar? I think you can! With a bit (okay, a lot) of patience and some luck, almost anyone can get the avatar. I thought it'd be almost impossible when I first started, but now I have a gold trophy! This is my first-ever guide, but I hope it will be helpful to any Neopians struggling to obtain the elusive Volcano Run avatar. | War is nothing new to the world of Neopia, from the Lost Desert to the current conflict of the Obelisk, Neopians are familiar. But unlike other wars, which have come certainly, if slowly, to a close, one conflict has outlasted them all, and been largely ignored by the.. larger inhabitants of Neopia. I'm speaking of course, of the Cooty War, in which the Petpetpet, Cooty, is rebelling against their (as they see them) "oppressive overlords", the Mootix. I'm here today on the frontlines.. which happens to be a couch in a rather cozy neohome, watching the battle unfold on the back of a Warf. I've managed to secure interviews with participants from both sides to bring you all you need to know on this age's long clash. |
Character Backstories and Backgrounds: The Sway




In Year 15 a mysterious league emerged from the shadows to claim the power of the newly discovered Obelisk, the Sway. A league that has managed to strike fear into many Neopians' hearts. The Sway has always been a clandestine society, with such a great number of skilled in battle, clever and resourceful members that no one would dare try to arrest them or deceive them. Yet, despite their secrecy, drawing information from the organization itself is possible.
---
Other Stories
"The Cryptid Club Files: The Jubsquatch" by broadway_bby
"A … a Jubsquatch?" Katy the white Shoyru stared incredulously at her best friend. Maud, unfazed by Katy's apparent disbelief, beamed back at her. "Oh yes, I'm quite sure of it. There's no other logical explanation. I even have proof!" It was Maud and Katy's first official Cryptid Club meeting. Because the principal had not approved their club form, however, they were forced to squeeze club time into their study hall block. Ever since they were little, Maud had always been a conspiracy enthusiast. From investigating a society of Grundos living in the sewers under their quiet neighborhood, to suspecting the flower shop attendant was involved in a Tigersquash-themed cult, Katy had heard it all. This was the first time, however, that Maud had claimed to have some sort of tangible proof other than a gut feeling. The plushie Cybunny rifled through her backpack and produced a large, white envelope. Inside, there was a thick stack of developed pictures, held together by an old crisp bag clip. Maud set them down on Katy's desk with a flourish. "Feast your eyes!" Tentatively, Katy picked up the incriminating evidence and removed the crisp clip. The pictures in question were snapshots of a muddy field, though the shattered gnomes and ceramic Slorg statues suggested that they were, in fact, pictures of a former vegetable garden. The plot had been decimated of all edible greenery, save a few wilting potato plants. Among the holes and fallen plants, a large imprint could be seen. If you squinted at it, it could maybe look like a foot print. Katy looked back at Maud.
"Something is not what it seems... " by tyranosaurus_rampage
Echo was a young Cybunny. He had long, floppy ears and a cute little ball of fluff for a tail. He had bright blue eyes, and cute little paws to match. Echo was a baby Cybunny, although he was almost a year old. Echo had decided one day to paint himself the color baby, but ever since that day, he's been teased because of it. Echo decided one day that he wanted to show everyone that just because he was different in so many ways, didn't mean he wasn't brave or strong. He was going to go straight to the Haunted Woods. His parents had always stressed to him the dangers of the woods because of the legend of the Werelupe that claimed the woods as his own. Echo just saw it as an attempt of keeping him away from the Haunted Woods. Not today. Today was the day that Echo was going to go and find this Werelupe. So without hesitation, Echo grabbed his favourite Blue Cybunny Backpack, packed some essentials like food and water, and headed out to start his adventure. Lucky for him, he already lived close to the Haunted Woods. There were quite a few things that Echo had instantly regretted, but this to him was a quest to prove that he was a tough and brave bunny. He wanted to be recognised as the one to fight against this Werelupe, even if he thought it was fake. He came up to what looked like acres of overgrowth, and large metal gates that blocked his entry. They had rust all over them. On closer inspection, Echo could see the gates could be pushed open. So with all his might, Echo pushed as hard as he could to open them. It was no use. Being so tiny, he could only open the gates so much.
"Clara Chatham Shenkuu Plot" by restisunwritten
S PART 1: Clara Chatham arrives at the Lunar Temple Some Background: Clara Chatham is a Neopian stock character from the Atlas of the Ancients plot where Moltara was discovered for the first time (reference: Neopedia or the Jellyneo Book of Ancients). Inventory: A scribbled address on parchment, carry-on luggage, old watch, sketchbook/journal Clara Chatham looked to and from her map, her surroundings, any street signs in Shenkuuvian script, and the address scribbled onto a small piece of Brightvale parchment as she dragged her luggage behind her. The Brightvale-born Wocky with strikingly long limbs and shoulder-length hair frowned as the path that she had been following came to a dead-end. Before her stretched a frighteningly long flight of steps that wound its way up to the Lunar Temple at the top of the mountain. There was Oriental filigree along the stair railing. Clue #1: Taking a closer look at the carvings beside her, Clara notices some kind of repeating pattern. The phrase, "月亮代表我的心", is repeated several times on the wooden railing, its golden characters glinting under the sunlight. Clara quickly copies the characters into her journal, trying to remember what she learned at Brightvale University about proper stroke order. Maybe she can find out what that phrase is saying. Who knows when and/or where it might come in handy. Inhabitants that passed by cast curious glances at her Brightvale clothing, or maybe even the way in which she carried herself. She was tired, having just returned from a short trip to Brightvale in order to visit old friends. Her parents had moved from Brightvale to Shenkuu when she was very young.
---
Got Food?


This week's issue is brought to you by: Food Shop
Search the Neopian Times


---
Great stories!
---------
---------
---------
---------
---------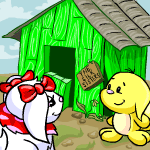 My Childhood Neohome: Part Three
The walls were a soft grey and the carpet was plushy and warm beneath their feet. Three windows lined one wall, allowing the room to be lit with natural light during the day.

by jillcrash
---