Your questions answered!


Read the answers to the most commonly asked Neopets questions this week in the Editorial section. Each week the most popular questions will be answered by one of the creators of Neopets, so keep checking back to stay updated.


---
Quote of the Week
I've become who I'm supposed to be. I may not remember my past, but letting go is the key to being comfortable in my own skin. I glance down at my reflection in the moonlight and feel proud of who I am for the first time in my life. Embarking on this journey was worth it in the end to have been able to flourish into a beautiful Grey Kacheek. It's true that when people look at me, they may see a sad face. What they don't know is that I'm happier on the inside than I ever imagined I could be.
---
| | |
| --- | --- |
| And every year at the end of July, Neopians gather to celebrate the arrival of Rukis. These pets are mostly sweet and nurturing, though some have a shady side as you'll see in a bit, and typically have a big smile under their kind eyes. There are hundreds of items out there to celebrate this insect-like pet, but today I'm going to give you a top five list on the BEST Ruki items out there, while also giving you a little background on each item! | Meridell has had a tormented history filled with famine and curses and everything in between, but today all seems to be mostly well with the land. But we're not going to focus on the bad parts, no, today is about celebration. And to celebrate I wanted to talk to you about the best games Meridell has in its land, games you can play today to get yourself feeling festive! |
Style Guide: Ruki Day




Ladies and gentlemen, welcome to this week's edition of Style Guide. This week, break out the streamers and cake, because July 29th is Ruki Day! Ruki's all around Neopia and their owners have been waiting an entire year to celebrate this spectacular pet. And what better way to celebrate than dressing up for the occasion? Neopia voted, and here we are to bring you the top ten wearable items made exclusively for the Ruki!
---
Other Stories
"The Lightmite's Message" by moonrabbitprincess
I open my eyes. Glowing bulbs of light spot my vision while I lie motionless in the grass. As I begin to gain consciousness I see that there are what must be thousands of Lightmites swirling above my head. Their luminous glow warms me to the core. Somehow, I am filled with a familiar feeling of home. The dazzlingly display is briefly lived as I realize that I have no memory of coming to the Haunted Woods. How did I get here and why did I come? I look up at an ancient tree towering above me in a dark, moonlit clearing. This isn't my home but it's so similar to what I've known my entire life; and although I want to feel at ease, something isn't the same as before. I feel heavy – as if moving even an inch would be an impossible feat. I look down at myself, feeling my mouth drop open in utter disbelief. My sense of heaviness is quickly replaced with a rush of adrenaline. Dashing as quickly as I can to the nearby lake, I look down at my reflection in the moonlight. To my surprise, the flustered face of a Faerie Kacheek stares back at me. "This is… this is impossible." I stutter to myself. I need to calm down and try to remember how I got here in the first place. The last thing that comes to mind is… Nothing. Not one memory comes to mind as I stand here alone, shivers rolling down my spine. What a strange and dizzying feeling to recall nothing of the past. All I can be sure of right now is that the reflection looking back at me is completely new. I've never felt this way; and while these woods are uncannily familiar, I know for a fact I've not visited the Haunted Woods before. So why would I suddenly appear here with not one single memory to help guide me to safety? Soon after I muster up the courage to begin walking, I trip over a root and accidentally let out a small yelp as my arm collides with a tree stump. A Werhond howls off in the distance; a reminder that I need to be very careful. Feeling helpless and confused, I eventually curl up under a tree to sleep in hopes that I will wake up returned to normal. A few hours later I am awoken by pounding rain which quickly jolts me back to reality.
"Journey to the Ruins" by therainbowsheep
He loved his sister dearly, but much to his dismay, she had uncharted levels of energy and a unique knack for finding trouble. While their mother had insisted that the city trip to run errands would be simple and a wonderful opportunity for the two siblings to spend quality time together, Ramo knew that nothing related to Serpiane was ever just simple. "It's just kelp, Serpi," he grinned in spite of himself and tugged her back onto the cobbled path. "We have that at home too, you know." "I know," Serpi grumbled in response. "Who do you think mom recruits to weed the garden? It's definitely not you. The kind near our home is all green and brown kelp though - it's nothing like this. This is much prettier!" Ramo rolled his eyes fondly and generously skipped a lecture on the history of Maraquan kelps that he had ready on the tip of his tongue. Though genuinely interested in learning, Serpi didn't have the attention span for an impromptu science lesson. Instead, he pulled out a list from his explorer backpack, a wearable that Serpi was forever teasing him about since she claimed he didn't have a single adventurous or exploratory scale on his shell. "First stop will be Collectable Sea Shells," he announced. "Mom needs to replace the purple spiral shell in her collection since a certain someone accidently broke it. And then Maraquan Neohomes. We need to buy a few pieces of fence to mend the section that's broken. I promised I would help with that, it's been in pieces forever." "The operative word there is accidently - you know I didn't mean to! I was reaching for my book and I knocked it over by mistake. I'm going to replace it with last week's allowance," Serpi sheepishly waved a small, worn bag of Neopoints in Ramo's face. "And I'll help with the fence too, I promise." "Give me that," Ramo chided, grabbing the bag of Neopoints and carefully depositing it in his backpack. "Icy Skeletons and Mutant Kadoaties do pass through Maraqua, you know. The last thing we need is for you to lose your replacement shell fund so please be mindful, okay?"
"Faerieland Folly" by wellthatsfantastic
The day dawned bright and sunny. Not a single cloud lingered in the sky as Prince_Hailstorm, known mainly as Hail to is friends, soared above Terror Mountain. The sun couldn't chase the slight chill from the air but Hail as an ice draik paid it no mind. He was too excited anyways. He was meeting a friend in Faeriland today to try his hand at Poogle Racing and that meant he could stop in at his favorite bookshop Faerieland Bookshop. He usually avoided it on his trips to the land because his other friends weren't book snobs and he didn't want to bore them. Stevens40, a shadow Xweetok he met a few months ago, shared the same love for books that Hail did so he had no problems dragging him into the store. Hail banked left and swooped down to land on the grassy knoll outside of Faerieland. Stevens was sprawled across the ground, book in hand, soaking in the sunlight. The Xweetok looked up at the ice draik. He gave him a lazy smile. "Are we ready for today?" Hail smiled back and nodded. "Oh yeah. Not a cloud around, homework is done, and I've got Neopoints to spend." Stevens tucked his book away in the bag he was carrying and rolled to his feet. "Well then, far be it for me to hold you back." He said and the duo started walking towards the gates to the city. They nodded to the kind Faerie pteri sitting outside the gate and made their way into the city. Neopets of all species and color were lined up at the Healing Springs to get healed and the Hail waved at a darigan techo with his arm in a sling and turned to say something to Stevens before realizing the shadow Xweetok wasn't walking beside him anymore. "Stevens?" Hail asked and noticed his friend's gaze on the Wheel of Excitement. "Ahh!" He said and gripped the Xweetok by the shoulder, dragging him good naturally towards the giant wheel. "Let's give it a spin!" "Are you sure? I always seem to get rubbish when I spin the wheel." Stevens asked but Hail noticed his eyes light up. Stevens paid the light Faerie 500 NP and gave the wheel a sharp tug.
---
Can't We All Use A Little Luck?


This week's issue is brought to you by: Coltzan's Shrine
Search the Neopian Times


---
Great stories!
---------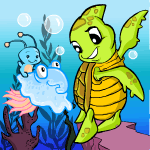 Journey to the Ruins
While their mother had insisted that the city trip to run errands would be simple and a wonderful opportunity for the two siblings to spend quality time together, Ramo knew that nothing related to Serpiane was ever just simple.

Also by _lindsayyy



by therainbowsheep
---------
---------
---------
---------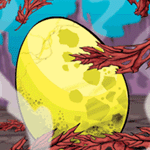 To Hatch a Sibling
"No, of course not. I just found it lying on a beach one day, eye patch and all," Nyx stated, hugging the Pirate Draik egg close to her chest.

by almightynyx
---