Your questions answered!


Read the answers to the most commonly asked Neopets questions this week in the Editorial section. Each week the most popular questions will be answered by one of the creators of Neopets, so keep checking back to stay updated.


---
Quote of the Week
No, you don't go mad all at once. You go mad one zap at a time.
---
| | |
| --- | --- |
| This year's annual Altador Cup is long over, but that hasn't stopped many Neopets and their owners from extending their vacation in the tourism capital of Neopia. (Wait, is that us or Neopia Central? I can never remember.) For anyone who wants a completely free tour of Altador, you've come to the right place! We have so much to offer besides the Cup. | Things aren't slowing down any at the Battleground of the Obelisk: regularly your faction leader calls on you for assistance defeating rivals, but you are also hearing whispers of an even greater battle… Could a war plot be on the horizon? If so here are a few tips on getting fighting fit and upgrading your equipment. |
Perfect Beach Vacation




Summer is at its peak here in Neopia, the days are hot and the sun is shining, it's the perfect time to hit the beach and catch some rays! But what is the best way to go about doing this? There are so many options and different factors that play into how to have the maximum amount of fun this summer at the beach, but there aren't really many definitive guides on the best way to do it.
---
Other Stories
"The Scientist" by zurohana
The Usul snatched the box from his grasp. "I'll decide what's my business, thank you very much." He turned the box over in his hands, running his paws over the text. "What is this? Some kind of chemicals? What do you want with chemicals, weirdo?" Some of the other Neopets giggled, peering over the Usul's shoulder to look at the gift. "It's a chemistry set," the Scorchio said. "That's different. And give it back." The Usul didn't listen, shaking the box as if to see if anything was hidden inside. But no sound emerged—the glass was seemingly tightly packed. "No thanks. I think I'll take it for myself." He began to turn, but the Scorchio interrupted. He could feel his face turning red. "Give it back." With a smirk, the Usul displayed the box above his head. "Nah. Don't think so." "It's mine, and you'd better give it back." "Or what? You gonna make me give it back, little Scorchio?" That was enough; he felt the rage fill him. The Scorchio stood to his full height and flared his nostrils. Steam poured out in lazy swirls. "Yeah, I'll make you. You know the reason they gave me the chemistry set, and not you? It's because I know all sorts of things about chemicals. Yeah. It doesn't take much, you know?" The other Neopets were backing away now. His voice was lower than normal, and his eyes were bulging in his small head. "Just a few things is all I need to get you, when you least expect it, and then you'll come running back and you'll—" and here his voice cracked "—you'll regret every trying to take anything from me." He felt his lips spread in a mad grin. Quickly, the Usul set down the chemistry set. His hands were shaking and his tail was tucked. "You could've just asked nicely," he said, backing away. The other Neopets had already fled. "I don't want your weird chemistry set. Don't want it at all." The Scorchio lunged forward to grab the toy and dragged it behind him as he walked toward his bed. "Good," he said, never taking his eyes off the scared Usul. "It's mine."
"The Sun and the Moon" by hshtagcoffee
There are a lot of things he'd always assumed would disappear from his life once…well, once his life itself disappeared. Or, really, what his life was before because he's still here even after it's been long gone. The time that they very cautiously only refer to as 'before' and nothing else. His entire family all have 'before's too, like some sort of misfit tradition, but his is entirely different in nature than his brothers'. They've always been the way that they are, odd and spooky and subject to unwarranted assumptions, both pets' and owners' alike. What they know now is what they've always known and being that they've always been them, even in the before, they knew inherently what did and didn't ring true in those assumptions. Not him. In his before, it was him making the assumptions. The him before and the him now, they don't feel like the same pet. It feels like an eternity ago even though it's hardly been that long at all. Sometimes the him before feels like someone else he knows too well from the recollection of a third party. It's as if he's a ghost of the him before but to be fair, being a literal ghost probably does that to a guy. To be honest, he couldn't tell you how much time has passed since then. Since he blinked and was suddenly someone else entirely. In a lot of ways, he's stopped feeling the need to count. The present becomes less and less an unwanted disruption to the time before as life…death(?) goes on. Still, he feels horrible when he thinks about all the things he use to 'know'. They weren't the obvious facts he thought them to be. He'd even go as far to say that they were willful ignorance, although that phrasing sounds more like his brother than himself. The him from before might have felt like someone else, but it was still him. He'd made the assumptions. He'd accepted judgement from others as truth. He'd been the one who had to learn and unlearn from old mistakes.
"A Gift from the Heart" by pale_baron
He watched as the wind gently combed the grass fields under the feet of wooden and concrete houses but inspiration did not come to him. "What should I get her?" He thought. "I've given her just about everything good that I can think of. There was that dress last year and the book I gave her the year before that. I could give her something similar if only it wasn't this occasion." It was Valerie's 16th birthday and he perfectly understood that he had to get her something special. In his words, "It won't do to give her a gift that I've already given. It must be new and unique!" Yesterday, when he was going home from school, he overheard some girls talking about what they were getting for the birthday girl. Michael was only paying half attention but he was able to make out the words, 'her favorite album' and 'the book she's been excited to read.' It made him think about the other guests and what possible gifts they might bring. He made his way through the commercial district when something caught his attention. Behind the glass panel of a shop displayed a velvety scarf that matched Valerie's eyes. Red was also the Cybunny's favorite color and there could be no better gift but his hopes were dashed off in a moment when he looked at the price tag. "It's that much for a tiny piece of cloth!?" He said. His paws and cheeks were pressed against the glass when the owner caught him fogging up the store front and complaining about the price. The Gnorbu pushed the curtain aside and said, "It wouldn't match you anyway, sir." The cheeky shopkeeper turned his nose up and walked away. "Neither would it match you!" Michael added before he continued his way. Since then he couldn't come up with anything else. And despite having stayed at his window for three hours, the Wocky refused to move until a bright idea saved him from his dilemma. The sun had hidden itself behind clouds and children were coming out to play under its shadow. Among them were some of his classmates who enjoyed the game of Gormball. They tried inviting him to play but he insistently declined.
---
Search the Neopian Times


---
Great stories!
---------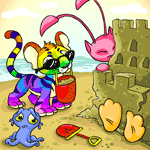 The Perfect Beach Vacation
Summer is at its peak here in Neopia, the days are hot and the sun is shining, it's the perfect time to hit the beach and catch some rays! But what is the best way to go about doing this?

by lefaii
---------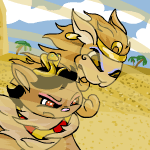 Bledynn and Vera
Sand stung his eyes as he pushed forward, shielding his face in the crook of his elbow, left hand placed carefully on the hilt of his sword. In between breaths, he could faintly make out the bone-chilling moans of the undead drifting through the wind.

Also by relocating



by butterflybandage
---------
---------
---------
---