Your questions answered!


Read the answers to the most commonly asked Neopets questions this week in the Editorial section. Each week the most popular questions will be answered by one of the creators of Neopets, so keep checking back to stay updated.


---
Quote of the Week
The coordinates led to a place around the middle of the Lost Desert, so the figure's story matched up so far. Now Sopherie just needed to go there and see if there was actually a tomb at those coordinates. Sopherie got some sleep in the afternoon and waited until it was after dark, then she dressed into her Defender uniform, sans the red cape and her conveniently collapsable breast and shoulder plates, she stuffed both into a black duffel bag along with provisions she was bringing along as she'd be stealthier without them.
---
| | |
| --- | --- |
| I have to admit, I love to scour the Pound Neoboard for people who are advertising the fact that they're downsizing their accounts! What that means is, they're tired of owning pets that they don't truly love, and are seeking sweet new owners to adopt their unwanted pets. I pounce on these threads right away! I'm always on the lookout for my Neofriends' dream pets, and so far I've fulfilled 8 of their dreamies. It's an addiction of mine! | If you or your pet have ever looked at a gross food and wondered who would eat it, I'm here to answer that question. If you haven't ever asked that question, I'm sure you did before deciding to read this article, and yes, I'm still going to answer it. I wanted to try a few gross Neopian foods, so I went shopping, grabbed whatever stood out to me, swallowed my pride, and hoped for the best. |
Throw Together Cooking




Look, I get it. You've got a Can of Prune Juice and about five dozen Green Pepper Omelettes sitting in your inventory, and you wouldn't eat them if your life depended on it. You have no idea how to cook. You spend the majority of your time hanging at the NeoLodge with your pets, mooching off their Neovision and sneaking night swims at the pool.
---
Other Stories
"An Artful Heart" by kittiesthebest
Ever since Kasey Kacheek was a baby, he had always loved the arts. He first visited the art centre at the age of five. Fascinated by the glow of the campfire dancing across the Aishas' faces, he'd listen shyly as they wove fantastic tales of mountains, beasts, and the brave Neopets who conquered them. He'd listen as the Chia paperboy hollered headlines and handed out copies of The Neopian Times. Kasey loved the smell of fresh ink and the fancy typeface, and though he couldn't read very well yet, he traced his paw across the blocks of text and invented his own stories to fill in the gaps. But his favorite attraction was the art gallery. He walked around for what seemed like hours, dragging his mother along by the hand when he spotted something special. Abstract Nimmos, pointillistic landscapes, captivating faerie portraits; it was more than Kasey could ever dream of. It came as no surprise to Mrs. Kacheek when her son begged her to sign him up for art class. On his first day, Kasey put on his favorite green cap, grabbed his red JubJub lunchbox, and swung a pack full of art supplies over his shoulder. His mother walked him to the art centre, where he passed the storytelling circle, the paperboy, and the art gallery before arriving at a room deep in the catacombs. Mr. Blumaroo had a lively spirit, and he had no trouble engaging his class of a dozen children. Everyone was provided an easel and a blank, pristine pad to paint on. "Come to the front of the room for your paints," Mr. Blumaroo instructed. "Today you'll just be painting whatever you want, and then you'll share it with the class." On his way to the table littered with various brushes and bottles of bright paint, Kasey bumped into one of his classmates. This Cybunny looked very different from any he'd even seen. She sported beautiful rainbow stripes , and her furry neck was splotched with random colors, like a fluffy paint palette.
"Finding the Right Place" by sky_lady
It was a pleasant and sunny morning in Meridell. Melanie was lying in her large bed looking through the window while the rays of sunshine were gently touching her face. "Here we go again." Melanie heavily sighed. Melanie, was an adult white Kacheek with brown hair. She was very creative so she was supposed to organize a picnic for her and her friends. It was the end of the Summer and her vacations were almost over. It was the time of the year that Melanie organized a picnic with a different theme and location. She had been doing so for the previous five years. She was the best at organizing their little parties and she was always looking forward to do so. For some reason this year she wasn't quite happy about it, though. She couldn't find inspiration and she was lacking of fun ideas. Lucy was meeting her shortly. "Time to get up and get things done, I guess." Melanie said as she was slowly getting up from her warm bed. She went to the bathroom, grabbed a pink brush and while she was brushing her hair, Melanie looked herself into the mirror. "I'm getting old." she sighed. Melanie got down the stairs and when she was going to the kitchen to prepare her breakfast, the doorbell rang. "Just a minute, please." Melanie shouted as she dragged herself to the door. When she opened the door, a ray of sunshine lighted all the hallway. It was indeed a sunny morning and so it was the perfect day for a picnic. A little Cybunny dressed in a fussy red dress was standing in front of her. "Hey Mel! How are you today?" Lucy asked as she was already hugging Melanie. "Ugh, can't believe you are still on your pajamas!" Lucy complained with a cheerful smile on her face. Lucy was a very friendly yellow Cybunny, with curly brown hair and rosy cheeks. Like all the Cybunnies she was short and very energized. "Hello Lucy. You came earlier than I expected." Melanie babbled, crossing her arms in front of her chest. "Right. Groceries shopping went faster than I expected! I already bought everything for our picnic, I guess I didn't forget anything." Lucy claimed very excited. "Lets see... I bought bread, ham, peanut butter, you love peanut butter, right?" Lucy listed the groceries with a big smile on her face. "I also bought lots of yummy cheese, apple juice, orange juice for Bella, strawberries, blackberries... I may have bought more stuff but I can't recall everything." Lucy finished.
"The World Beyond Meerca Chase" by lunarchronicles
"Game over! Here are your Neopoints!" Alistair grinned until the latest player walked away, carrying a pouch of shiny Neopoints, and then sighed and placed his head in his paws. This was not an easy task for a Meerca, but he managed it somehow. He knew that he should probably should wait for the next player to approach, should make himself look joyful and bouncy and ready to chase some Neggs – but he was extremely tired and dizzy. Who knew that being the front of such a popular game as Meerca Chase could be so exhausting? It wasn't that he didn't like his job, of course, because he did. It was much better than the Blumaroo who had to stand around all day whacking little Kass plushies, and definitely better than his friend, Morris the Mootix, who kept getting parachuted onto the backs of Babaas and Kadoaties. But Alistair couldn't help thinking that there was something more out there, something he was missing. He liked Neggs just fine, but maybe there was more out in Neopia for him… He relaxed back on his tail, letting his feet swing, and picked the remains of a Fish Negg from between his teeth. That restlessness had been coursing through him more and more of late. If he wasn't careful, he was going to be impulsive and do something about it. As he waited, the games room unusually and blessedly quiet for a change, he suddenly spotted a small streak in the sky above him. Something with bright wings and even brighter hair flitted overhead, and then all at once circled back, heading for the games room. Alistair perked up as Helena, one of the light faeries, descended to a stop near him. "Darn it," the Meerca heard her mutter. She stopped to fiddle with one of her wings. "Stupid Esophagor… I'm never going to get that crease out…" She looked up suddenly and noticed that Alistair was looking at her. "Oh. Hi. Sorry." "Hi." Alistair perked up, waddling a few steps closer to the faerie. "Are you all right?" "Yeah, I'm fine." She waved away his concern, and then sighed. "My wing's just got a little bent in the Haunted Woods. I shouldn't have even been there, but I was really craving a Cheese Ghostkersandwich…" Alistair wrinkled his nose. "Why?"
---
Take On Roothless!


This week's issue is brought to you by: AAA's Revenge
Search the Neopian Times


---
Great stories!
---------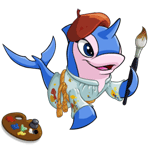 An Artful Heart
Ever since Kasey Kacheek was a baby, he had always loved the arts. He first visited the art centre at the age of five. Fascinated by the glow of the campfire dancing across the Aishas' faces, he'd listen shyly as they wove fantastic tales of mountains, beasts, and the brave Neopets who conquered them.

by kittiesthebest
---------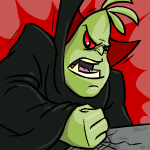 Too Good to be True
Taking a sip of his morning coffee, Dr. Frank Sloth let out a sigh and began his morning ritual of sorting through his mail. A group of pesky Grundos had thought it'd be funny to sign him up to a variety of mailing lists. Even with his vast power and influence, he'd had been so far unsuccessful in stopping it.

Also by bananacheesemonkey96



by tegasaur
---------
---------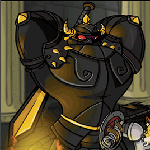 The Spirit of Black Keep: Part Five
Pharazon opened his eyes to cold daylight. Above him stretched tangled, budding tree branches, and past them a cloudy sky. He had no idea what he was doing lying on a muddy forest floor. Where was he?

by cosmicfire918
---------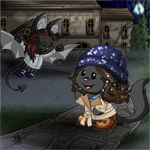 Janet and Jane: The Case of the Amnesiacs: Part Six
I should've seen it. Even with my amnesia, I should've seen that Dee was Jackie. She was pretending to have amnesia. She responded to the name Jackie. She had a better grip of what was going on than I did. I should've known something was up with her. It was too obvious.

by chasing_stars44
---