Your questions answered!


Read the answers to the most commonly asked Neopets questions this week in the Editorial section. Each week the most popular questions will be answered by one of the creators of Neopets, so keep checking back to stay updated.


---
Quote of the Week
"You- That amulet- it has to be…!" Bernard had a hard time finding the words to speak. He took a second to take a breath and lower his voice. He didn't want to wake up the whole household while a ghostly Lenny was in his room… "Are you… the one whose grave I saw in the graveyard?" he whispered, his tone brimming with curiosity.
---
| | |
| --- | --- |
| Welcome to the long-awaited part II of "What Does Your Favourite Faerie Say About You!" There are many different faeries in Neopia, and they all have unique, distinct personalities. How does your own favourite faerie reflect your own personality? Do you have a lot in common, or are you nothing alike? Read on to find out! | The best day of the year is upon us yet again! It's Usuki Day! A day filled with celebrating one of Neopia's fondest pastimes: all things Usuki! Our article will share with you a few different ways to celebrate this joyous tradition in Neopian history! It will cover all kinds of things inspired by Usuki. |
If the Forgotten Shore Really Forgotten?




If you're an avid adventurer you've probably know about the Forgotten Shore. It's that lonely stretch of beach on Krawk Island that presents Neopians with the chance to pick up items of considerable worth. Once a day they trek down to the shore and inspect it for Draik Eggs, Doubloons, or amulets of considerable power. But all this begs the question; if there is a cache of hidden wealth on this shore, is it really forgotten?
---
Other Stories
"Before the Fall: A Dark Faerie Story" by darigankat
"Aethia, please see me after class." My heart thudded unevenly as I slunk down a little further in my seat. I was surely in trouble, and not academically. Yesterday I'd had my fourth fight of the week… and it was only Wednesday. I jumped along with my classmates as a buzzing sound abruptly filled the hallways. Whatever clever air faerie found a way to make that sound echo from the halls at just the right time…. "Dismissed." Our Meditations and History teacher, Shyvara, was a rather young light faerie of few words. Seeing as my class was full of dark faeries, she always seemed a bit on edge. When the last student had zipped out of the classroom, I got up, slinging my bag over a shoulder. "What did you want to see me for, Miss?" I asked, trying to keep the impatience out of my voice. "Aethia," Shyvara turned to me with a hint of a smile on her usually stern face. "My, my… after I heard about the fourth fight this week, I took a peek at your schedule and grades. Very good grades, very advanced classes, and quite the odd combination, especially for a dark faerie with your spellworking talent." "I know what I'm good at," I said simply, wincing internally at my schedule. Between the Battle Training and Magical Blacksmithing, anyone with half a brain would be able to tell what I aspired for, and Miss Shyvara certainly had more than half a brain. "Did you know that we usually have two separate classes for Meditation and History?" Her smile was gone, her face searching mine, eyebrows high on her delicate face. "It seemed a little odd to combine them, seeing as they aren't really related," I muttered "But no, I didn't know that."
"The Mutant Conspiracy" by fleurdust
The boards creaked under the young Shadow Kyrii's feet, and she paused, testing out their strength before putting her full weight down. After the night she'd had, the last thing Kyra Talehunter needed was to plunge through a rotten pier and into the icy Krawkian sea. Warf Wharf at night holds all sorts of disquieting things, and even though Kyra had come prepared (pockets stuffed with Dubloons, a trained Pawkeet so she looked a little less like a complete tourist, and a scowl she'd spent hours practising to deter most unsavoury passers-by), she'd found herself well out of her depth. The Pawkeet had flown away in about three seconds, squawking something about 'pieces of eight'; she'd lost all but a handful of her Dubloons playing a confusing game called Krawps, the rules of which she suspected her pirate opponents were making up as they went along; and her scowl had disintegrated into a look of exhausted and terrified despair. All she wanted was a story for Mutant Day. As a Junior Reporter for the Kiko Lake Herald, she was normally tasked with writing fluff and filler—10 Ways Landelbrot Is Ripping You Off, 21 Things You Never Knew About The Altador Cup—Number 9 Will TERRIFY You!--and she was beyond tired of it. Her latest lead, if it panned out, was her chance to catapult herself onto the front page and beyond. The Neopian Times would be in her sights, if only she could get this scoop. Kyra had dragged herself all the way out here looking for some place called Peg Leg Paddy's, because according to a tip-off, that was where her source was likely to be. Clenching her teeth to stop them from chattering, she squinted up at the sign above her. It might have been a green and gold shamrock, as she'd been told to look out for, but it was hard to tell through all the scratches and faded paint. It might also have been a seasick Bearog. Steeling herself, she pushed open the door anyway.
"Usuki Singing Stars #35: Lola Saves the Day" by downrightdude
"Lola, you're a lifesaver!" Patricia exclaimed, tying a ribbon around the end of a balloon. The faerie Shoyru picked up another balloon and ribbon. "If you didn't come over today, then I would have been swamped with all the decorating. But are you sure you don't want any compensation?" Lola shook her head. "I don't mind helping at all," said the yellow Cybunny. She placed a tray of Chomby-shaped cookies on the picnic table and looked around the backyard. "While you finish up with the balloons, I'll begin taping the streamers around the fence." "Can you also unpack the party hats?" asked Patricia. "I'll attach the balloons to the fence you." "Sure." Lola picked up the box of streamers and walked toward the fence. She weaved the blue, green and yellow streamers together and taped them in wide crescents across the fence. After finishing, she retrieved a box of party hats from the kitchen and unpacked them at the picnic table. "Your mother says the cake is almost done," Lola reported to Patricia. "She just needs to frost it." "Cake! Cake! Cake! Cake! Cake!" Alan chanted as she ran past the girls, blowing his noisemaker loudly. "I'm going to have the best party ever," the blue Shoyru gloated, "and Mommy said I can have two slices of cake!" Brayden, who was crawling behind Alan, shook his rattle enthusiastically. "Ablooha!" cried the baby Shoyru. Patricia rolled her eyes, but Lola giggled. Today, the nineteenth day of the Month of Hiding, was Alan's birthday. The girls were prepping the party decorations while Mrs. Winston worked on the party snacks and Alan's birthday cake. "Do you know when your friends will be arriving?" asked Lola.
---
Get Your Usukicon Goodie Bags!


This week's issue is brought to you by: The Toy Shop
Search the Neopian Times


---
Great stories!
---------
---------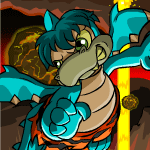 Erin's Extreme Game Avatar Guide: Volcano Run II
Volcano Run II is an incredibly difficult avatar that requires a lot of practice and skill. Even the most determined of gamers have struggled with this one. Here are some tips to help you on your quest to collect this fiery avatar and get one step closer to your avatar goals.

by krazypinkgurl
---------
---------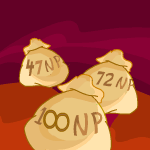 So Neurotic, You're Willing To Lose Money!
I've written about Neopets neuroses in the past, but never about something as odd as losing money! My past articles were full of positivity and enthusiasm. I thought that this time, it would be interesting to write about neuroses that we have that are rather negative, yet we continue to harbor them.

by indulgences
---------
---