Your questions answered!


Read the answers to the most commonly asked Neopets questions this week in the Editorial section. Each week the most popular questions will be answered by one of the creators of Neopets, so keep checking back to stay updated.


---
Quote of the Week
The Dark Faerie Sisters stared in disbelief as they stood in the main entrance to Jhudora's home. They were expecting something different. Something dark and sinister. Instead, they were greeted by a gaudy, cluttered home painted with only purple and green. Jhudora picked up a Bartamus and held it close to her as she smiled brightly, "I only have one bedroom, but I can let you girls stay in the Bartamus nursery." "Bartamus . . . nursery . . ." Malice just stared in shock as she noted the fact that there were multiple Bart amuses jumping and flying around the room.
---
| | |
| --- | --- |
| Sign-ups for this season's Altador Cup have begun, and with that comes hundreds of thousands of Neopians filled with one of two feelings: a strong conviction that the team they've always stuck by is about to have their day in the sun (Altador pun intended), or the unease of realizing they haven't quite settled on a team yet. But wait!--What if there's a third feeling? Yes, a horrible, confusing third feeling, followed by a fourth, fifth, and even sixth feeling? What if that feeling is telling you to switch allegiances after years of dutiful rooting-on and color-coordinating? What then? | Hi there, and welcome to the eleventh incarnation of the Altador Cup! I'm Kuszemi, and I'm here today with Tobias Sigmir and Hovri Sweet, who will be walking us through the match. Despite the high emotions from all sides, the morning papers describe this as a friendly match. We'll see how friendly it is when the first tackles start flying in. Today the participating teams are Haunted Woods and Darigan Citadel. Say hello, boys!Tobias Sigmir: Hiya there! Hovri Sweet: Hi! Layton Vickles: What am I doing here? I need to get my teeth into some undead playerssss… Krell Vitor: Oi! Watch where you're pointing those fangs, Canine! |
21 Flavors of Neopia's Grossest Ice Cream




I discovered a bounty of exciting new flavors that will jump-start your taste buds, broaden your confectionery horizons and challenge your better judgment. Keep in mind that these suggestions are not recommended for the fainthearted. And on that cautionary note, I present to you, dear reader, twenty-one of the grossest ice cream flavors available in Neopia.
---
Other Stories
"Bedtime Stories" by aethelar
There are many things I love about my life in Neopia. I love the adventure, the huge variety of lands. I love the food - it makes everything back home seem uninspired, you know? I love that there's magic everywhere, that there are faeries and magic potions and the odd book of spells lurking behind the door. Most of all though, I love my pets, the two bundles of fluff that keep life interesting and give me reason to smile each day. I reminded myself of this at one o'clock in the morning. I love my pets. I do. "Muuuuum!" Bannok wailed, jolting me awake. I scrabbled frantically at the bed to stop myself falling out and blinked at the darkness. The sound of hiccoughing sobs came from down the corridor, and my heart fell. "Mum!" "I'm coming!" I yelled back. I grabbed a dressing gown from the back of the door on my way out and tried to put it on without getting my arms too badly tangled in the sleeves. It took me three tries. I don't function well when I first wake up, not without at least two coffees to start the day. The sobs were getting louder, and there were two of them crying now - Samitan must be awake as well. Sure enough, when I stumbled into their bedroom they were both there, sitting on top of their quilts and glaring daggers at each other.
"A Key Quest Story" by neolikepets
Ryan looked inside the box he was holding and sighed. The Key Quest arcade had been undergoing renovations for what seemed like forever. The Green Kacheek bought this token for his younger brother just days before he found out about the closing. He had been holding on to it ever since. It was supposed to be a birthday present, but with the game closed, it wouldn't seem like a very useful one. Even though Ryan was a year older than Collin, they shared a birthday. A birthday which, Ryan noticed, was coming up soon. He knew he shouldn't dwell on these things, but he couldn't help it. He put the box and token back in his backpack, and set out for the Toy Store. At the very least, he always knew what to get his brother from there. ~~~ Collin was sitting on his porch, yawning impatiently. "Ryan was supposed to be back a long time ago." At least, it seemed that way to him. Collin never was very good at keeping track of time. His friends all headed home for the day. "Wait a minute… Am I forgetting something?" Collin bolted to his room. "Man, I almost forgot to wrap the book I bought for Ryan!" The Yellow Kacheek tripped as he made his way into his room. His brother told him he shouldn't let his room get so messy. Collin looked at what he tripped over. It was a box, beaten up from being tripped over so many times, but never opened. It was labeled "To Ryan." "Wow, It's been so long I forgot what was even in here. Just a quick peek." Collin saw the familiar shape of a Key Quest token's base. All the knocking around eventually caused it to flip over within its box. "Oh, that's why I never gave it to him." Collin put the box on his dresser out of the way as he began to wrap the book for his brother.
"Origins: Ethel Boortz" by hzoo_26
"No fair!" "It's my turn to be Goalie!" "You got to do it LAST time!" With a sigh, Ethel Boortz slowly eased her way up out of her rocking chair, crossed the porch, and made her way down the steps towards her young grandchildren. "Michah and Kayla, what did I tell you about Yooyball matches?" Michah, a young speckled Ixi of eight, piped up. "Not to play near the house?" At that point, Kayla elbowed him in the ribs. "Not to argue and to play fair." Ethel chuckled. "That's right." Now, you continue your game and I'll head to the house to make us some lunch. She ruffled Michah's light brown hair, and watched as he and Kayla slowly began to make their way into the middle of the yard. They were eighteen months apart, her grandchildren. Kayla was the older one of the two, a headstrong red Ixi with a tendency to be a bit of a rule follower. Michah was the spoiled younger brother, constantly getting into mischief and making those around him laugh at his antics. They enjoyed Yooyuball, although they couldn't play it the normal way. A majority of the children in Meridell couldn't afford the expensive Yooyu petpet. Only the nobles had that luxury. So, her two grandchildren were out there with a potato, and some makeshift Yooyuball gear (consisting of pillows, cushions, and a few plastic bowls) trying to score goals against each other. Sometimes friends would join them, but today they each had a team of one. Ethel shook her head as she grabbed a baking sheet from her drawers. "A one Ixi team is surely enough for today."
---
Search the Neopian Times


---
Great stories!
---------
---------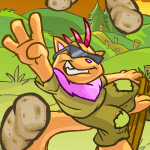 Understanding Extreme Potato Counter
Hello friends! I'll spare you the introductory garbage and just get right to it. You're here because you would either like a trophy in EPC, or the avatar, or both! You've already run across several guides that have provided great suggestions in helping you come closer to that goal, but more than likely you haven't reached it yet.

by redken9x9
---------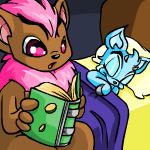 Bedtime Stories
ost of all though, I love my pets, the two bundles of fluff that keep life interesting and give me reason to smile each day. I reminded myself of this at one o'clock in the morning. I love my pets. I do.

by aethelar
---------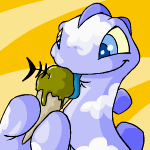 21 Flavors of Neopia's Grossest Ice Cream
Hence, after extensive and grueling research that included lots of sampling in many of Neopia's finest shops, I discovered a bounty of exciting new flavors that will jump-start your taste buds, broaden your confectionery horizons and challenge your better judgment. Keep in mind that these suggestions are not recommended for the fainthearted.

by binky1260
---------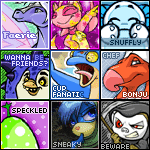 Top 5 Easiest Flash Game Avatars
Whether you're an avid collector or just think game avatars are cool, there's really no excuse to NOT have these avatars in your collection – they're fun to work for, great to look at, and improve your account more than you would realize; and, if you get really good, you may even score a trophy in the process!

by forcenturies
---