Your questions answered!


Read the answers to the most commonly asked Neopets questions this week in the Editorial section. Each week the most popular questions will be answered by one of the creators of Neopets, so keep checking back to stay updated.


---
Quote of the Week
I know that people pay a lot of money for a neohome with a nice, ocean view. To me, it doesn't seem worth it. After twenty-four hours at sea in an enchanted glass bottle, I was pretty sure I had gotten the gist of the ocean; it was just a giant mass of green, choppy, salty water sprinkled with the occasional fish or piece of trash. I was so bored. Marty was curled up on the bed, flapping alternate wings in an odd manner. "What are you doing?" I asked him. The Bartamus looked up at me. "Flapping my wings." "Why?" "Because there's nothing else to do!" He groaned, his eyes glancing out the glass walls. "At your health exam, they asked you if you got sea sick. You really should have told them yes. Then maybe you would have been sent to somewhere besides the middle of the ocean with nothing for miles aro—"
---
| | |
| --- | --- |
| Hello again! After the success of "101 Ways To Annoy Dr. Sloth", I received a lot of feedback. A lot. So I would like to stress again, even more so, that you should not, under any circumstances, attempt to annoy Dr. Sloth. I mean it. Do not. Even if my neck were on the line (which thankfully it isn't), I'd hope you would be sensible enough not to do anything on that list. But just in case my pleas are not enough, here are some further reasons not to annoy Dr. Sloth… 50 reasons to respect Dr. Sloth (even if you don't like him, which I definitely do, because he's rad). | The holidays are over for another year, and you have a brief time to relax and recoup. As you sit around your fireplace or your dinner table reminiscing about what you accomplished in Y17, and your hopes for Y18, you might be thinking about how to celebrate the incoming new year. Fortunately for you, I compiled this super-fun list of options for you and your pets! There's something in this list for everyone, whether you prefer to work or wander, write or rack up Neopoints. If you're looking for a unique way to ring in the new year with your pets, you just might find something to pique your interest here! |
Neopian Astrology: Altador




ave you ever wondered what your Neopian starsign is? The twelve protectors of Altador each have their own constellation in the sky, all of which were discovered during the Altador mini-plot. Let us explore what they all represent and find out what each sign says about those born under it. They`re listed in the order they were discovered, so the first constellation belongs to the first month of the year, and so on.
---
Other Stories
"The Bennett Files: The Case of the Faerie Ring" by amarettoball
It was a chilly day in Altador, which was why Strai was happy to be working inside for once. As a Maraquan Gelert, he was naturally inclined to be outside, or at least around a body of water. Today, though, he was pretty certain that if he had stayed outside for more than a few hours without an enchantment, he would have shriveled up from the dry air and shrunken into a nice little Brucicle. His partner, Bennett, was lamenting the wasted opportunity to bear the weather and see what mishaps Strai would get himself into. The woodland Uni meant Strai no harm, but his eccentric and curious nature often led him to test the most absurd theories while giving little regard to the consequences. The two of them worked out of a quaint detective office adjacent to their home, and while many requested their services, Bennett only accepted cases that he didn't consider "mundane."
"Pyramid" by azienskieth
"Are we ready to lock it up, Chief?" Melek asked the soldier in charge of the scene. Chief Lokenus looked at him and raised an eyebrow. "My soldiers will have everything packed within an hour. Why are you so anxious to close it?" "Lokenus, I've been waiting twelve years for this to happen. I'd like to savour it a little, but unfortunately I've got things to do. We need to replace the king, soon." King Ordiph, ruler of Sakhmet, had been found unmoving in his bedroom the day before. After being taken to the medical tent, it was announced that the king had passed away. Worse still, the king had not left an heir - a different family line would have to ascend to the throne. Ordiph had ruled for twelve years, and proved to be a very popular leader among the people of Sakhmet. His chief advisor had been Melek, from the moment he took the throne until the second he lost it.
"Carrot Cake" by theschizophrenicpunk
"Ugh, Emmy, I'm not sure if I can pull this off..." The Maraquan Carma doesn't say anything. It's an hour until dawn in the camp of the Ixi Raiders of Cogham, and Mer is about to lose his mind. That is, if he hasn't completely lost it already. "Emmy, where did I put the Spyder venom? Please tell me I didn't toss it in the wrong bowl..." But, again, the Maraquan Carma doesn't say anything. Not that being royal sorcerer and apothecary for the Ixi Raiders isn't fun and all, but Mer tends to bite off more than he can chew when it comes to projects. The transparent Ixi sorcerer has been clumsily trotting his way around his messy hut, tossing ingredients and trinkets all about the floor, talking to his pet Carma, Emmy, as if she would be able to help him out. Emmy is a good listener, that's for sure, but she's not much help when it comes to locating missing ingredients.
---
Search the Neopian Times


---
Great stories!
---------
---------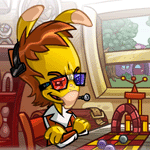 What Newbies Should Know About The GMC
Inspired by the spirit of helpfulness, I thought I'd make a list of things that newbies wouldn't know about the GMC. It's too late for this article to help the current population of players, since the GMC is over by now, but maybe someone in the future will look up this article and be genuinely helped by its contents. That would make me smile!

by indulgences
---------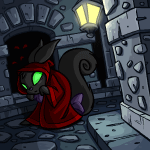 Chronicles of a Caped Crusader: Long Shadows: Part Five
Chloe hurried into the HQ the next morning, glad to see the doors were already replaced. She walked into the control room to find Judge Hog and Loraine on a call. She stepped back into the doorway to wait for them to finish. When they did, she entered again.

"Go downstairs and have Dr. Flexo check your head," Judge Hog told her immediately.



by kristykimmy
---------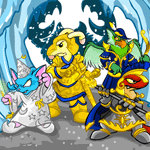 Pros And Cons of Playing NeoQuest II
I have just now completed my first ever game of NeoQuest II, and now I feel the need to share with the rest of Neopia the reasons why I think you ought to consider playing it too. Now that I have actually played it all the way through, I can give my unbiased opinion on the reasons why it's great, and the reasons why it's maybe not so great.

by ahh_choo
---------
---