Your questions answered!


Read the answers to the most commonly asked Neopets questions this week in the Editorial section. Each week the most popular questions will be answered by one of the creators of Neopets, so keep checking back to stay updated.


---
Quote of the Week
It's Tuesday today, and Tuesday is a good day for us: our master grants us an allotted break of 44 quacks today, rather than the usual 4.
---
| | |
| --- | --- |
| It was evidently forgotten about and now that it has been discovered, the Shore is rewarding Neopians each and every day. But, as you go to the shore, nothing happens. Don't worry -- that's to be expected! You need to collect all 9 pieces of the Forgotten Shore Map to gain access to the beach before it will start rewarding you. Once all the pieces are obtained and redeemed, only then can you get your daily prize and your cash reward for completing the map! | This article will show you the seven Neopets species that are the least expensive to morph. If you can learn to love one of these species, it will save you tons of neopoints in the long run. This short guide will also help you if you feel like one of your Neopets needs a change. It can be boring to keep your Neopets the same species and color forever. Maybe your Acara doesn't want to be an Acara anymore! Your Neopet will instantly (and painlessly) change species and color... |
Do Good




Let me just start by saying that sometimes, it's not enough to just be nice. Being nice is enough, the bare minimum, but if you REALLY want to light up someone's life, it's all about the random act of kindness, or RAOK, for short. This article will cover the importance of RAOKs, as well as ideas for your own RAOK, and how to pick the recipient of your act. Of course RAOKs are...
---
Other Stories
"The Puppeteer" by rachelindea
The Hissi coiled in stone has a strange presence, both threatening and peaceable at the same time. He is carved wearing the traditional Shenkuu garb of the Hissi, fake scales and sharp spines along his back. If he were alive the costume would be a vibrant red, but now it is all just grey stone. But the thing that sets the statue apart from the others around the village is the face. It is slightly skeletal, two sharp fangs chiselled in where normally...
"If the Nickname Fits" by racoon188
Sydney had earned the nickname "Basher" at an early age. The Kyrii was always in a hurry, always trying to get somewhere. She had never particularly minded the epithet; its implication that she was tough could only help her reputation. As she had never had any trouble living up to this reputation, there was no harm done either. Her parents, however, thought the nickname distasteful. To be fair, Sydney's parents found most things about her distasteful...
"Lucky Coin" by princess_daisy186
"Kakimiha!" He winced and snapped the book shut on his paw. "You are supposed to be putting those books where they belong, not reading them. You do that on your own time," the Lenny librarian hissed, catching the Zafara in the act. Ms. Marsh wasn't young but not old either, but in Kakimiha's eyes she was ancient, Prehistoric, Dweller of the Tyrannian Dark Ages and definitely an old mean Lenny in a floral dress and thick spectacles...
---
Search the Neopian Times


---
Great stories!
---------
---------
---------
---------
---------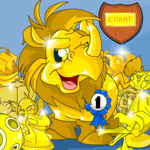 16 Easy(ish) Trophies
This guide is about pointing you in the right direction and giving you some ideas of which trophies to aim for.

by usukii
---