Your questions answered!


Read the answers to the most commonly asked Neopets questions this week in the Editorial section. Each week the most popular questions will be answered by one of the creators of Neopets, so keep checking back to stay updated.


---
Quote of the Week
Obviously Grundos are the coolest – just look at our gadgets. Hello, space flight, anyone?
---
| | |
| --- | --- |
| Have you ever noticed how it seems the only things people want to paint are their pets? Did they completely forget – PETPETS CAN BE PAINTED TOO! Not only are petpet paint brushes very affordable, but also can add to your neopet even more. For example, to add to the effect of your Darigan Hissi, why not add a Darigan uniocto? Their colors blend perfectly together, and it's almost like another accessory for your pet. Of course, painting petpets can change them a lot too, so I've made this guide.... | Who can resist a smile like that? Sure, I know that they go rampaging in the the fields of Meridell, causing endless famines and admitting more fainting incidents into the Neopian Hospital than any other creature on Neopia (with the exception of Jhudora; you don't want to get on her bad side, especially if it concerns Illusen), but think of it this way. No one likes eating vegetables anyway, so what's wrong with sacrificing it all to the Slorg? I'm pretty willing. So if you want a Slorg friend for life, carry on reading... |
Altador Cup Dictionary




My first day venturing into the Altador Cup board is one I'll always remember. I shyly entered the room. The first thing I heard was "SK FTC!" followed by "LD MSN mini marathon!" and various uses of puns. Then I slipped on a slushie, fell down, and as soon as I got up was hit in the face by a Fire Yooyu. It wasn't a good first impression. However, it wasn't really as insane as it seemed. I learned what they were talking about, bought a helmet...
---
Other Stories
"Petpet Talk: The Petpetsitter" by christmas_ice
Petpetsitters were the worst—they were a petpet's greatest nightmare! The last time Arnold had been stuck with one, he'd been forced to stay in a corner all day. He had not been allowed to go outside, and he had not been allowed to play with his Mootix—all day long, the only thing Arnold could think of to do was sleep. It had been the third most boring day...
"How Anchu Learned The True Meaning Of Class" by indulgences
"I could never understand why you stopped playing in the middle of the Altador Cup," said Boxer with a pout on his face. He took an enormous bite of pasta, and put down his fork. "We were so close to winning for the Roo Island Team," he sputtered through a gooey mouthful of pasta sauce, "and we only needed a few more of your goals to put us over..."
"Friends Forever!" by dragonstorm_75
"You are no match for the mighty Snowager!" he rumbled triumphantly. The snicklebeast grinned and stepped out, eyeing the happy petpet above with a mischievous air. Just as the snowickle was about to scream out his victory once again, a ball of snow bashed into his head and sent him sprawling into the cold, white carpet below. "That's cheating," squealed a snuffly with surprise...
---
Get The Ball Rolling!


This week's issue is brought to you by: The Altador Cup
Search the Neopian Times


---
Great stories!
---------
---------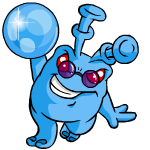 How To Be Cool
I'd be impressed if, just once, someone would get the courage to come up to my face and say it, like, "Hey, Zargrold, you're so cool, just so hover, man, how do you do it?"

by mamasimios
---------
---------
---------
---