Your questions answered!


Read the answers to the most commonly asked Neopets questions this week in the Editorial section. Each week the most popular questions will be answered by one of the creators of Neopets, so keep checking back to stay updated.


---
Quote of the Week
"Wow," was all I could say. To be standing in the Colosseum, where millions of fans had stood before, to imagine the electrifying excitement of a live game, to cheer for your favorite team...
---
| | |
| --- | --- |
| How do you cope with this? It's hard not to make any other pets jealous, and not to over-indulge your pet. Another problem is how your bank balance will cope; birthday cake, gifts and even wrapping paper can be expensive these days, even if you know what to buy. I was contemplating this a few weeks ago when Kacheek Day came about; my Kacheek, Cobblle, is very quiet and would never ask for a present or... | Lucie, the main character of Usuki Frenzy, has a dilemma. The main page for Usuki Frenzy explains that "A young Cybunny named Lucie was about to leave for a vacation with her parents when she realised that she'd forgotten to pack a few crucial items - her Usuki doll sets! How will she spend those long hours of travel without them?" Whoa, whoa, whoa. I need to dissect this, because this is just clearly laced with... problems. |
Enough Omelette and Jelly!




It's not all about filling your pet up; so what if they're bloated? It doesn't mean they're healthy and strong, ready to be sent off to the Battledome. There's a better way to feed your pet, and it doesn't have to be expensive. Other free food is around, stuff that isn't made entirely from sugar or egg. That's what I'm for, to liberate Neopets from the curse of jelly and omelette, and to teach you owners about a balanced diet...
---
Other Stories
"The Gatherer and the Rogue" by phoenixs_angel
Once again, his old mistake had caused everything he had planned to fail. The Petpet Protection League had cast him out, only because he preferred to use a pen. It had driven him insane, quite literally. While at it, he had done things he was now regretting. This was why Yurius had come to Altador, to find the only person who would love Petpets even more than he did; maybe she could help him...
"The Elegant and Extravagant Universe" by micrody
Sloth sighed. At the time of this paragraph's beginning, he had already tumbled nine hundred and thirty-three possible theories of everything through his head, but he was still two hundred and sixty-seven possibilities short of his daily quota, and he knew he could not, would not, most definitely should not rest until he had recovered the memory he had forgotten. Then again, if he forgot the fact that...
"Maybe It's Fate!" by grapesourhorse
Fyrste sets down the street with a look of careless ease complimenting his handsome face. Halfway down the street from the library, he stops to gaze at the sky, lost in his wondrous thoughts. Out of nowhere (or so it seems) a Chia bumps into him. "Oh goodness! Oh gracious! Oh, dear, what next? I'm terribly sorry!" the Chia gushes, turning bright red and stammering with embarrassment. Fyrste looks at the Chia...
---
Playing Well Is The Best Revenge


This week's issue is brought to you by: Daily Dare
Search the Neopian Times


---
Great stories!
---------
---------
---------
---------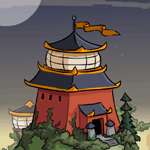 Cycle of the Moon: Part Eight
The Lupe knew that Shenkuu would soon fade into blackness. The year would be over, and the good and evil spirits of the five senses would have dominion over the land for several hours.

by reggieman721
---------
---