Your questions answered!


Read the answers to the most commonly asked Neopets questions this week in the Editorial section. Each week the most popular questions will be answered by one of the creators of Neopets, so keep checking back to stay updated.


---
Quote of the Week
His presence was its own reward; to expect anything further, such as the briefest instance of productive activity, would be sheer madness.
---
| | |
| --- | --- |
| This festival, which occurs once a year at Mystery Island during the Month of Running, is the celebration of new life, great friends, and most importantly delicious fruits and vegetables. Now, of course, I realize that not everyone enjoys eating fruit, let alone icky vegetables, but ten out of ten agree: "The fruits and vegetables of the Gadgadsbogen festival are a tasty treat for the eyes, as well as the taste buds..." | Daily Dare offers many incentives for those with varying motives: you can try to win the daily prizes that you can either collect for fun, toss into your SDB in order to bring you closer to the packrat avatar, sell for profits and put the NP into your Darigan Paint Brush fund, and much, much more. Of course, you can also earn a swanky trophy to spice up your user lookup if you're dedicated enough. But with all this, there are necessarily some... |
A Slorg by Any Other Name




"Rating names!" This caught my attention straight away as I was lurking on the Neoboards. I entered the board, curious to see what it was all about. Apparently the board creator would be rating any Neopet name on a scale of one to ten. A few moments later, I was feeling sort of confused. A pet with a beautiful made-up name had just received quite a low rating, while another pet, with a name consisting of two letters, not even capitalized, had received a high rating...
---
Other Stories
"The Unstoppable" by ayame_23
He was Khan the Unstoppable. The semi-unstoppable now, he amended with a grudge. Though he was a massive, yellow Tonu, no one had ever caught him before. No one. Sloth was getting clever, tricky. He'd always been a threat to the Defenders before, had always been bent on discovering their identities and having them out of the way so that he could make good on one of his hair-brained schemes for world domination...
"The 'End' of Polly the Spotted Gelert" by ballerinafaerie
"Yes, sir?" I asked politely. "You can't hog the bench. Others need to use it. Now get yourself home!" He was growling now, his voice low and menacing. I felt quite scared. I hopped off the bench and scurried down the street before he could realise that I had no home to go to. To be honest, I would have expected that to be obvious in the first place, what with my newspaper duvet and wooden bench mattress...
"The Whisper in the Attic" by sunbeams
Raindrop loved the rain. I knew, because whenever the sky broke forth into tears there was always an aura of quiet contentment about her. I can't see her, of course- she's invisible. But over time I learned to search for the feeling of her presence, a deep imprint in a cushion, a horseshoe-shaped mark in a layer of dust. Most often I would see a thick book lying open on the old oak desk, its pages turning silently as if blown by some divine wind in a....
---
Take a Ride on Terror Mountain Public Transit


This week's issue is brought to you by: Snow Roller
Search the Neopian Times


---
Great stories!
---------
---------
---------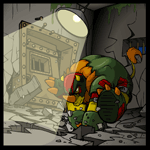 The Unstoppable
It was only a matter of time before one of Sloth's henchmen walked through the door and attempted to remove his mask.

by ayame_23
---------
---------
---