Your questions answered!


Read the answers to the most commonly asked Neopets questions this week in the Editorial section. Each week the most popular questions will be answered by one of the creators of Neopets, so keep checking back to stay updated.


---
Quote of the Week
Grundos were very special Neopets – brought into being by Dr. Sloth's plans, yet somehow managing to create their own destinies.
---
| | |
| --- | --- |
| Is the avatar truly real, or just some fantasy a TNT staff member dreamt up and obliviously added to the News page in the middle of the night? (I would have a hard time imagining Adam sleepwalking, though.) Avatar hunters have tried umpteen methods to unearth its secrets, both logical and slightly odd. After almost a year of searching and testing, people everywhere are becoming doubtful and discouraged. We desperately need something to boost their spirits. Ever since the avatar's release on Blumaroo Day last year, (August 8th, 2007) Neopians everywhere have slaved for hours to obtain clues that might... | What is the Random Contest? Well, the Random Contest is one of the many contests that Neopets has to offer. The name says it all. Each week starting on Friday there is a brand new contest, and each week the contests are completely different from the last ones. You may be asked to make something, be it a drawing, diorama, or a sculpture. Or you could be asked to write something: a story, a recipe, or even one sentence about something. You may even be asked to record your voice saying something humorous, or telling a story. All of the subjects will of course be Neopets related, and are completely random... |
Judging A Book By Its Cover




What would make a Neopian interested in adopting one of the Neopets in the Pound? Sadly, many Neopets in the Pound are the ones with terrible names, so nobody wants to adopt them. I realized that beautifully painted pets would be snatched up in a second. Who would want a blue Gelert when they could have a Maraquan Gelert? However, that being said, I knew how many Neopoints it can cost for a paint brush in Neopia. So, my last and only resort was the Secret Laboratory Ray...
---
Other Stories
"A Talent Like No Other" by sheyda_sheyda
Darwin could only shrink down in his seat, wishing that he were invisible. Throughout the rest of class, Gloria would give him menacing looks, and she eventually got all the students in the class to join in with her by the end of the hour. Ever since that day, the Three Impeccables loathed him, and managed to get everyone who was on their good side to take a disliking to him, too. It only made it worse that they were his neighbors...
"Finding Dirk" by rotty_paws
Was this some kind of joke? Everyone in the family knew I wouldn't fall for such a flimsy prank. Alyn was really practical, so why would she go along with this madness? "Dirk, stop joking around," Gelo, our owner, said cheerily from behind an issue of the Neopian Times. He put the paper down on the table and looked happily up at me, smiling widely. I noticed it didn't reach his eyes, which were cold and almost unseeing. Strange...
"Coming Home" by white_fang_wolf6
"Oh, come on. It's just your first day of school!" she said brightly, poking her head through the door. Akari has to be the most beautiful faerie Eyrie alive. If I looked like that, I wouldn't have been panicking so much. Sadly, I am but a tomboy-ish shadow Xweetok. Life is never fair. "Yes, just my first day of school, when my social status will be determined and any mistakes will haunt me for the rest of my school career!" I hissed, banging my head on the table...
---
Search the Neopian Times


---
Great stories!
---------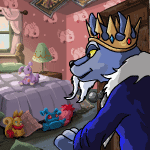 Mina's Door
I had always hated Mina with a passion... And she pretty much hated me back... We had never gotten along. And, I presume, we never will...

by masquerade_5
---------
---------
---------
---------
---