Your questions answered!


Read the answers to the most commonly asked Neopets questions this week in the Editorial section. Each week the most popular questions will be answered by one of the creators of Neopets, so keep checking back to stay updated.


---
Quote of the Week
Not one of you Neopets has questioned what your beloved Illusen is attempting to suggest by handing over items such as Rain Water Shampoo, Mud Mixture and Illusen's Comb? My gifts may be a little on the toxic side, but they don't attempt to imply that Neopets lack appropriate levels of personal hygiene!
---
| | |
| --- | --- |
| She resides in the land of Meridell just at the bottom of the cheese roller hill (I bet she gets free cheese) and just above Meridell foods (what a clever little faerie, food all around!) From her obvious choice of colours from her hair to her clothing - you can tell she is a down to earth, peacefully kind faerie. Unlike the other faeries of Neopia (fire, light, air, etc) who prefer to make your pet grow in certain aspects (strength, defense, endurance etc), or even the Fountain Faerie will paint your pet almost any colour you could ever dream of, Illusen chooses to give you actual items for rewards... | I knew Blumaroos as kind, cheerful and optimistic people... If you omit Count Von Roo, that is. And if you choose to ignore their slightly annoying habit of interlacing the long sessions of Dice-A-Roo with their... er, "pieces of Blumaroo wisdom". So, if Blumaroos are usually cheerful, kind, optimistic people... Who are Garoo and his Elite Squad? Are they really Blumaroos? And why would they choose to work for Dr Sloth? What do they gain from these choices? Is King Roo somehow involved in this plot? Has Dr. Sloth mutated some Blumaroos with a secret weapon, turning them into... |
Food Fight in the Battledome




Some of you may think that throwing a pea or a hunk of asparagus at your opponent is not going to do much harm; well, this is not the case! Some of the strongest battle weapons in the game are some sort of foodstuff. While most of these are (far) out of the price range of the average Neopian, it is still fun to think of knocking someone silly when throwing a tiny pea at them. In this article, I will go over some of the different food items that can be used in the Battledome!
---
Other Stories
"The Quetzal Ring" by macana
Captain Amphos the shadow Zafara watched as the few remaining containers were taken onto his charge, a beautiful Altadorian galley named the Siyana. She was being loaded up to for her routine voyage to Shenkuu and her first officer was shouting out orders to her crew. Amphos was proud to be the captain of the...
"The Whittleman Expedition" by visorak_commander
Yes! Earlier this day we finally found Professor Jiggens, feasting on some tropical fruit found in the trees nearby; his clothes are terribly torn and filthy, but he seems to be in quite the excellent mood! It seems that such an incredible man as he can find the utmost humor in everything, never ceasing his contagious laughter...
"Second Thoughts" by reveirie
She paused for a moment, eyeing the bubbling contents with a leering gaze. Did she really want to do this? The answer came quickly. Yes, she did. Smirking violently, Jhudora uncorked the orange potion and poured every single drop of sunset orange into the cauldron. When the bottle was empty, the faerie returned her gaze to her...
---
Glade Tidings, Questers


This week's issue is brought to you by: Illusen's Glade
Search the Neopian Times


---
Great stories!
---------
---------
---------
---------
---------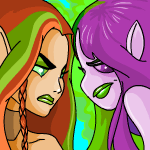 Two Sisters
Suddenly, a second ball of light floated from the pot. It should have been a shining gold, but instead it was a deep purple. The elders stared in shock at what happened...

by piratemastergirl
---