Your questions answered!


Read the answers to the most commonly asked Neopets questions this week in the Editorial section. Each week the most popular questions will be answered by one of the creators of Neopets, so keep checking back to stay updated.


---
Quote of the Week
A number of Neopians have been getting items, either through random events or from my own Hidden Tower shop, and selling them at Hidden Tower prices, or even higher! Now, to be honest, I don't really understand why they are doing this, but I do wish they would stop. I am the Faerie Queen, not some discount wholesaler!
---
| | |
| --- | --- |
| On your very first day on Neopets, you manage to land on the dreaded 'Skeleton' symbol on the 'Wheel of Excitement'. Poor Fluffy will have to be stuck with a severe case of the Hoochie Coochies until you can manage enough money to buy the all important Hoochie Coochie Tablets to cure him. Of course, not having discovered the Soup Faerie yet, you have no money at all to feed poor Fluffy either, causing your pet to be diseased and starving... | The Lab Ray. Why is it better than the Training School? For one, the Ray is a one-time cost. I don't know how much it is now, but we didn't pay very much for ours – of course, we've had access for around five years now. Where as the Training School is definitely a drain on our resources, especially as the prices of those stupid codestones rise. And speaking of those rocks, have you ever had to lug them from the Citadel all the way... |
Drop Site Acquired




Mootix Drop is a game based on landing Harry, a mootix hotshot who obsesses over the game and enjoys plunging downward and landing on the soft fur of a petpet beneath him. Now mootix technology allows them to create a projection of a target on the fur of the petpet. This new ability allowed different mootixes to challenge each other or themselves by making the target smaller or larger based on the skill level of the mootix trying it...
---
Other Stories
"The Heart" by reggieman721
She had to work all day at the Employment Agency just to earn enough money to buy food each day. Sepia owned a small, neat house and few possessions. Her only item of value was a beautiful glass heart that she had owned her entire life. It was small but heavy, blown delicately out of red glass, and shaped perfectly. It stood next to her window so that the sunlight illuminated it...
"Unforgotten" by czenko28
I made my way to the front door to go out into the streets to maybe find a more interesting story than what I could find at home. I could not imagine writing a story about my own family. The newest headline: "How Silver Couldn't Get an Interview." Like that would ever make it into the press. I opened my front door and started making my way out, but I bumped into something and fell..
"Love Will Find A Way" by sarahleeadvent
"Go away," he snapped irritably. "Can't you see I'm busy finding a way to annihilate you?" The Gruslen emitted a soft yawn that nearly swallowed its face, then hopped up onto Sloth's lap. "No!" the evil genius barked, shoving it roughly onto the floor. The Gruslen sprang back onto his lap. Sloth shoved it off. The Gruslen got back on. Sloth shoved it off. The Gruslen got back on...
---
Search the Neopian Times


---
Great stories!
---------
---------
---------
---------
---------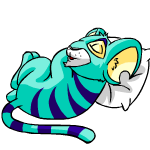 A Different Kind of Present
Amber grinned. "Sure, Dana!" she said cheerfully. There was such warmth in the air, such great feelings of love and family. It was hard to imagine that she had ever been so afraid of these pets...

by bananas_and_cream
---