Your questions answered!


Read the answers to the most commonly asked Neopets questions this week in the Editorial section. Each week the most popular questions will be answered by one of the creators of Neopets, so keep checking back to stay updated.


---
Quote of the Week
"My best advice is to just live life to your fullest and enjoy yourselves, okay? Neopia's meant to be a fun, carefree place without troubles and only you guys can keep it that way..."
---
| | |
| --- | --- |
| These dice are ruthless. Do you think they will stop at conquering Roo Island? My friends, when the 29th of October graced us with its malignant presence, we were in fact witnessing the rise of a new Neopian power. These dice are as bad as - if not worse than - Dr. Sloth himself. I decided to witness this terror firsthand and interview the wise king on the dramatic current events... | When you're new to Neopia, everything is so different. There is a lot you don't know, and the time it takes before you find this stuff out can be quite regrettable in my experience. In particular, I'm talking about the Neopoints. When I first arrived on Neopia I began by making my NP through the numerous games available. Back then, I was very happy with my daily six thousand points... |
Retirement: Golden Years?




Instead of keeping quiet, he said, "Ehh! Get off my lawn!" Wow. What inspiring words that we should all live by. Ehh, get off my lawn. Not "please" get-off-my-lawn, but "ehh" get-off-my-lawn. I felt like I should have been taking notes. How wonderful to be in your golden years at last, when all of this time you've heard how wonderful it can be. Are you ready to retire? And if so, where to?
---
Other Stories
"Sea Legs" by avibero
Too late, he heard the voices and footsteps from around him. The young Aisha looked around frantically for a hiding spot. The footsteps stopped. Slowly, Hoban turned around. Facing him, was a tall, sinister looking Wocky with a long, disfiguring scar running through his face...
"Lucky Cake" by nut862
Tammy was just sitting down at her kitchen table to eat her favorite breakfast of a hot Banana Roll, when something happened. A large cake, garnished with twists of pink frosting and large red roses made of sugar, fell out of the air and landed smack in the...
"Shadowflame: Snowfall" by brains03
A blizzard had struck not long after she had set out to scale Terror Mountain, leaving Happy Valley behind her in a haze of white flakes and wind. Her name was Shadowflame Darkhunter, an enigma to most but a legend to many in the circles she frequented...
---
Tasty Treats for the Tuckered Pet


This week's issue is brought to you by: The Crumpetmonger
Search the Neopian Times


---
Great stories!
---------
---------
---------
---------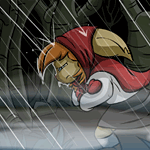 The Tale of Dough
"Sorry I'm such a mess today, Fluffy. Being the star of a Neopian Plot is really hard work! Now I know how Nabile, Tomos, Jazan, Isca, Caylis, Jeran, King Skarl, King Altador, and all the others feel. Woo!" Gilly said...

by redwall_loamhedge
---------
---