Your questions answered!


Read the answers to the most commonly asked Neopets questions this week in the Editorial section. Each week the most popular questions will be answered by one of the creators of Neopets, so keep checking back to stay updated.


---
Quote of the Week
"There's a firsthand account, (well, it's actually, like, a seventh-hand account) from a fire faerie who knew a Uni, who knew a Techo, who knew another Techo, who knew a light faerie, who knew a water faerie who had a truth spell cast on her and now she blurts out random things like, 'I love asparagus,' wherever she goes..."
---
| | |
| --- | --- |
| Sure, the Haunted Woods might have Blumaroo Steaks and Almost Gummy Rats, Terror Mountain might have food made of snow, and Tyrannia has Omelettes and Meat-a-la-Twigs, but Faerie food is different. The great appearance, flavor, texture, and liveliness of the food is what makes it so wonderful! Since I eat Faerie food almost every day, I am going to tell you about my day, along with the Faerie food scattered throughout it! | The Library Faerie is so reserved that when she sells you books that are so very cool, you pay more attention to the book than to the faerie selling it to you. It just may be so that beneath her shy exterior is an enigma wrapped in a lavender hue. Answer these mystery questions for me: Why is she called the Library Faerie if she runs a bookstore? Wouldn't that make her the Bookstore Faerie? Where does she keep the library? If the Battle Faerie is so brave and the Soup Faerie is so humble... |
Hotels: What, Where, Why




Welcome to this special edition of National Neopia, a complete and detailed guide for any traveler looking for the best ever around the world vacation in Neopia. Here, in our first issue, we shall cover a topic important to most travelers and vacationers: Hotels. You shall find here the information most needed to choose the hotel right for you. If you have a low budget, the Fleapit Motel or Cheap Hotel may be the place for you. If your pockets are filled to the top with Neopoints...
---
Other Stories
"The Wise Man and the Fool" by 4zure
"The pod this, the pod that," Elheena sneered. "You know what? I'm sick of this pod! I'm out of here!" With that, he was gone in a few strokes of his powerful tail. Analu and Alika started after him, but Kahoku stopped them...
"Annunciation, Arguments, and Airspray" by silent_snow
"It's called dramatic effect, Aethia. And I'll have you know that the instructions clearly state that one must add in a dramatic pause between the Kyrii's hair and the Golden Juppie soup..."
"Why Am I So Blue?" by elfwick
She was stocking up our medicine cabinet because I had just gotten over Bloaty Feet and had used up all of our Magic Smelly Socks. Well, actually, we had only used a couple of them. I snuck the rest into my Secret Sanctum because I like socks, but...
---
Search the Neopian Times


---
Great stories!
---------
---------
---------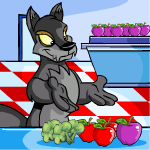 Veggie Livin'
Neopets all over are adopting a vegetarian lifestyle. Despite what some nay-sayers may think, like those Chia loving Lupes, a meatless diet is interesting and tasty...

by pixie_dust_318
---------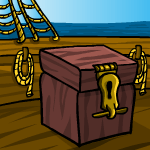 The Box
"Well then... Why don't you try opening it, eh? There might be something worthwhile inside..."

by chibi104
---------
---