Your questions answered!


Read the answers to the most commonly asked Neopets questions this week in the Editorial section. Each week the most popular questions will be answered by one of the creators of Neopets, so keep checking back to stay updated.


---
Quote of the Week
Well, you could've pushed me over with a feather, I was so shocked. You would've had to have pushed really hard, but over I would've gone.
---
| | |
| --- | --- |
| So you've worked all through the hot months, earning NP, saving the world from various members of the Gallery of Evil and working your way through tricky puzzles. No wonder you didn't have the opportunity to get away! Now that we're reaching the end of the months of sunshine, it's time to pack your bags and escape the brown-leaf blues, and NeoGuides Holidays are here... | You know, the life of a Lutari isn't easy. Most of you think we just popped up on a random day, taking the Neopian world by storm and surprise. But this simply isn't the case! We Lutaris have been around just as long as any other pet, surprisingly enough. Truth be told, many Neopians have known about us for many, many years--some of us have even lived right under your nose... |
Painting – Why?




Why do most players paint their pets? How do they decide which paint brushes to buy? And how do they decide which pets will be painted? In a little experiment of my own, I asked players on the Help Boards three times a day for three days to respond to these questions, with no judgment and no agenda. Just pure investigation...
---
Other Stories
"A People Deceived!" by lockshensa
Now they lived in peace, thanks to the grace and wisdom of Lord Kass. All her life, the majestic Eyrie had guided them. Posters, speeches, and fellow pets spoke of his greatness. It wasn't something that could be denied; it simply was. Lord Kass's goodness was as firm and unchangeable as the cycle of the seasons...
"The Pant Devil's Desire" by schefflera
The Grundo Leader sighed, crossed his legs on the pink cloud that matched his unfortunate skin condition, and rapped the Pant Devil over the head with a Draik Transmogrification Potion he'd swiped from a (formerly) fervent Sloth supporter. It was the best of his haul for the day so far...
"The Perfect Recipe" by katiesheffield
We had compiled huge lists of salads, biscuits, cakes, meals, drinks and almost everything else edible; and had chosen the best recipes out of them. I had to admit, Miami was right. All the recipes we had so far were delicious, but we really should have one that stood out from the rest...
---
Search the Neopian Times


---
Great stories!
---------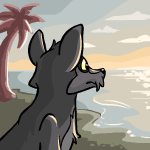 Dark Fate: Part One
"You see, the thing is... I'm planning to leave the village for a bit. There's a lot out there that I still want to see, and to be honest... I feel trapped..."

by yatomiyuka
---------
---------
---------
---------
---