Editorial

Hi all, today is full of mostly nc fixes. My apologies hardtotame was unavailable for the day so I could not answer many of the content questions without her. But she should be back next week for the special issue!

Dear Editor, fyi, the winners of the Caption contest that ended Wednesday July 31 still haven't gotten their prize or trophy! Can you look into it? Thank you!
So sorry about that, August came so quick. Prizes have been granted!

Can you please fix the Striking Red Embroidered Gown? It's not working on some pets, Draiks in particular... Thanks
I have put in a request to fix this i'm hoping we can correct this.

Hi there! Several months back, I requested a wraith hissi for hissi day. My request made it into the NT, and you forwarded it along to the art team. I knew it wasn't a guarantee, but on hissi day the wraith color was released!! I just wanted to send a HUGE thank you to the team for making this dream come true, and with my premium species perk and a paintbrush purchase I have a very happy wraith hissi! I am so in love with this new transformation, THANK YOU for taking in requests when possible and for creating a site where communication goes back and forth between staff and users! I really just wanted to send some good vibes along to you all!
Ahh yay! Wraith Hissis for the win!

Can we get some info on what we can expect for Neopet's 20th birthday? And confirmation on avatar(s)?
Can't give any spoilers quite yet but just know we are planning some fun things. And you may have seen the 20th anniversary avie that will be given out for all as well.

Im loving this new cloak! But on the aisha the hood of the cloak is missing its back! Can you get this fixed? My aisha is getting chilly with that breeze on her head!!
Done & Done!

Do you like Jeran? Do you think he should have more events, items, and such?
Cryptic...but yeah I agree he's a pretty epic character.

Hi. I have one small thing for Donny. For the new Jeran Collectors Time Travel Portal Background, the description says that it is from the Pirate Adventures collection. It should say Lost Returned.
Oopsies, should reflect accurately now!

Hi. I have 2 small things for Donny, and would appreciate it if they were fixed. I noticed that the thumbnail images for 2 of the new Dyeworks items are incorrect: --DW Yellow: Seashell Throne--has thumbnail of original Seashell Throne (wrong color) --DW Green: Maraquan Silver Markings-- The other 2 colors have a shell with the colored dust coming out, but the green color has a different image. I suppose this is an error?
This should be fixed now, such a weird issue. Idek how that happened...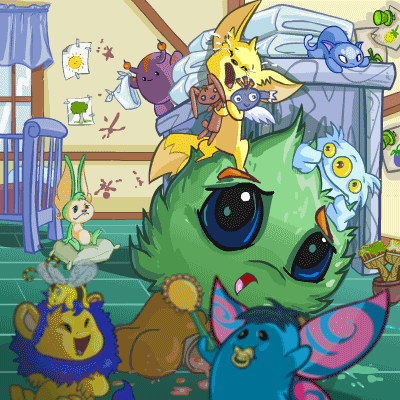 ---
Need more help?
If you have a question that you think should be answered, click here and you can use our submission form. The most common/bizarre questions will appear here next week.