Articles
Friend or Foe?Have you ever wondered whether the Halloween pets you see trekking about the Haunted Woods are genuine or just phony shams to get the attention they crave?

by qeenoneo
Ready for Halloween?There are many ways to decorate a yard, or house, for Halloween, but how do you know which will be right for your Neohome?

by stormrider1331
Chapter Three - Eyeball RecipesEdna once again ran her finger down the Table of Contents. "Here we are," she said with a wicked grin plastered upon her face. "Chapter Three - Eyeball Recipes."

by mistoffelees_cat
Halloween: Haunted Woods and Some Other Stuff!Here are the top five safest places (in my opinion anyway) to go trick or treating in Neopia!

by yautja_warrior
Haunted Holidays: The Scariest Things in NeopiaYeah, your Halloweens were lame. Not this year - I'm here to help. I've compiled a list of the scariest things in Neopia...

by xcertifiablyinsanex
The Troublesome Art of Trick-or-treatingTrick-or-treaters are the Neopians who make Halloween what it is! Well, there's also all those villainy people. But who cares about them?

by skittleiciousgirl
Costumes for the Last Minute Trick or TreaterIf you haven't spent at least part of the last eleven months even thinking of a Halloween costume, then you may be in luck; maybe this handy guide will give you some last minute costume ideas.

by ngc_5128
Halloween: Neopia Speaks!The Neopian Times Kiko reporter, Zukie, goes all around Neopia to check out what other Neopets are doing in preparation for this much anticipated time of the year...

by 0110pvt
The Ten Scariest Places in NeopiaI have conjured up a list of the ten scariest places in all of Neopia to visit. For daredevils, this is the list you've been waiting for!

by ginelga
The Penny-Pincher's Guide to a Neopets HalloweenI have constructed a guide (with a little help - no, a LOT of help from my pets) to the deliciously cheap goodies for those early trick-or-treaters, easy penny-pincher costumes, and a heck of a lot of more stuff...

by magicpd
Ahnnilator's Guide to the Deserted FairgroundSpend a night at the deserted fairground. Why? Well, Halloween is about getting scared, right?

by cyneo_masters2
Eat or Be Eaten - A Guide to Dangerous Neopian FoodsToday I'll take you on an intrepid quest of our very own Neopian food stores, and show you what NOT to eat.

by merrydellillusen
Halloween From the MastersWell, this article is about one Neopian's struggle to create the best Halloween party ever, by trying to interview notorious villains. Probably because only one Neopian was stupid enough to do this.

by callmelydia
Eliv Thade: DECODEDTherefore, while you are pondering the thought of what happened to "That Old Eliv Thade" that made him such an "I-hate-people" person, I've done some (painful) work that has cost me many cloud motes... I mean, that has got me many answers.

by griflinna
Count Von Roo: AmendmentsMy purpose here: to show all that Count Von Roo is not, as previously assumed, evil, and is in fact rather good.

by weaponstar
35 Ways to Decorate Your Neohome for HalloweenIn this article, you will discover thirty ways on how to decorate your home for the well-known, well-spooky holiday, Halloween!

by angelluv453
OLDPD: Still Going Strong One Year LaterThe unearthing of the ancient kingdom caused the original OLDPD virus to mutate and countless Neopians suffered relapses of OLDPD. In addition to the original symptoms, patients reported seeing stars...

by renrenthehamster
Paint Brush Polls: HalloweenGo on, feed your "Paint Brush Obsession" and find out what you can do to look stylishly creepy this fall. You know you want to...

by kallykat_03
Search the Neopian Times


---
Headlines

"An October Holiday" by evilhamster13
Suddenly, a pale, greenish Kacheek tiptoed round the corner, tripped, and quickly got up again. He had one large, glaring red eye, which he used to stare at them as he hissed, "You have entered the house of Eliv Thade! You must now answer my riddles or DIE!"

---
Other Stories
---------
---------
---------
---------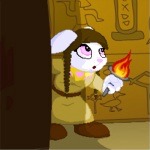 Aubrise and the Gebmid Mystery: Part One
"We have been researching the origins of the mysterious Gebmids for many years, but haven't made as much progress as we expected. We were wondering if Aubrise, your Lost Desert expert, would like to come and spend some time here with us to work on this project..."
Art by rookina
by
rookina
---------
---------
---