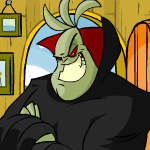 Top Ten Household Items to Slothify Your Neohome

by pregnatress

--------

This Sloth Day, celebrate properly by adding some seasonal touches to your Neohome. Whether it's personal items, furniture, or house decor, these ten popular Dr. Sloth items will brighten anyone's day. Some of these may be harder to hunt down than others, but from notebooks to statues, there's plenty of variety here to celebrate the holiday properly.

1) Dr. Sloth Lamp

What better way to brighten a household with Sloth energy than this innovative lamp? There's clearly no light in Sloth's eyes as he is constantly planning new plots, but instead, enjoy the ray of light coming out of his mouth to brighten a dark room. The 6-foot long cord will allow for the lamp to be placed nearly anywhere in your neohome, and this directional lamp will create a great ambience in any living room or bedroom. Head to the Neopian Gift Shop now to get your own!

2) Dr. Sloth Nesting Dolls

These limited edition nesting dolls are the perfect way to endear Dr. Sloth to your young ones. A classic toy to fidget with, Dr. Sloth's face is painted from a different angle in each of these differently-sized, hand-crafted nesting dolls. Perhaps you can even learn some sleight of hand trying to trick your friends into guessing where the smallest doll is hidden.

3) Dr. Sloth Note Pad

Although the Dr. Sloth Note Pad is not the only Sloth-themed stationary on the market, this note pad is ideal for any types sketches, plots, or creative ideas. Although it may be difficult to get your hands on one, this menacing note pad will be a worthy home to any writing or art within it. It could even serve as a top secret diary or poetry book -- of course, nobody would expect such things to be written in a Dr. Sloth themed note pad!

4) Dr. Sloth Spring Music Box

This may be one of the tougher items to get your hands on, but this Dr. Sloth music box is a lovely addition to any household. Playing popular tunes that practically put anyone who is listening into a trance, the music box has quickly become a cult classic. Opening the box to listen to a quick tune can quickly turn into hours with the mesmerizing music, but at the same time, you'll never have disappointed dinner guests. After all, what's better than seeing our beloved villain Sloth surrounded by pink roses and white daisies on a peaceful meadow as beautiful melodies hum?

5) Inflatable Dr. Sloth

This life-size inflatable Dr. Sloth is perfect to use as a punching bag, a body pillow, or an imaginary friend! Just as versatile as the real Sloth's plots, this less evil model of him provides endless opportunities for entertainment, decoration, fitness, and more. It belongs in any room in the house, or even outdoors or in the den. Some Neopets love it so much that they just carry it with them everywhere they go! If you want to find your Neopet an inspirational lifelong friend today, the Inflatable Dr. Sloth is probably the way to go. Get out of the way, Punchbag Bob!

6) Robo Sloth on Wheels

If you're looking for something more functional, take on the Robo Sloth on Wheels! This robotic version of Dr. Sloth will surprise you in any room in the house. Not only will it drag up any dust laying around the house, but he can act as a life-like friend for your pets. Chase this Sloth all around the house to stop him from his evil plots and get in some real life superhero practice. Unlike some of the other harder to find items on this list, the Robo Sloth on Wheels can be purchased at your nearest furniture store!

7) Almost Big Book of Slothy Recipes

Not too big but just large enough, this collection of Dr. Sloth-themed recipes will get you through months, and maybe even years, of cooking new recipes every day or week. If the book were any larger, it'd be too daunting to get through. Most of the recipes will call for an unusual amount of sludge, but there's no need to worry as all of these recipes have been thoroughly tested and fine-tuned for Sloth's true taste guarantee. If you want to get your hands on this cookbook, you'll have to make the trip to Kreludor and visit Booktastic Books -- luckily, they always get plenty of this bestseller in stock.

8) Defaced Dr. Sloth Portrait

Although this piece of art may not be an accurate portrayal of the actual Dr. Sloth, it definitely still has the opportunity to make anyone laugh and smile, and will brighten up any Neohome interior. Hopefully the painting is still true enough that your pet will still recognize Dr. Sloth should he ever appear in real life, as surely he won't be up to any good. Hopefully the villan himself never sees this painting, or you may be in trouble. Anyways, if you're looking to spruce up your home, feel free to stop by the gift shop to pick up your own copy!

9) Dr. Sloth Pond

If you're REALLY hoping to upgrade your Neohome, this Dr. Sloth Pond is the most luxurious Sloth item on the market. With water spouting out of his mouth, Sloth stands victoriously in the center of this garden installation that could bring greenery into any outdoor or indoor room. The purple pond would make an excellent centerpiece to any green area, whether a garden or a foyer. This elegant pond can be purchased at the Neopian Gardening Center.

10) Dr. Sloth Stone Statue

Last but not least, this huge stone statue of our beloved Dr. Sloth is a wonderful work of art to place in any household or in the yard. Dr. Stone's memorialized menacing laugh creates quite the mood in any area and will also scare away any thieves or brutes that dare approach. What better way to celebrate Sloth than leave his life-size permanent figure in your home? However, there's a very limited supply of this high-end statue available, so it won't be easy to get your hands on one!