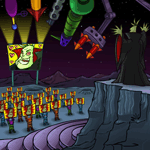 10 Cheap Ways to Celebrate Sloth Appreciation Day

by alaynaweb

--------

The Month of Sleeping is finally here and you know what that means- yes, it's time to celebrate our favourite Neopian hero Dr. Sloth! Now, I know what you're thinking: "But how do I celebrate my one true overlord Dr. Sloth without spending tens of thousands of neopoints?" Easy, if you know where to look! Even if you're low on funds you can still find fun ways to celebrate our favourite ruler and make the holiday extra special this year. I've compiled a list of items sure to bring some cheer into this year's Sloth Appreciation Day. The best part- all of the items mentioned in this article cost under 5000 Neopoints!

1. Visit the Neocola Machine on Kreludor

This is a very popular destination for young neopets and adults alike! Just pop a Neocola Token in the machine and get a fun gift in return. Gifts can include all sorts of prizes, Neocola, or even a Transmogrification Potion from Dr. Sloth himself!

You can get three different kinds of Neocola Tokens (red, blue, and green) as a reward from the Battledome, from the Space Weaponry shop at the Virtupets® Space Station, or you can help support your fellow Neopians and buy from other users. A win for everybody!

2. Dress up in some Sloth themed clothing

A great way to celebrate Sloth Day with your Neopet is to proclaim your love for our overlord Sloth for all to hear. An easy way to do that is to dress up like him! There's plenty of low cost options to choose from, such as the I Club Sloth Grundo T-Shirt, the Dr. Sloth Sling, or a Dr. Sloth Beanie. You can even dress up and pretend you're taking over Neopia with a Dr. Sloth Halloween Costume!

If you're feeling fancy and have some Neocash to spare, you could always splurge and get Dr. Sloth's Staff for your pet at the NC Mall. (Located in The Elite Boutique, which is only available to users 48 months and older.)

Honourable Mention: I Support Sloth Badge

Show your unwavering support for Dr. Sloth to all of Neopia with this badge!

3. Have a Dr. Sloth Themed Meal

A fun way to celebrate Dr. Sloth with your neopets is by having a meal in his honour! There's lots of tasty food that's Sloth themed, such as a Wheaty Sloth Day Burger, Sloth Day Nachos, or a Cherry Sloth Yogurt. If you're on a diet, make sure to get some Sloth Broccoli. For dessert, make sure you treat your pets to a delicious Berry Sloth Ice Cream. Yummy!

Honourable Mention: Sloth Brucicle

This adorable Brucicle looks just like Dr. Sloth!

4.Decorate your Neohome with some Dr. Sloth furniture

There's plenty of ways you can show your love for Sloth around your own home! Items such as the Sloth Painting, Dr. Sloth Lamp, and Dr. Sloth Poster will leave no doubt in your friends and family's minds that you love all things Sloth. You can even get a My Best Buddy Sloth Cardboard Cutout and have Dr. Sloth's likeness in your very own home!

Honourable Mention: Glistening Sloth Statue

This beautiful statue will look perfect in your Sloth themed Neohome.

5. Play with some Dr. Sloth Licensed Toys

You know what your Neopet will love more than a regular old toy? A Dr. Sloth themed toy! Some fun options include the Dr. Sloth Bucket and Spade Set, the Sloth Toy Box, and Dr. Sloth Crayons. If your pet likes collecting figurines, the Dr. Sloth Key Quest Figurine might be right up their alley. (Doom sold separately.)

Honourable Mention: Dr. Sloth Toy Blocks

Perfect for younger Neopets.

6. Read a Dr. Sloth themed book

All Neopets love reading, and Dr. Sloth books are the best way to unwind and learn a little more about our favourite Neopian hero. Fun titles such as Most Memorable Dr. Sloth quotes, the Almost Big Book of Slothy Recipes, and The Complete Guide to Dr. Sloth will be sure to put a smile on your Neopet's face. If your pet is into fashion, make sure to get them Sloth Hair Tips so they can have a cool hairdo just like Dr. Sloth himself!

Honourable Mention: Scary Sloth Stories

If your pet is into scarier stories, make sure to check this book out!

7. Buy some Sloth Themed Plushies

If you're a plushie collector this one's for you! There are several affordable Sloth themed plushies that you can add to your collection. Some of these include the Sloth Faerie Plushie and the Minion of Dr. Sloth Plushie. So cute!

8. Visit the Virtupets® Space Station

An out of this world destination that Dr. Sloth himself used to try to take over Neopia in Y2, take your pets to visit the Virtupets® Space Station! With plenty of games, shops, and a cafe, this is a spot you don't want to miss on Sloth Appreciation Day. There are three levels to explore- the Hangar, Recreation Deck, and Supply Deck- and each has its own points of interest. Some fun attractions include The Lever of Doom, Space PetPets, and Grundos Cafe. Make sure to play a round of Gormball while you're there!

9. Play The Return of The Return of Dr. Sloth

This is a fun, Sloth themed game that will actually EARN you Neopoints! Although you play against Dr. Sloth in the game, you must remember that it's just a game and you're not actually fighting against Dr. Sloth. Besides, you're thinking about Dr. Sloth, and that's what matters.

10. Fight the Space Faerie in the Battledome

What better way to celebrate Sloth Appreciation Day than to fight his arch-nemesis in his honour? You can even pretend to be Dr. Sloth himself as you fight! A fun, cheap way to celebrate Sloth Appreciation Day.

And there you have it! 10 ways to bring a little more doom into your Sloth Appreciation Day without breaking the bank. I hope you all have a great holiday, and all hail Dr. Sloth!