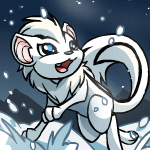 Cosying this Winter with the Xweetoks

by breakeven

--------

It's the last few days of the Month of Storing. We cuddled up in fluffy sweaters and slippers, held cups of warm borovan in our hands as we sat by the window watching the snowflakes fall into oblivion. My mind drifted to the happenings of the day before and I drew a faint smile. My pets and I had a great time at the Christmas market in Terror Mountain – playing in real houses made of gingerbread, enjoying chocolate fondue dipping stations and just soaking in the festive atmosphere, snagging some festive trinkets along the way.

We also paid a visit to our Xweetok friends while we were there! They had moved to Terror Mountain years back, and paying them an annual visit has become a yearly tradition for us. We had a blast at their home – having the yummiest food and playing some Xweetok games! No doubt, their favourite season is definitely the winter and as Christmas draws near, let us take a moment to appreciate the family and friends around us! Here are some of our Xweetok friends' favourite items that have made our trip so enjoyable.

Xweetok Hot Chocolate
The winter season definitely calls for some piping hot chocolate, so what better way to warm up than to have a Xweetok Hot Chocolate? This hot chocolate is topped with whipped cream and sprinkles of cherries. We heard that the hot chocolate is a family recipe passed down through generations. Indeed, I have yet to taste better hot chocolate than the one right here in our Xweetok friends' home. Someday, I'll get my hands on the recipe for this out-of-the-world beverage.

Chocolate Xweetok Ice Cream Sandwich
Now, what else goes better with hot chocolate than a Chocolate Xweetok Ice Cream Sandwich? Yes, we know that's double the chocolate, but one needs to have the occasional indulgence right? Cut into a perfect Xweetok shape, this ice cream sandwich has a cookie cream filling, which is fluffy and tastes like clouds. Our Xweetok friends love to make batches of this during their winter bake sale and it's said to be their top seller!

Snowy Xweetok Collar
As you know, our Xweetok friends boast a luscious mane of fur around their necks. During the winter season, they love to switch things up by donning this Snowy Xweetok Collar. Not only does it reflect well of the season's latest hues—pastel blues and whites the colour of snow—, it also keeps them warm! It is indeed a good alternative to your usual scarf. They definitely dazzle as the family steps out together on the streets with their matching Xweetok Collars, almost becoming fashion icons. Our lovely friends did offer us one or two collars for us to keep warm as we travelled home and we gladly accepted as the weather turned slightly chilly.

Xweetok Cut N Paste Book
One of the Xweetok's favourite pastimes is, unsurprisingly, arts and crafts. They are patient and artistic creatures that appreciate any good hobby that allows them to express their creative flair. We sat down in the living room in a circle with a few of these cut n paste books and a few pairs of scissors and started snipping. In this Xweetok Cut N Paste Book, it features Xweetoks in different scenes and complementary images – Xweetoks baking cookies or Xweetoks rolling in the snow, which we could cut out and use to decorate blank notebook covers, maybe. These will double up as great Christmas gifts for the upcoming festive season! We helped them with decorating some notebooks as well as Christmas gift paper wraps!

Xweetok Ice Breakers
Meeting new friends for the first time can be hard. They can be kind of guarded, distant, or even cold. Maybe you have trouble thinking of the right things to say. Maybe you're just not that good at it, which is fine. But if you struggle with meeting new friends, especially Xweetoks, don't despair, Xweetok Ice Breakers might be the book for you! We always struggled making friends with Xweetoks until we read this book, and then we were able to make our Xweetok friends. The last time we went over their houses, we showed them this book and they read through it. Unsurprisingly, they all strongly recommended it for befriending Xweetoks. Inside are a bunch of good questions, conversation starters, jokes, and puns to spice up a conversation with a new Xweetok friend. Favourite tree hollow to climb in? Which Xweetok-themed accessories do you like most? If Xweetoks made clocks, what sound would the clocks make? "Xwee-tick, xwee-tok, xwee-tick, xwee-tok." If you're feeling a little adventurous or maybe just desperate for new Xweetok friends, you might want to try this book out.

Xweetok Popstar Microphone
Have you ever felt like you could be a popstar if you were given the chance? Do you just have artistically inclined Xweetok friends? If so, it might be a good idea to get hold of a Xweetok Popstar Microphone! One of our favourite activities at our Xweetok friends' home in Terror Mountain was to hold impromptu karaoke nights. We'd play our favourite Chomby and the Fungus Balls or Sticks-N-Stones songs and sing along to them and those were some of our favourite memories from our trip. And, although we definitely didn't sound like pop stars, we felt like pop stars. We had a really good time singing and rocking out with our Xweetok friends for a couple hours on karaoke nights and this microphone was a crucial part of that; not only was the sound quality great, but it's stylish, too, and really helps you look the part of the popstar while you're on stage.

Xweetok Pie Slingshot
Food, fun, and weaponry in one item? This is almost irresistible. The Xweetok Pie Slingshot is a Xweetok-exclusive Battledome item. With it, your Xweetok friends can become fearsome warriors in the Battledome. But, honestly, the item's better for fun than it is for fighting. If you ask nicely, maybe your Xweetok friends will shoot small pies in your mouth. The Xweetok Pie Slingshot comes with a lot of delicious strawberry pies, so that's always a fun option. Alternatively, you can do what we and our Xweetok friends do: one of our favourite things to do when we're over their houses is get a bunch of these slingshots. Once we have enough of them, we'll run around the house shooting pies at each other. And sometimes someone ends up with a mouthful of pie, and sometimes someone ends up getting a pie in the face. It's very messy, but also very fun! Though admittedly cleanup is less fun. And, truthfully, that's just one way to use this item—we're sure you can find many others.
Unfortunately, we had to wrap up our gathering with our Xweetok friends to head back home – we had a party of our own to host. We did our advance Christmas gift exchange and they promised they will pay us an annual visit this upcoming spring to our home in Faerieland. We really enjoyed our time yet again with them and there is no doubt that Xweetoks are one loving, fun-filled bunch to hang out with this Winter season!
Also written by masters_united & _arkham_asylum_