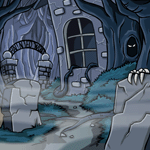 Haunted Woods & Neovia: Hidden Gems

by xghoul447

--------

If you were to choose where to live in Neopia, you would choose Faerieland or Neopia Central. Don't lie, who wouldn't? More "spooky" locations like Haunted Woods or Neovia often don't get picked... which they should! I mean... who wouldn't want to spin the wheel of misfortune? Ok, that makes sense, no-one, but you can actually win prizes worth 29k, for example, Kougrachio Plushie. I'm here to list my reasons why, YOU, yes you, should live in Haunted Woods/Neovia! Oh, and by the way, umm... you can call me Ghoul.

1. Halloween vibes all year long! Halloween is the best holiday, as many would agree. What's better than candy and costumes? NOTHING. Well, I guess Christmas is pretty cool... I mean presents... milk and cookies... NO! NOT- REALLY! Sorry guys, I'm in denial :(

2. The other places don't compare! For example, Faerieland is just... way too happy. I mean, at this point, even Lutari Island is better than Faerieland. It just hurts... my EYES. Sorry, caps lock was on. Anyways, Haunted Woods and Neovia is easy on the eyes. UNLIKE FAERIELAND, sorry for my, umm... hatred on Faerieland, it's just a childhood thing, you know?

3. FOOD. FOOD IS LIFE. FOOD IS GOOD. Well, only spooky-themed food is good! Even Kelp makes my tastebuds go *yuck!* I mean... who wouldn't want to eat eyeballs and rats? Surely, you guys do? Right? RIGHT?

4. The quests! Well, most of the quests. *cough* not Edna *cough* The Brain Tree is looking for answers of a mysterious death. Who wouldn't want to help? So, you go to the Esophagor and feed him. He hasn't been fed in years! So, you're doing a good deed. They both can't move, which is understandable. But, faeries can fly, but they ask you?! Oh, not to mention, that Lutari, uh... what's his name again? Dr. Landie Dot- something like that, has a SPACESHIP to get items, but he asks you. #braintreerights #esophagorrights

5. The Crumpetmonger; grandmas make the best foods, right? So, hear me out, this place HAS to be the best, surely. This place is always in stock due to no-one living here. Win-win!

6. Apple Bobbing! Who hates apples? No-one! Well, I guess doctors hate apples... and oranges probably hate being outshined by apples... I guess kids also hate apples, I never met a kid who liked apples. Have I?

7. Clowns. Clowns are friends. They are not scary by any means. I guess when they explode, it's kinda scary. But, it's also delicious! They explode with pie-filling! *yum*

8. Misleading titles; Haunted Woods isn't haunted! It's just mysterious... Everyone there is nice, enough... even the Coconut Shy guy who won't let me knock down a coconut to get the avatar (rude).

9. SLORGS, SLORGS, SLORGS, SLORGS, SLORGS, SLORGS, SLORGS, SLORGS, SLORGS, SLORGS, SLORGS, SLORGS, SLORGS, SLORGS, SLORGS, SLORGS, SLORGS, SLORGS, SLORGS, SLORGS, SLORGS, SLORGS, SLORGS, SLORGS, SLORGS, SLORGS, SLORGS, SLORGS, SLORGS, SLORGS- Sorry, things got out of hand. Anyways! Slorgs are wholesome slugs who deserve everything in the world. If you get a Slorg, here's a cookie. Pumpkin Cookies from Haunted Woods to be exact.

10. Best stamp avatar goes to... Haunted Woods! Too bad that it costs 86 million np...

11. The Haunted Fairgrounds; you might be thinking those games are scams but the risk is what makes it fun. Sure, you lost 100,000 np on Haunted Fairgrounds games but that's what makes it fun! Well, at least to me. Well, to be fair, Test Your Strength is the only one probably worth it...

12. Petpets! Pets for pets? A genius idea. What's even better is spooky Petpets! Here, I'll name some! SLORGS, SLORGS, SLORGS, SLORGS, SLORGS, SLORGS, SLORGS, SLORGS, SLORGS, SLORGS, SLORGS, SLORGS, SLORGS, SLORGS, SLORGS, SLORGS, SLORGS, SLORGS, SLORGS, SLORGS, SLORGS- I definitely don't have a hoard of slorgs in my SDB...

13. Chia clowns = evil robots? That sounds like it's from sci-fi... but it's right here in Neopia!!! Chia clowns, first off, look funny. They look so funny that TNT should release a Chia clown wearable for Chia day...

14. Meowclops is an emo version of Angelpuss. This is why Meowclops is 2nd favourite Petpet next to SLORGS, SLORGS, SLORGS, SLORGS, SLORGS, SLORGS, SLORGS, SLORGS, SLORGS- okay... I'll stop for now...

15. Better than Faerieland. Yes, we're back here again. Faerieland is overrated. This hatred of Faerieland definitely didn't come from me failing to get the Faerie Bubbles avatar. Imagine this, you had one choice to buy a Faerie Paint Brush or Halloween Paint Brush, which would you buy? I mean... if you picked the Faerie Paint Brush then I RESPECT YOUR OPINION BUT YOU'RE WRONG. A 200 IQ choice would be the Halloween Paint Brush. Halloween pets have costumes! Faeries are pastel & winged, that's it. If you want a witch, then paint a Chia Halloween!

Welp... it looks like we made it to the end... But- I have a confession.

It's time... to reveal my true nature... I'm a Ghoul... you probably thought that was my name but that's what I am... I always wanted to go to Faerieland, but a Ghoul like me? No- that's not possible... right? Haunted Woods and Neovia are places for Ghouls. I just wanted more people to come here because it's actually not so bad- and I wish I could go to all sorts of places!!! I'm really jealous of those who can go to Faerieland. I mean- I need a new paint job. The perfect place for that is the Rainbow Fountain. Too bad I'm a Ghoul... No wait... Neopia is for everyone. No matter who you are!!! You can be a pile of dung and still be welcomed. That's what I have learned from living at Haunted Woods and Neovia. See you at the Rainbow Fountain!
Search the Neopian Times


---
Great stories!
---------
---------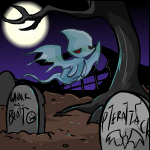 The River that Flows Eternal
Oh… this again. This stupid memory. Whoa, what a creepy cave, said a distant voice far beyond his sight. What did you expect? came the tart reply. I mean, this is the Haunted Woods.

by movie138music
---------
---------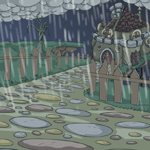 A List of Gloomy Items
The Greyest month of the year is once again upon us. Are you ready to be miserable and share your feelings of depression with one another? Article also written by: cawayee and siellan

by sessduh
---