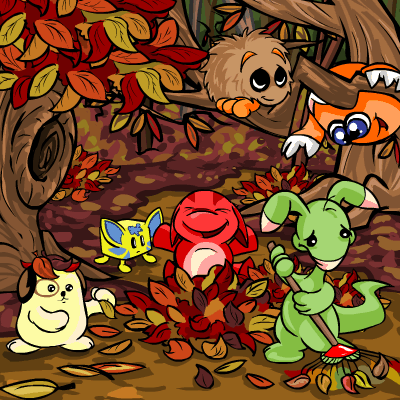 10 NC Essentials for Your Fall Customisation

by breakeven

--------



Fall. Think pumpkin spice. Plaid scarves. Autumn leaves crunching beneath your feet as you wander through the newly coloured foliage, as if you are in a brand new place. The weather in Neopia gradually gets cooler and more forgiving. Who doesn't love fall? There is just so much you can depict in your customisations - from the lovely red and orange hued outdoors, to a corn maze, to a cosy doorstep look. We are excited to bring out the layers in our NC wardrobe after that summer season!

Let us bring to you some of our favourite Fall NC items that we absolutely love. (And they are affordable as well!)

First up, we have backgrounds. Here are some of our top picks portraying various autumnal scenes:

Fall Colors Background (1-2)
An underrated background, this background depicts an outdoor scenery in yellow tones - your pet is exploring the lovely outdoors, hopping from stone to stone along the river with a tranquil view. We would layer it with a lower foreground and keep the higher foreground clear. Dress your pet up in a comfortable and cosy outfit (we have some recommendations later on) as they pick up some pine cones and autumn leaves along the way!

Autumn Stream Bridge Background (1-2)
Another one of our favourite fall backgrounds is definitely the Autumn Stream Bridge Background, perfect for that early morning stroll as it exudes tranquility. The strong reds in this background will complement your pet's muted outfits - taupe and brown. You could pair with a lower foreground like an autumn fence or shrubbery and even throw on a leaf shower to bring out the fall mood better!
Next up, for foregrounds or trinkets we have selected a few that goes well with the backgrounds we have selected earlier:

Glittering Leaves Garland (2-3)
One of our top choices for garlands is the Glittering Leaves Garland. It features various leaf cut-outs and pine cones, in vibrant fall shades and the best part is they glitter too! The strong reds and browns in this allows it to blend in very well with quite a number of the fall backgrounds we currently have (E.g. Autumn Sunset Lake View, Autumn Stream Bridge, Annual Harvest Festival), thus adding more details to a customisation.

Picturesque Fall Backdrop (1-2)
One of the new items that have dropped this season and caught our attention immediately, is the Picturesque Fall Backdrop. Featuring a scattering of pumpkins and a wagon in rustic shades of brown and orange, this trinket can easily change the scene you are trying to depict when layered on with the various backgrounds! Try depicting an autumnal market or a cosy back porch of a home that is getting ready for fall. As this item occupies the background, you can even add on an additional foreground item to spiff up your customisation.
Lastly, let's move on to talk about accessorising your pet up with some good fall wearables and accessories options! A perfect customisation would require perfection, down to the very last detail!

Comfy Cordur-alls (1-2)
Another one of the new items that made its way into our closet is the Comfy Cordur-alls. Featuring a taupe turtleneck sweater underneath a brown corduroy overalls (with an adorable sunflower embroidered even!), your pet will look cosy and toasty in this ensemble. Be it heading out to a pumpkin patch to gather some pumpkins or just playing around in the autumn leaves, this is indeed a versatile outfit.

Delicate Autumn Jacket (1-2)
The Delicate Autumn Jacket is a fall wardrobe staple for most of us. It carries an air of elegance, making your pet look effortlessly chic and warm. The dyeworks version of this are good options as well should you prefer darker tones of navy, green and grey! We would add on a scarf as well to complete the look.
Pumpkin Beanie & Wig (1-2)

This versatile wig comes with a lovely crocheted hat that keeps your pet toasty! The bonus? It's festively coloured like a pumpkin. The brown and auburn locks flowing down softly from the crochet hat compliments any fall customisation you have! It adds a casual and playful vibe to an outfit and will definitely suit a venture outdoors on a lovely fall day.

Studious Glasses (1-2)
Studious Glasses maybe a slightly less seasonal item we have picked here, but we love how it adds the finishing touches to an outfit! Cosy up with knits and scarves and top it off with the glasses for that casual fall look. There is a slight shimmer to the frame as well, which will make onlookers take a second look.

Cute Brown Boots (1-2)
We all love and need a pair of boots for the season. The Cute Brown Boots is a simple and timeless pair to own! (We personally own a few pairs of this!) It definitely goes well with a lot of the muted tones, for instance in the clothes we have recommended earlier.

Pumpkin Spiced Latte (1-2)
Lastly, handhelds! Well well, the universe has heard us in wanting a perfect handheld for fall! What is a better item than this, cosying up with a cup of warm pumpkin spiced latte in the chilly weather? Your pet will look perfectly at home wherever they are, and yes we will have one wherever we are – ambling around in autumn foliage or just hanging around appreciating the autumn world in wild eye wonder.
We hope this guide has exposed you to some suitable Fall items if you are unsure where to start! We are definitely mixing and matching the new items released this fall with some of the classic older customisation items for our Fall customisations! This list is not exhaustive – we wish we can go on and on about them! We do hope we have helped ignite your next Fall customisation inspiration and we look forward to seeing your lovely autumnal customisations around.
Also written by lookidontcare3 and masters_united