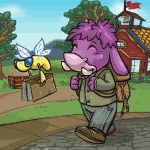 8 Books For An Autumn Evening

by parshew

--------



The weather has gotten colder and the leaves are starting to change and fall off their trees, the sun is setting earlier and Neopia is getting ready for snow. Many are vacationing off to Mystery Island or Roo Island for their last glimpses of sunshine before the winter ahead. This is a very special time for many Neopians where they can pull out their comfy sweaters, a hot pumpkin spice latte, and walk around in the crisp air. For me, I love taking this time of year to sit outside with a blanket on, a hot cup of tea, and read my favorite books. I'm sure your Neopets would enjoy the same! Books are always incredible, they transport you to another world and let you live a whole life of adventure without having to get up off your chair. These books are full of practical crafts, historic information, and fun stories to keep you and your friends entertained! There are many, many more books available, but these are my picks for the top eight reads for this autumn:

Fall Destination
Where do you go when the leaves start to fall? A handy book will show you the way!
This is the first book I recommend because it will kickstart your fall vacation. It is a complete guide on the best places around Neopia to visit this time of year. Some prefer a trip to the tropical destinations like Krawk Island to soak up some sun and get in some valuable beach time, while others prefer to go to the serene Kiko Lake to watch the leaves change while spending their days on the dock. You can't go wrong using this is your complete vacation guide for autumn. It lists everything from high end hotels to private cottages and even some backpackers hostels for those on a tight budget. No matter where you go, you'll want to consult this handy guide for all the best information on tours, sights to see, activities, and dining advice.

Fall Leaves Book
Read all about the changing fall leaves!
If you decide to take a vacation somewhere where all the leaves are changing and dropping, this book can help you identify all the types of leaves. I took this book with me on a trip to Kiko Lake last year and it was so helpful. It explains why the leaves change colors, why all the trees drop the leaves every year, and even goes into information on the regrowth of the leaves. This is an essential for learning all about leaves and why they do what they do. You'll sound so smart when you meet up with your friends and explain all your newfound leaf facts.

Neopian Autumns
What is it like in Neopia during the season? This book will give you all the answers.
Ever wonder exactly what autumn was like in Terror Mountain? Or how Moltarans know when the season arrives, since they don't get colder air due to the lava and any trees that could have existed were burnt to a crisp? This book will tell you! It has a section for each land through Neopia and details on the history of autumn there, as well as the current day status of the season. It is informative and goes a bit more into the science of it than the above mentioned vacation guide. I find it makes a great coffee table book because it is filled with smaller passages and blurbs that make it very accessible for quick reads. You don't have to devote hours to sitting and reading this book to gain some valuable insight.

Autumnal Decorating
This elegant book will teach you how to decorate your Neohome in an equally elegant manner.
Seasonal decorating is no laughing matter, Neohome owners take the practice very seriously and they don't want anything messing up their style choices. This book is a complete guide to all the different fall furniture you can put in, different plants that are meant to survive the colder weather for your garden, and recommended insulation for the winter coming soon. There is a section for crafts you can do to decorate, as well as a feng-shui guide. If you aren't a Neohome owner yourself, this makes a great gift for a decorative friend.

365.25 Borovan Recipes
One for every day of the year!
Borovan is a popular drink when it gets cold, and it is so simple you may be wondering how there can possibly be so many different recipes. For the uninformed, borovan is a mixture of asparagus and hot chocolate that is served up on cold days and colder nights. It is usually served hot, but in this book you might find some recipes for cold borovan, borovan stew, borovan lasagna, among other things. You'll never get bored of borovan with this book.

101 Leafy Uses
Have you ever wanted to know what to do with those leaves that fall into your yard? In this book Illusen gives you 101 suggestions.
The worst part about the season is raking up all those dirty leaves in your yard and trying to cram them into those jack-o-lantern trash bags that everyone seems to have. It all appears to be so wasteful, there must be something else you can do with all those leaves, and there is! Illusen, a famous earth faerie, has released this book with 101 suggestions on what you can do with all the leaves you collect in your yard. Hurrah! Crafts, medicines, teas, and so much more can be found in this guide.

Leaf Mosaics and You!
They may not last very long, but leaf mosaics make beautiful pieces of art.
Leaves come in so many great colors and sizes and are truly works of art, if you have a creative eye then you can turn them into beautiful mosaics. This book is a great starter guide on how to arrange leaves to maximize their potential, how to glue them down to a surface without badly damaging them, or how to display them in your yard to show off to your neighbors. Will you create a giant portrait of Illusen? Your work is only limited by your imagination.

Neopian Calender Stories
Stories from all year round are covered in this wonderful book. This was given out by the Advent Calendar in Y19.
To round out our list, we have this book that has tons of Neopian stories for the whole year. It is not a fall-specific book, but it does have a lot of fall stories. I'm recommending this book because it'll keep you entertained long after the leaves have fallen and been replaced with the icy snow of winter. You'll have stories to get you through the whole year and speed up the clock until next fall arrives, the best time of year!