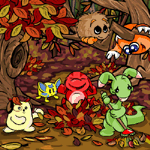 Fall in the NC Mall

by pixeldream

--------



Have you made your way over to the NC Mall lately? If you have not given it a visit you really should! There are a lot of amazing new items coming out for fall, you can almost smell the apple cider and pumpkin muffins as you wander through the aisles trying on the cool new wearables. There are a few classics that are still available that will be sure to get you in the spirit of the season. It doesn't matter if you like the spooky-ooky side of October or the friendship gathering and festive feasts of November, there is something for everyone. All the items below are currently available, but there are tons more items that you can trade for. There may even be a few more items released over the rest of this season for you to pick up!

Baby Puffy Autumn Leaf Vest (Baby Neopets only)

This golden colored, beautiful vest is a gorgeous shade to match the leaves of autumn. It will keep your Baby Neopets nice and toasty for an evening walk through the forest to admiring the changing of the season, or while you have a nice family picnic in the park on a chilly afternoon. The sweater underneath has a big fall leaf right on it. At 150 NC, this is a really good deal.

Autumn Picnic Setting

Speaking of picnics on a chilly afternoon, they would not be complete without this picnic setting. It comes with a few blankets to spread out and a giant basket for your feast. Pack some sandwiches, a thermos of soup or hot tea, and some fall fruits like apples. You may want to pack some extra blankets for warmth, too.

Autumn Handheld Lantern

If you find yourself taking longer walks admiring the leaves, you may want to pack this lantern for the journey back when the sun sets. This time of year it is getting dark earlier and earlier, so having an extra light source is a good idea, but sometimes flashlights just seem a little boring and not festive enough!

Fall Mountaintop Background

One of the most magical parts of fall is going to a high hill or mountain that looks out over the lush forest of changing leaves, where you can really admire and take in all the colors of the season. This has stunning greens, reds, and oranges, with a golden sun setting over the horizon. This is the dream view for any fall lover.

Fall Picnic Background

This is a background better suited for those who like the fright of fall, it features some expertly carved jack-o-lanterns on a porch. There are tons of fall leaves scattered around, a couple picnic chairs to enjoy the cool evenings, and a ghastly garland over top. This is great to pair with a Halloween costume because it will look like your pet is going trick or treating at the house in the background!

Casual Fall Dress & Necklace

Great for a gathering with friends, a trip to the pumpkin patch, or just a casual day outlook. This deep red dress will blend perfectly with the mood of fall, while also having a thicker material designed to withstand the cold air. The added necklace brings this look to a more sophisticated level and makes it great for more dressed up events.

Leafy Updo Wig

With this wig you can look like you were just rolling around in a pile of freshly raked leaves! It has a messy but modern style to it and hair piled high with carefully placed golden leaves throughout to add a bit of flair. It is a high fashion look on a budget, some even think the leaves are designed from real gold.

Delicate Leaf String Lights

If leaves in your hair are not exactly your style, you can have them hung up as string lights around your Neopet. These are best paired with an evening or night time background and really add a nice pop of light to the look. The leaves are green, so this look could translate well to spring or summer too. You'll get a lot of wear out of these string lights.

Pumpkin Carriage

If you or your Neopet will be attending any Halloween parties, this Pumpkin Carriage is the ONLY way you'll want to arrive. It has four giant wheels to navigate all kinds of terrain, though I'd be a little careful going through the Haunted Woods with this thing. It has room for a few passengers so your friends can ride in style with you.

Light Pumpkins Branch

What screams "FALL IS HERE" louder than a spooky branch with a bunch of jack-o-lanterns hanging from it? Nothing! Pop this up over a Mutant painted pet and this will make them that much more festive.

Golden Leaves Mystery Capsule

This is a great item for taking a small risk and letting the universe decide what to wear. It features ten different fall themed items that your pet can wear, ranging from Fall Tones Makeup to a Cape of Leaves. There are a lot of really cool items in this so it may be best to buy a couple and try your luck, but you can also try trading NC items with friends to get the prize you want. This is great for getting some exclusive items that aren't available elsewhere.

Autumn Harvest Retired Mystery Capsule

Last, but certainly not least, on this list is the Autumn Harvest Retired Mystery Capsule. If you are a fan of autumn, you will want to pick up as many of these as you can carry. Mystery Capsules like this one feature extremely rare and now retired NC Mall items, items that have not been available for years and may never be available again outside of this special capsule. You'll be able to select a category of item you want, like clothing or accessories or backgrounds and trinkets. If you are super lucky, you'll be able to select two categories and receive two items. There are dozens of possibilities in here and they are all amazing. One of my favorites are the "Autumn Leaf String Lights" or "Autumn Leaf Shower". Where else would you be able to have fall leaves falling right in front of your Neopet? The "Autumn Wind Swept Wig" is really cool too, it is a blown back wig with a bunch of leaves stuck in it and is a great disheveled look for your Neopet. To name a few more possibilities: Autumn Leaf Contacts, Warm Autumn Coat, Pumpkin Armour, Layered Fall Jackets, Layered Autumn Leaf Dress, Autumn Foliage Trousers, and so much more. I want to include a few images of possibilities below to help tempt you into buying this! Even if you don't get an item you want, you will get something of value to trade with.