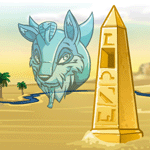 Showing Your Love for Coltzan III

by mimitchi880

--------



In Neopia, we clutch close the memory of the late King Coltzan III: for his unwavering heroism and selflessness; for his majestic beard and stoic countenance; and for the fact that his darling daughter Vyssa had a shrine built for him and thus he's the king everyone actually knows about. Never mind how exactly his memory got here—he is the friendly ghost of the Lost Desert everyone knows and loves. And yet, as we spend our days scrambling for avatars and scraping up money for paint brushes and stamps, perhaps we often forget to appreciate the impact this ancient king has left across our land. Coltzan is my all-time favorite of the Neopian heroes and legends, and I want to share my love for him with all of you and offer a whole host of ways we can let him know that he's the coolest of all time—well, not really cool if he's from the Lost Desert, but you know what I mean. Since he is a ghost who watches and can see the things we do, he really, genuinely can appreciate our appreciating!

So let's get to it, with a list of Coltzan-themed activities!

1. Visit Coltzan's Shrine to Pay Respects

This one is a no-brainer! Coltzan's Shrine is one of the most popular daily rituals of Neopians, as well as one of the most famous attractions in all of the Lost Desert. The shrine was unveiled by Coltzan's daughter, Princess Vyssa, in order to honor her father's memory and his peaceful, victorious reign over Sakhmet, and ever since then, Neopets from all lands have been coming to the shrine to pay their respects. Stopping by as a well-wisher once every twelve hours will show Coltzan you remember his legend and generosity—and if you are lucky, Coltzan's ghost himself may just reward your honor with a stat increase, Dubloon coin, or Battledome item! The most fortunate Neopians even have a chance at being granted one million NeoPoints, so a tribute to this beloved fallen leader is well worth the effort. I'm sure it gives Coltzan an incredible amount of joy to see and speak with so many Neopians and their pets every day, and it is a daily tradition we all should be doing no matter what.

2. Learn Your History

Sure, we all know Coltzan was a great king, great enough to be enshrined for all of eternity—but unless you were here for the early Usurper! or The Hunt for the Crown plots in Y3, or you spend hours poring through pages in the NeoPedia, you may be unfamiliar with some of Coltzan's greatest features and triumphs. Did you know that Coltzan once rescued a princess from Baron Nehlaki, and used the cover of a thick, unyielding sandstorm to outwit a swarm of vicious Scorchios? Did you know that Coltzan once defeated a raging Monocerous with nothing but his bare paws? How about the fact that Coltzan was poisoned by the refugee Princes Sankara, allegedly because he thought her too young to lead an army to reclaim her homeland from King Heksas? If you find any native of Sakhmet, visit Coltzan's Neopedia page, or purchase Sakhmet Tales for your own collection, you can learn all about what made Coltzan such an unbelievably excellent king. By keeping his stories alive, we Neopians keep his honor and memory alive, too, which is a most fantastic thing!

3. Create a Coltzan-Themed Gallery

This is one of my favorite ideas to show how much you love King Coltzan! It is definitely in my own personal near-future to design a gallery featuring all the items related to our beloved Coltzan. And plenty Coltzan-themed items are extremely affordable, or even free giveaways at his shrine, such as Coltzan Plushie (1 NP), Coltzans Gem (5 NP), Coltzans Ghost Plushie (650 NP), and Coltzans Ring (90 NP). To really showcase your devotion, there are more extravagant and expensive items, like Coltzans Battle Sceptre (64,000 NP), King Coltzan Kite (89,000 NP), or even the Hidden Tower's Mask of Coltzan (3 million NP). Coltzan will feel the strength of your respect all the way from his shrine with such a fantastic collection of items all in his name!

4. Dress Up Your Pet Like Coltzan!

They say that imitation is the highest form of flattery, so why not dress up as the late great king himself, or like a member of the royal family? Obviously, a desert or royal Lupe would be the perfect candidate for this costume, especially during the Month of Collecting when we all dress up to feast upon our neighbors' candy, but any Neopet can look just like Coltzan with the right items! Coltzans Shrine Background, Coltzans Collector's Staff, and Coltzans Ceremonial Armor are all fantastic Neocash items you can trade other users for. But if you can't get your hands on those, there are other desert-themed items like Desert Headgear, Lost Desert Tapestry, Lost Desert Team Cuffs, or the Queen of Lost Desert set, which would all create the perfect desert-themed look for your pets and announce to everyone who sees them that you are a supporter of Coltzan and his land.

5. Attain the Lost Desert Stamp Collection

What better way to show your ultimate devotion to King Coltzan than to spend millions of hard-earned Neopoints on one of the site's most expensive and prestigious stamp collections? While the majority of the Lost Desert stamp page will only cost you a few thousand Neopoints each, the three more expensive stamps, Ummagine Stamp, Holographic Coltzans Shrine Stamp, and the elusive Coltzan Stamp, will all put you out dozens of millions of Neopoints, if not much more. While this collection may seem impossible, for the expert Neopian savers, it can be done. And once you've finally sealed the last stamp into place, not only will you proudly be able to show off your page and its Coltzan-themed crown jewels, you will receive its corresponding avatar, which has Coltzan's face glimmering right on it. It's the ultimate symbol of our Minotaur-tackling hero, and perhaps a sign of ultimate devotion, too.

6. Root For The LD Home Team!

If you're really here to honor the king, you should support his home team in the Altador Cup, even if you aren't from Lost Desert or have your heart devoted to another land's players. Team Lost Desert might not have been on the podium since the earliest years of the cup, but Leera, Vonde, Derbi, Rhee, and Luvea all work their tails off (except for Rhee, who has no tail) year after year to represent King Coltzan and all his people. Buying some of their merchandise from the NC Mall or giving a friendly hello to Lost Desert players is a wonderful way to show some Coltzan spirit, and if you are on the team, play your hearts out when the next summer rolls around! (This is absolutely not a plug to get more players for my team… What are you talking about…?)

7. Support the Lost Desert's Shops and Culture

Lastly, Coltzan is most well-known for his sky-reaching dedication to his people: the citizens of Sakhmet and the Lost Desert as a whole. The best way to support Coltzan's mission even after his passing is to help make sure his land continues to prosper as a place of safe shopping, spectacular hospitality, and all sorts of scorching-hot fun and games, year-round. As autumn approaches, the wave of tourists will begin to dwindle, so please continue visiting the desert even in the colder months and contribute to their businesses! Stop at the Food Stall, spin that Fruit Machine, or take a crack at King Coltzan's favorite game: Scarab 21! You will be bringing prosperity and joy to Coltzan's homeland, and ensure that it will always be around to sell you Sand Pears and tell its fantastical, courageous Coltzan tales.

And with that, we have it—all the best ways to wear your support for Coltzan loud and proud, all these years after his death. Although this great king is no longer with us, he lives on through his Lost Desert Neopian people, his beautiful, sun-shimmering shrine, and all of the fun and exquisite items that bear his likeness and immense spirit. Coltzan is one of the most memorable, kind-hearted Neopians in history, and honoring his memory will make us more like him, and kinder in turn. Maybe not everyone adores Coltzan as much as I do, but hopefully everyone can appreciate what he has done for Neopia and spend a little extra time giving his ghost a huge "thank you" whenever they can! Thanks for reading!