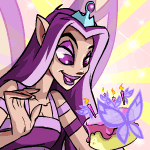 A Fyora Day Edition: Top 10 Fyora Day Party Items!

by princess__neo277

--------



Fyora Day is one of the most looked forward to Neopian holidays, and falls within the Month of Relaxing, but don't be fooled - one can't relax if they intend to prepare to celebrate Fyora Day in style. How does one celebrate Fyora Day in a fashion that will make their Neofriends green with envy, and want to join in with the fun? Fyora Day is a day to eat lots of yummy food, make new friends, and to just have a blast - it's simply be there or be square. So if you wish to join in with the fun and host your own Fyora Day party, then carry on reading this Fyora Day special article to celebrate Fyora Day with style with our top 10 Fyora Day celebratory items!

# 10. I Love Fyora T-Shirt

What better way than to let everyone know that you love Queen Fyora than with this trendy t-shirt? This ensemble speaks for itself - literally! It's only fitting that as the host of the party, you also dress for the occasion - it's also a great piece to wear if you're a guest, everybody loves Queen Fyora! Why not pair this stylish shirt with Fyoras Arm Wraps or Fyoras Eyeshadow, so that you can be the star of the show, with the exception of Queen Fyora of course.

#9. Pretty Fyora Potted Flowers

If it's a garden party you're hosting for Fyora Day, then these will do just the trick to help spiffy up your Neogarden for the festivities and green fingers are not required! The picturesque potted flowers within the polished pot captivate the Faerie Queen's grace and beauty perfectly, and once the party's over you can recycle these inside of your Neohome as a charming house plant - Illusen would be impressed!

#8. Fyora Spring Song Book

Get the party started with some Fyora Spring Song Book tunes! This bizarre but yet awe-inspiring book features a collection of Queen Fyora's favorite springtime songs - how fitting for your Fyora Day party, and what a great way to make sure everyone is having fun, who doesn't want an excuse for a boogy?! Get the disco ball ready and put together some faerie-tastic moves to get the party started.

#7. Delicate Fyora Tea Cup

Whether you're hosting a party in your Neohome or Neogarden, a spot of tea is a necessity for your Fyora Day festivities and what better way to serve your brew? We recommend serving Fyora's favorite - Pink Negg Tea or alternatively Tea With Honey and Milk, a Faerieland favorite. You should pair these particular tea cups with a Flower Teapot, as this is the most fitting vessel to keep your tea. This brings us to...

#6. Fyora Day Cupcakes

Pair your choice of tea in your Delicate Fyora Tea Cups with these charming cupcakes, who doesn't wish to pair tea with cake? Embellished with little Fyora themed charms you and your guests will keep coming back for more of these pleasant pastries.

Disclaimer: More than 10 Fyora Day Cupcakes may cause floating.

#5. Fyora Day Fizz

The perfect alternative to serving tea, as mentioned above. Fyora Day Fizz is made from a mixture of secret ingredients, but we are above to exclusively confirm that this concoction includes Benyeroberries. A delectable blend that is perfect for those who prefer a fizzy pop beverage to keep the sugar rush going, after all everyone should still boogying with the Fyora Spring Song Book! We suggest accompanying this fizzy punch with Fyora Goblets as the provided glass may try to fly back to Faerieland...

#4. Fyora Day Sandwich

Provide Fyora Day Sandwiches for lunch and all of your guests will already be RSVPing for next year's party, and who would blame them?! Whilst this savory snack looks too pretty to devour, you won't regret feasting on this heavenly special, and everyone will be racing back for more. If you want your party to be memorable for the grub, then you simply mustn't forget the Fyora Day Sandwiches.

#3. Glorious Fyora Sundae

A royal treat, a Glorious Fyora Sundae, perfect for not only your party but for the whole Month of Relaxing! Not just one, but three scoops of ice cream adorned in this perfect Queen Fyora themed bowl and a banana or two for good measure. A banquet of these scrumptious sundaes would be a perfect pudding following your Fyora Day Sandwiches. Who knows, with these on the table Queen Fyora herself just might RSVP!

#2. Fyora Sidewalk Chalk Bucket

Why not take the festivities to the streets of Neopia? This Fyora Sidewalk Chalk Bucket allows for Queen Fyora adorned drawings, doodles and all sorts of fun right there on the pavement. Of course, this can also be used to adorn your own Neohome or Neogarden as the chalk washes right back off and you can recycle this kit again for next year! Tell Neopia about your Fyora Day festivities by etching your Fyora-esque designs on your front porch or right on top your front door.

#1. Deluxe Fyora Goodie Basket

We have it, the number one item for your Fyora Day party. It would be simply criminal to not include this beautifully adorned goodie basket in the festivities, Queen Fyora would approve! There are many goodies in this large, luxurious capsule of charming treats. Croissants, tarts, grapes, Altador Fruit and much more mouth-watering goodies are featured in this beautiful, blue basket embellished with a signature purple bow. Ensure that this Deluxe Fyora Goodie Basket is featured in the centre of the room and your guests will keep coming back for more - and that's OK, because this mystical feature magically refills itself once empty!

And there we have it, the top 10 items for your Fyora Day party. Remember to celebrate, and of course to have fun on Faerieland's (and arguably Neopia's) biggest day of the year! Here are some honorary items that didn't quite make the cut, but who knows - you might think they're ace!

Deluxe Fyora Day Cake

We didn't list this one, as we already recommended some great sweet treats but why not go with this 3 tier terrific cake? It's even adorned with a little decorate crown. There'll be enough to go around for everybody - just make sure it doesn't fly away!

Fyora Homemade Ice Cream Maker

If you wanted more of a hands-on party, then this would be perfect for you and your guests - make your very own Fyora ice cream, the fun would never end but we do recommend the Glorious Fyora Sundae for a quicker bite!

Fyora Kite

A couple of these kites will make sure everyone knows that you're having a party! Pin them under your pet Rock and they'll be nice and secure and will make for rather festive decoration!