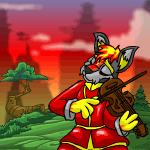 Own Kind of Magic

by amie_chan08

--------



"Icielle, pay attention!" She her mother call from the seats below. "You're off-key!"

The young Aisha onstage muttered a quick apology, adjusted the grip on her violin, and started the measure again. She was practicing a piece she never played before, and at her mother's insistence, she would play this piece in their family's upcoming concert as her solo performance. It was a yearly tradition held in their own auditorium within their estate. It was not a large auditorium, but it can accommodate a fair amount of Neopians—nobles and commoners with a taste for fine music from all over the kingdom of Brightvale would come. Even King Hagan himself with grace them with his presence when he had the time.

Her mother, the Countess Liana of the Brightvale court, is famously known throughout the kingdom as a gifted violinist. She performed sold-out concerts when she was just Icielle's age, and until now her charm never wavered. It was something that Icielle strived to be but was never actually close to reaching. After all, she still had nerves playing the violin and the thought of everything that could go wrong often caused her to go out of tune.

As she slowly played through the piece, glancing at the notes on the sheet propped in front of her, she couldn't help but remember how her mother demonstrated the piece for her. The elder Aisha played it so smoothly and with such skill that Icielle felt the whole of Neopia slipped from beneath her feet. It was like she was weaving magic, the music filling her from her antennae-like ears to the tip of her tail. After the performance, her mother then beckoned her onstage to try it for herself, and now there she was.

She heaved a small sigh as she finished the piece. Her mother smiled and clapped slowly.

"Not too bad on you first attempt, dear," she said. "But we still need to work through those mistakes."

"Yes, mother," she nodded, gripping her violin and its bow in one hand and executing a perfect curtsy. It was one of the first things her mother taught her. On the far side of the auditorium, she saw the doors open and her sister Luciel stepped in with a book of sheet music tucked under her arm. The younger Aisha kissed their mother on the cheek before climbing the side stairs and making her way to the middle of the stage. Icielle took that as her cue to leave. She placed her violin back in its case and returned to the seats to sit down beside their mother.

"Alright," said Liana, eyes on her youngest daughter. "Let's have it from the top, Luciel?"

Her sister did a curtsy, placed the bow on her violin, and started to play.

Watching her younger sister, Icielle couldn't help but be amazed by her expertise. It was Luciel who showed the most promise; she was a prodigy. The music she was playing was a complicated piece, but with more practice, Luciel would get even better at it. She glanced at their mother seated beside her, and her eyes were fixed on her youngest with such pride and joy.

No matter how Icielle tried, she was not perfect in her mother's eyes and Luciel was still the better musician.

"Mother, may I be excused?" Icielle asked quietly.

"Of course, dear," her mother said, sparing her a sideways glance. "We'll practice again tomorrow night."

"Yes, mother," she said as she stood up and left the auditorium.

—-

Icielle cradled her violin case close to her chest as she wandered the halls of their home. It was a huge house, but the only residents are the three Royal Aishas and their servants—a cook, a maid, and a gardener. She sighed. Sometimes it feels so lonely walking here at night when the corridors are dim except for the moonlight shining through the large windows. As she gazed outside, she spotted the gazebo in the middle of their garden, the moonlight shining an opalescent glow atop its dome. A thought suddenly occurred to the young Aisha.

Crossing their garden and finally arriving at the gazebo, she placed her violin case and debated whether she should play. After all, she thought, it's dark out and the only audience would be those rose bushes around me. Maybe I wouldn't go out of tune…

And every night since then, Icielle would return to the gazebo after their auditorium sessions for some extra practice in private.

—-

It became a habit; Icielle would secretly go to their garden gazebo to play at night. One night, while she was busy playing her violin, a voice called out from the shadows. Icielle lowered her instrument as she saw a kind Blumaroo approach. It was Bron, their gardener. "Lady Icielle, what are you doing out here?"

"I'm just practicing my music, Bron," she replied. "It's not yet perfect, but being alone allows me to forget how nervous I am. I still have a long way to go before I reach mother's skill, or even Luciel's, and the concert's just a few days away…" She trailed off. Thinking about the concert suddenly made Icielle nervous. The young Aisha sat down and sighed, bringing her paws up to her eyes. "Oh no… I'm never going to get this right."

The Blumaroo placed his paw on his chin in thought. "Lady Icielle, have you ever noticed that the roses here in this garden started blooming more beautifully than the ones outside? I've always wondered, but now I think I know."

Icielle was suddenly still. She looked up and yes, she hadn't notice it before because she was busy trying to concentrate on her playing, but now that Bron pointed it out and looked around her, she could see the rose bushes surrounding the gazebo full of blooms. The scent of roses filled the crisp night air, and then she understood.

"And I believe this is your very own kind of magic, Lady Icielle," Bron smiled. "Don't ever doubt yourself again."

—-

After that night, Icielle continued to practice in the gazebo with more vigor, and she noticed more and more that the roses turned towards the gazebo and her music. Slowly, she became more confident in her playing, knowing that she was weaving her very own magic. Bron gathered some of the stalks and placed them in vases all around the house, and soon enough, the countess noticed.

"This is wonderful, Icielle," her mother said, touching the flowers decorating their dining table. "Why don't we hold the concert in the garden? It has become so beautiful lately with all the blooms."

Icielle couldn't help but agree.

Thus, at the day of their family concert, Icielle played her usual piece under the gazebo. And even if it's still not perfect, it was evident in the faces of the guests that as they listened to her music, they also marveled at the beautiful scenery around them. Butterflies were darting to and from the bushes, and the air was filled with the scent of roses.

After her last note played, the audience stood and clapped.

And for the first time, Icielle smiled. This was her very own kind of magic.

The End.