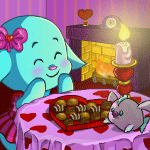 Oops!: A Guide to Last Minute Valentine's Day Gifts

by rowdy420

--------



If you're reading this, you're either a Valentine's Day fanatic or you've forgotten to give your best Neofriend a gift! My name is Ryder and I'm back again in The Neopian Times to help you out on this very special occasion. Valentine's Day is the perfect day to demonstrate to a special Neofriend in your life how much they mean to you and how much you appreciate them. Whether it be someone who's always there to give you advice or someone who always has your back, Valentine's Day is the perfect opportunity to say "Thank You" to them for everything they do for you.

With that said, I've compiled a list of the most desirable gifts for that special someone who means so much to you; and all for an affordable price - around 5,000 Neopoints! Now, there are a couple exceptions… but we'll sort that out later. These items are curated for their beauty, impact, and implied message.
A Mysterious Valentines Card
I'm going to start this list off the right way and discuss possibly the most useful gift you can give to someone on Valentine's Day: A Mysterious Valentines Card! This cute little card is a great way to show someone how much they mean to you, as well as a great way to help both of you to improve your Neolifes. When you send a Mysterious Valentines Card to your friend, both you AND your friend will obtain the Valentine's Day site theme; a very pink, and a very cute site theme that will really fill both your hearts with joy! There are some things to keep in mind, however: In order to obtain the theme, you must send A Mysterious Valentines Card on Valentine's Day (February 14). This is the only day that will allow you both to get the site theme. Again, both you and your friend will obtain this theme, BUT if you already have the site theme, this won't work for your friend! Please make sure you don't already possess this site theme before sending the card expecting it to work for your Neofriend! Lastly, if you both do not already have the Valentine's Day site theme and you're sending A Mysterious Valentines Card to your Neofriend, the item will magically disappear after you've both obtained your themes. This is kind of sad, but in my opinion, the site theme is worth it!
A Mysterious Valentines Card can be purchased at the Neopian Gift Shop in the Neopian Bazaar, as well as from other users. This item only goes on sale in the Gift Shop from February 8th - February 14th, but you can buy it any day of the year from another user's shop. This cute card can usually be purchased for less than 15,000 Neopoints, but this can fluctuate as demand increases during the holiday.
(I want to send out a big thank you to Jellyneo for help on the information for this item and site theme! Dates and information pertaining to the site theme were provided by their awesome staff!)
Thanks Card
A Thanks Card and a heartfelt Neomail would be a fabulous way to let your close Neofriend know how much you've appreciated them throughout the past year. The Thanks Card isn't a card that's specifically for Valentine's Day, but when you send it to another user, it looks really great in the notification. It goes something like: "Gift user has given you Thanks Card." This is a great way to surprise someone and make them smile! You can buy a Thanks Card from the Neopian Gift Shop located in The Neopian Bazaar.
Bottle of Love
The Bottle of Love is the quintessential way to illustrate to someone how much you appreciate them. In fact, a list of Valentine's Day items just wouldn't be complete without it! It can be bought at the Neopian Gift Shop, as well as from other users form less than 5,000 Neopoints. The Bottle of Love is a beautiful and a relatively cheap item that is appropriate to give to a good Neofriend throughout the entire year, and especially on Valentine's Day.
Gold Valentines Ring & Silver Valentines Ring
Is there anything nicer than a beautiful pair of rings for Valentine's Day? If you want to go out of your way to let someone know how great of a person they are, then why not send TWO gifts? A pair of Gold and Silver Valentines Rings is the perfect gift for that person who has taught you the meaning of friendship. The Gold Valentines Ring has a beautiful, intricate design that includes diamonds; is there anything more glamorous? Well, there's actually something equally glamorous; the Silver Valentines Ring! The Silver Valentines Ring is sure to be cherished by your Neofriend forever, and they'll know just how much they mean to you! Both of these rings can be purchased at the Neopian Gift Shop or from other users for less than 5,000 Neopoints.
Heart Lollipop
Alright, now let's talk about my personal favorite: The Heart Lollipop! I don't believe there is a cuter way to demonstrate to a great Neofriend that they're special to you. This lollipop is both a delicious candy for their Neopet and a sparkling animated item that is extremely eye-catching. Adorned with a bow, this gift will go a long way to show your feelings towards someone. You can pick up one of these delightful treats from the Chocolate Factory, located in The Neopian Bazaar, and from other users' shops for less than 5,000 Neopoints.
Valentine Pencil
The Valentine Pencil is more of a niche gift but I really wanted to add it in. This lovely pencil (see what I did there) is perfect for that special Neofriend that you have the arts in common with. Do you collaborate with a friend on Neopian Times articles? What about comics? Do you and a friend draw each other's pets, give tips on Beauty Contest entries, or review each other's poetry? If you do, the Valentine Pencil is the perfect gift for such a friend! This pencil can be picked up at the Neopian School Supplies shop, located in the Neopian Plaza, as well as other Neopian's shops for quite the pretty penny. As of the time in writing this, the Super Shop Wizard has the Valentine Pencil for a little over 45,000 Neopoints. It's a bit of a leap in the price from the earlier gifts but I think it's worth it send a very cute message.
Happy Chocolate Covered Strawberry
Do you frequent the NC Mall? Do you have a Basic Gift Box from Trudy's Surprise or a Gift Box Mystery Capsule? Do you have extra NC on hand? Well, if you do, then I have a way to surprise someone without breaking your Neopian Bank account. The Happy Chocolate Covered Strawberry is an adorable, bouncy treat that is a fabulous gift for someone special. Who wouldn't be happy to receive a chocolate covered strawberry gleefully jumping up and down? Not only this, their pet would love it too! This happy strawberry will delight their Neopet and will immediately bloat them; so handy! It will cost you 125 Neocash and you can find it in the Food section of the NC Mall; and it's totally worth it!
Of course, there are many, many other items I wanted to include in this article, but in the interest of reducing redundancy and boredom in general, I have decided to stop after my 7 favorites! Others I thought to add while brainstorming include: Valentines Negg, Heart Shaped Chocolates (REALLY aesthetically appealing), Pretty heart Balloons, Valentines Day Basket of Hearts (kind of expensive), Bear, Valentine Grarrl Plushie (super, super cute), and Valentines Bouquet.
Alright, that's it for this lovely article (I did it again). I hope it helped you get acquainted with an item you didn't previously know about; or I hope it helped inspire an idea for gift that wasn't on this list but is equally as meaningful. Lastly, I hope you and all of your Neofriends have an amazing Valentine's Day.
Good bye for now!