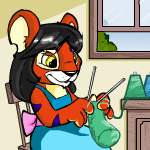 Top 10 Gifts for the Knitter in Your Life

by freeread

--------

With summer ending and school beginning, everyone is starting to layer up their clothing as the autumn winds come into Neopia. Some Neopians have a creative approach for their own fashion statement: knitting! Whether they have been an elderly knitting aficionado for years or are a youngster wanting to get into the craft, this guide is sure to feed any knitting urges. The Top 10 Gifts for the Knitter in Your Life has been created to give you ideas for gifts for someone in your life who has caught the knitting bug. From 4 neopoints to 1.6 million neopoints, this guide offers a great range for a Neopian with any sort of budget. From books to supplies to wearables, we cover everything in the knitting community.

1. Blue Yarn Ball
One of the most important items for a knitter is the yarn itself! This Blue Yarn Ball is perfect for both the non-experienced and professional knitters. The shade of blue is great for knitting up a pair of socks or mittens. With autumn approaching, imagine daydreaming by the fire while this yarn glides through your fingers. At only 300 neopoints per ball and 100% machine washable, the Blue Yarn Ball is a great deal for any knitter.

2. Basket of Yarn
Nothing warms a knitter's heart like a gigantic Basket of Yarn. With five different colors of yarn in the basket, the knitter in your life can go wild! When owning this basket, a knitter never wonders if they have enough yarn for a new knitting endeavor. For only 170 neopoints, your friend will be knitting stripes for ages! Both beginners and master knitters will appreciate every inch of fiber in a Basket of Yarn.
3. Gnorbu Knitting
One species of Neopian any knitter adores is the Gnorbu. Without the Gnorbu, the knitters of Neopia would not have the fiber to make yarn. Gnobrus began knitting years before any other species began. In those years, Gnorbus truly perfected their craft. Gnorbu Knitting was written by Gnorbu experts who have worked their entire lives honing their knitting techniques. Gnorbu Knitting is always described as a must for any knitter's bookshelf. At only 1,400 neopoints, you cannot pass up this wisdom from the real professionals.

4. How to Knit Petpets
Do you know someone who has always wanted a Kadoatie but doesn't love the 7 million neopoint price tag? Buy them a copy of How to Knit Petpets! With "easy to follow diagrams", you're friend will be churning out petpets for all of their friends! How to Knit Petpets can be found for only 8,400 neopoints but will provide hours of entertainment for any knitter in your life. This knitting guide covers all the basic neopets like Spardles, Slorgs and Buzzards as well as some exotic petpets like Arkmites and Lizarks.

5. Woollen Scarf Knitting Set
The Woollen Scarf Knitting Set is the standard beginner knitting set in Neopia. Crafted by professionals, a majority of knitters nowadays began with this set. At only 50 neopoints, you get yarn, needles and a scarf pattern. Nothing beats this classic set! If you know someone who has been thinking about the hobby, pick up a set for them! And possibly one for yourself, you might just become addicted like the rest of us.

6. Woollen Jumper Knitting Set
If you've already received a scarf, a pair of gloves and possibly even a pair of socks from someone, it may be time to give them the Woollen Jumper Knitting Set. Like the Woollen Scarf Knitting Set, this one is another classic and standard knitting set. You can pick up one of the sets for about 60 neopoints. Anyone lucky enough to create one of these fine jumpers will be ecstatic flashing it around town.

7. Gnorbu Wool Noodles
Nothing describes Gnorbu Wool Noodles except the word DELICIOUS. Perfect for cold evenings spent knitting, Gnorbu Wool Noodles have always been a favorite for any fiber enthusiast. Every order of these noodles is served in a Gnorbu shaped bowl, which may easily be the best part. For any fan of Gnorbu wool, these noodles will be a scrumptious dinner before curling up with a new knitting project.

8. Gnorbu Wool Candy Floss
If you know a knitter that is also a sugar-crazed child, you can't go wrong picking up some Gnorbu Wool Candy Floss. The knitting community has seen an increase in children and teenagers wanting to pick up the hobby. With these new generations also came hip products for their younger eyes. Gnorbu Wool Candy Floss is that sweet treat the youngsters love!

9. Piece of Wool
If you are late and need to pick up a gift fast, a Piece of Wool makes a great gift for any knitter. Nothing says 'I AM A KNITTER. HEAR ME ROAR.' than a chunk of wool placed on their desk at work. Originally found only from Pick Your Own, now you can easily pick up a Piece of Wool for 4 neopoints.

10. Knitted Spectacles
Easily the most glamorous item on the list, the Knitted Spectacles are the ideal gift for the fashion-conscious knitter. Released in 2014 and obtained from redeeming a Neocash card, the spectacles are sure to make other Neopians jealous. Anyone who has ever been interested in knitting knows about the Knitted Spectacles. The entire frame on the Knitted Spectacles has been knit into shape. This is 100% the handiwork of some professional knitting Gnorbus.

BONUS ITEM: Plushie Gnorbu Morphing Potion
Do you have one friend that never stops talking about knitting? Has this friend visited the Pick Your Own farms and only searched for Pieces of Wool? It may be time to give your friend what all knitter's consider the dream: morphing into a Gnorbu themselves. Plushie Gnorbus have long been sought after for their extremely fluffy fiber. For only 1.6 million neopoints, you can give your friend the gift of a lifetime. Your friend will be ecstatic as the Plushie Gnorbu Morphing Potion takes control and transforms them into a squishy and fiber filled beauty.