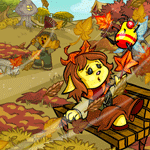 80 Ways To Enjoy The Fall On Neopia

by paraxeno_daimonio

--------



80 Ways to Enjoy the fall on Neopia

Finally the summer is over! I mean, I really enjoy going to the beach or even to the swimming pool, but the weather was so.. hot, you know? Sometimes we just need a break of that very bright sun, and what better break than.. Fall!? Yes, that's right, Fall has just arrived in Neopia! It's a very chilling weather and by far my favorite. I know that people tend to have different opinions and that's what makes everyone unique, but if you don't like this season, well, at least try some of my recommendations and you can see how the autumn can be such a fun season! Remember to take your Neopets with you, of course!

To celebrate this 80th Neopian Times Issue, I have compiled 80 ways to enjoy the Fall on Neopia. Hope you like them!

1. Be ready to go back to class

Now that the summer break is over, it's time to go back to class. Bad news for some people, but good news for others. Well, one thing that everyone will agree is that it's time to go shopping. All the school supplies that you need can be found at the Neopian School Supplies. Make sure to buy enough notebooks and pencils for the rest of the academic year! I know studying can be tough sometimes, but the school can also be fun, right? After all, you are going to meet again with your friends!

2. Change your Neopets' Background

Now that the fall has arrived, you sure don't wanna keep those summer backgrounds, do you? So, why don't you show your Neofriend that the fall is here? One of the best ways to do so is certainly by changing your Neopets' background. Some good options for this season include the Fall Mountaintop Background and the Autumn Leaves Background. Alternatively, if you really like Halloween and your Neopet really like some pumpkins you could always go ahead and try the Nightfall Background!

3. Change your Neopets' Foreground

Well, changing only the background wouldn't do much by itself would it? I mean, you can't just show the fall trees on the back along with some beach items on the front. A good choice is to try to match your chosen background. In my opinion, the Scenic Fallen Tree gets the job done. It represents exactly the fall spirit. Other great options would be the Autumn Leaves and Berries Foreground, the Pile of Pastel Leaves Foreground or even the Beautiful Autumn Leaves Foreground. The possibilities are endless, so go check them out!

4. Wear a scarf

We all know how the weather can get really windy on Fall, and if you don't protect yourself properly, you may end up at the Neopian hospital with D'achoo or the Neo Flu! There are some good scarfs being sold out there at the NC Mall, but one thing that you need to pay attention is if the color of the scarf matches your Neopet's color. For Neopets painted blue, eventide, electric, ghost, maractite, starry and water colors, I recommend the Blue Paisley Scarf. With that, you can protect yourself with style! For Neopets painted rainbow or Christmas, I would recommend the Bright Bangle Scarf. Look at those colors, who said fall was a sad season? For Neopets painted green, glowing, disco, marble, plushie or speckled, I would strongly recommend the Bright Shamrock Scarf. The Flight Scarf would be a great choice in case your Neopets are painted strawberry, red, orange, magma or pink. For the other colors, why don't you go with Fringed Blanket Scarf? Cause you know, black matches every color! Also, if you really like the Altador Cup, you can show that by wearing some team scarfs. Just because the cup is over it doesn't mean that you can't show your support!

5. Buy some floral arrangements

How can you help spreading the fall spirit around Neopia? Well, a good way to start is by buying some floral arrangements! The Fall Planter can be easily found on the NC Mall, or if you want to buy it on off-season, you can always count on other fellow Neopians to sell it to you! "Okay, but how about something that I can actually wear?" I'm glad you asked that! What other combination would be better than autumn leaves and wearables? The Fall Leaf Belt will sure take care of it. You're welcome!

6. Put on some seasonal clothes!

Well, all those changes wouldn't be too much effective if your Neopets went out on their swimming clothes, right? Don't worry, I know of some awesome clothing choices for this season! If your Neopet is a girl, you might wanna buy her an Autumn Festival Dress, cause what better dress than one made of leaves? But keep in mind that it fits better those Neopets that walk on two feet instead of four. Another option for girls would include an Autumn Faerie Dress, an Autumn Leaf Caplet to go with an Autumn Leaf Tutu or an Autumn Sunflower Tights and Tutu. If your Neopet is a boy though, the Patterned Autumn Parka would be a great choice (although I personally think that it fits better small Neopets). And if even with a scarf, he gets cold easily, a Warm Autumn Coat might be the solution! Another alternative would be buying an Autumn Wool Coat, which goe really well with an Autumn Foliage Trousers. For their feet you can go simply: the Autumn Lace Boots fits both boys and girls. So what are you waiting for? Get a mirror and try those on!

7. Show your outfit at the Customisation Spotlight

All right! Your Neopets are ready for the upcoming season. And they might be one of the firsts! So, try your luck and sign them up for the next customition spotlight! You don't need to worry about having both NC and Neopoints clothes, since they have different categories for those. Also, people tend to vote for Neopets that are dressed according to the season. So there you go, it might be your luck week, you sure don't wanna miss the chance of getting a cool trophy for your pet.

8. Clean your Neogarden

Not everything is about having fun, of course. With the leaves falling from the trees, someone need to clean the Neogarden, right? So grab a spading fork and let's get the job done!

9. Dive into a pile of leaves

Yes. Just do it. First, pile up some leaves. Did I say "some"? I meant to say A LOT. Do it outside of your Neohome of course. Call your friends and try to find a place that not too many people go to. Once the leaves are all piled up, take some distance and ask some other Neopet to count to three! One..two…three! Sprint until you get to the pile, raise your arms, hold your breath and jump! Yes, you just made a mess out of those leaves; they must be all around the place now. But I know. It was totally worth it!

10. Play some Halloween games

The collection of available games in Neopia is huge. And some of them are really spooky. You've been avoiding them for the whole year, but with Halloween so close it's time to face them. You should try Bruno's Backwoods Breakaway, Carnival of Terror, Castle of Eliv Thade, Edna's Shadow, Fetch!, MAGAX: Destroyer II, Mutant Graveyard of Doom II and Sophie's Stew. Good luck! I'll be..huh… right here: safe.

11. Harvest some pumpkins

As part of a fall ritual, harvesting pumpkins has become a mandatory activity for this season. But first you need to find a good place to do it. I heard they have some large pumpkin fields in Meridell, so you might check that out.

12. Carve your own pumpkin

Halloween is coming! Some people carve a pumpkin every year when they are waiting for Halloween. Some people carve even more than one pumpkin! Well, it doesn't really matter how many times you do it, but you need to experience it at least once. You can make a mad pumpkin, a happy one, a sad face, or even a really angry one! Place them on some strategical places, so that those Neopets will think twice before coming trick or treating at your house!

13. Buy some candy

Another important part of Halloween is having a big stock of candy, just in case that some Neopets appear at your door, even with those scary pumpkins! The best place to buy some kind is definitely at the Chocolate Factory, where you will find Neopets shaped candy and all sort of chocolate. My favorites are the Chocolate Neodrops and the Assorted Gummy Dice. Yummmmy! Another place where you might find some candy that you like is the Usukiland so you should check that place out too.

14. Paint your Neopet Halloween

Your heard it right, guys! Halloween is just around the corner. So why don't you go ahead and make the preparations before the others? A good way to start is showing that your pet is ready for trick or treating this year! A Halloween Paint Brush might be a little bit expensive, so you might start saving up Neopoints from now on!

15. Trick or treat

Even if you are not a big fan of trick or treating, you must do it at least for a little bit! Cause that's where all the fun in Halloween is. Every year there is a trick-or-treat event happening on the NC Mall, so buy yourself some Halloween bags and let's go to the streets! It is important to always go trick-or-treating with other Neopets, since it's going to be late at night. Also, remember to share equally all the candy with them. And last but not least, go slow on that candy, you don't wanna spend the rest of the Halloween on the toilet!

16. Get spooked in the Haunted House

If you, for some weird reason, like being scared, you should try the Haunted House at the Haunted Woods. The stories are so scary that I bet you will instantly regret this idea.

17. Watch a scary movie

If you like being scared but not for real, you should try taking your Neopets for a movie session at the Movie Central. It's a huge building right next to the Neolodge at the Neopia Central. Make sure to buy your tickets in advance though.

18. Make a pumpkin pie

It wouldn't be Halloween without some pumpkin pie. But don't stop there. Put something inside of the pumpkin like a jump scare toy, and it will be the best prank ever! And you and your friends will still get to eat a yummy pumpkin pie, so why not?

19. Collect colorful fall leaves

I know that at this point you already bought plenty of fall leaves, but nothing feels like picking them by yourself. Try to look for different colors than the usual orange and dark-green ones. Also, try to find leaves of different shapes and sizes. Maybe, make a floral arrangement yourself and give it to your best friend as a fall gift!

20. Decorate your Neohome

But what if you get visits? You sure wanna show them that you are prepared for the autumn. Some good choices for your entrance hall are the Fall Leaf Garland and the Fall Wreath, they can both be found on the NC Mall. You can also buy an Autumn Leaf Wreath and an Autumn Leaf Welcome Mat to put on your front door. For your kitchen table, you might want to buy an Autumn Harvest Basket. With those, the fall scent will be all around your Neohome!

21. Decorate your Neogarden

Your Neogarden is the first thing that your visits see! So, you might as well get it prepared for fall. The Autumn Birch Tree and the Autumnal Bonsai are great together and represent well the fall colors. While you wait for your visits to arrive, you should sit on an Autumn Garden Chair , and that would make a huge difference. For the final touch, you might want to take a look at an Autumn Gourd Cart. Halloween is coming, so why not pumpkins?

22. Go Apple picking

I know we talk a lot about pumpkins, but we can't just forget the apple season! One of the best way to enjoy the outside is by apple picking. Good luck!

23. Go Apple bobbing

An exotic alternative would be picking your apples with your own mouth. And I know exactly the place for that! You might have heard about the Haunted Faire at the Haunted Woods. Just head there and ask for Bart, he owns an apple bobbing tank and will allow you to bob for apples once a day for free! But keep in mind that you may find some weird things inside that tank…

24. Go for a hike

The Meridell forests has the most beautiful fall tress in Neopia. The best way to enjoy all the new colors of the season is going for a hike. So put on some sneakers, take a bottle of water and let's exercise a little bit! You might wanna train your agility at the Academy first, you don't wanna embarrass yourself in front of other Neopians, do you?

25. Read a book

If you can't afford to travel around Neopia, you can always travel on your mind by reading some of the amazing books available. For fall themed books, great choices include "Fall Destinations", "Fall Leaves Book", "An Usul Autumn", "Autumnal Decorating", "Tales of Autumn" and "Neopian Autumns". All those can be bought at the Magical Bookshop, which can be found at the Neopia Central.

26. Prepare for Thanksgiving

Now that your Neohome is set for the season, you need to start preparing it for the next holiday: the Thanksgiving. A sweet way to receive your visits is by giving them some gifts, to show how thankful you are for their friendships. I would recommend the Toy Shop, since they sell some cute plushies that everyone can afford.

27. Eat some Turkey

For the thanksgiving dinner, it is almost mandatory that you serve your friends some turkey. A Turkey Dinner might be not so cheap, so you might wanna head to the Neopian Fresh Foods store and try to buy some directly from the shop. The shop is located right in the middle of Neopia Central, it's a big burger shaped store, you can't miss it.

28. Learn to knit

And of course we could not talk about fall without mentioning knitting. Why? Because fall is the perfect season to knit. We need to get prepared for the cold winter to come, and the best (and funniest way) is to knit our own jackets. I heard that Granny Hopbobbin is accepting new students for her knitting classes, so go ahead and have fun!

29. Donate to the Money Tree

Okay, so, are you really going to need all those jackets and coats? I'm sure not all the Neopians can afford one, and with the winter coming they sure will need it. So, show your thanksgiving spirt by donating those clothes to the Money Tree! You would be amazed if you knew how thankful the Neopians are for those donations. And if you don't have enough clothes to donate, you can always give away some Neopoints and help those in need.

30. Go camping

Fall is the best season to go camping. It's usually when you can best spot the stars on the sky. So call some friends and start the preparations; you should buy a Camping Backpack, some Tents and lots of Ghost Marshmallows. Next, you guys should choose a location. Mystery Island is a great place to camp at nights, so there you go. Once you arrived and set things up, some good ways to enjoy the night would include playing the guitar, singing, telling horror stories and of course, eating the marshmallows at the bonfire. Finally, when everyone is tired, you can just lie on the floor and watch the stars. Ahhhh, autumn is so good!

31. Watch the sunrise

The sunrise is unique for every season, and it couldn't be different for the autumn. The best spots to watch the sunrise or the sunset are the ones located away from the city and near the ocean. So the good choices here would be any island, like the Mystery Island, the Roo Island or the Lutari Island. The orange from the sun mixes with the orange from the trees and it's a real spectacle. Enjoy!

32. Breath the morning breeze

One of the best feelings ever. The chilling breeze from the morning could be just what you needed to start your day on the right foot.

33. Play Dice-a-roo

Sometimes, even if it's not Winter yet, the weather can get a bit crummy, and going out stops being an option. Well, why not to stay on Roo Island and roll some dices? You never know if it's your luck day, right? You can get your so desired jackpot and earns millions of Neopoints! Or you can just lose some of them, but the fun is guaranteed!

34. Draw a fall landscape

Ahhhhh, the orange and yellow leaves.. so beautiful! A good way to remember all that in the future is to record it in a drawing. For those of you who think you can't draw anything, there is a place in Neopia Central that gives classes on how to draw Neopets, so that would be a great start. Now, if you feel you are prepared, take your paper or your canvas and your colored pencil or your ink and choose your favorite location for this season. You sure walked around a lot at this point right? Now the hiking recommendation is really paying off, huh? It might take some time to get the perfect drawing of that place, and it could even take some days, but once you are finished you will realize that it was really worth it. Now you can put a frame and hang that picture on your wall to go with the rest of your fall decoration. Of if you feel like, you can try to enter the Art Gallery and win a shiny trophy!

35. Write a poem

I'm sure that after all this drawing you are really involved with the season at this point. So, let's go even further. Let your artistic side speak for itself. What comes to your mind when you think about the season? What feelings do you think are related to it? Try to put all those emotions into words. They don't really need to rhyme at all. Once you are finished, you should try to enter the poetry contest, I'm sure you will meet lots of other artists over there.

36. Make a dreamcatcher

With so many fall leaves that you collected, you should try to create some other things. I personally love dreamcatchers. But if you don't wanna go through all the work of making one, you can always buy a Gemstone Dreamcatcher Garland right now at the NC Mall.

37. Include your petpets in your activities

Sometimes with so much going on, we totally forget our pet's petpets. But don't be sad just now! There's still time to show your affection to those little things. A good way to do that is to walk them outside and show the change of season and how it's affecting everything that surrounds them. They'll be so thankful to you!

38. Climb a mountain

Since it's not to cold yet, this is a good time to go to the Terror Mountain and get all the way up there. But you don't wanna go unprepared though. You must get the proper gear for that, I heard they sell everything you need at the Unis Clothing Shop. Try to take some friend that has actually done it before, bringing experts is always a good choice. You should go ahead and try reading "Ogrin Mountain Climber" before, so that you learn something by yourself. Be advised that the Top of the Mountain is really cold, even the snow faerie Taelia can't handle it too much.

39. Go on an island adventure

Autumn is not too hot and not too cold, which makes it just right for an island adventure. I would recommend Mystery Island, but that's because I love being there. There are plenty of things to do, but snorkeling at the sea sounds just about right. It's not dangerous and you would get to see so much of the underwater culture! Before that, you should buy a Mask and Snorkel, since the renting for tourists there is not too cheap.

40. Go on a photography tour

If you aren't really good at painting or drawing, maybe you can at least take good photos. So go outside and try to find good places to take a shot. It is important to take different photos of the same place from different angles, so that you are covering all the possibilities of getting a good picture. After some practice, you'll get good at choosing the right perspective.

41. Be a kid again

It doesn't really matter how old you and your Neopets are, this season is all about having fun, so don't try to hold yourself from doing something just because you are "too old for that". After all, we are the ones who decide how old we are on the inside.

42. Bake an apple pie

It's time to exercise your cook abilities! And a good way to do that is by trying to cook one of the most fall themed food ever: an apple pie! First, try not to burn it, you need to let it in the oven for an exact amount of time. After it's done, call your friends and show them how a good of a cook you are!

43. Play Kacheek Seek

Playing games always brings lots of fun. And for outside games, Kacheek Seek is one of the best choices to play with your Neopets. Discover new hiding places near the fall trees! 1, 2, 3.. Go!

44. Have breakfast in bed

We deserve it. Every single Neopian deserves at least one day of breakfast in bed. There's always that day when you are so tired and lazy that you don't wanna get out of your comfy bed.

45. Neohome camping

Okay, I know you already camped outside, because that was one of my first recommendations (you did it, right?). But it was so fun it would be great to do it again, huh? Well, with the weather getting colder and colder each day, camping outside might be out of question. But, what about camping inside of your Neohome? Yes, it is possible! Take your Neopets, some sleeping bags and a tent to your basement and make that happen. You can always cook your marshmallows over the stove too. Just get creative!

46. Make your own scarecrow

Get into the fall spirit and go further into the fall decorations. Make your own scarecrow! Find some burlap bags (draw a scary face on it), some old rakes, some safety pins and a rope to tie things together. Put on some old clothes on your scarecrow and make any other final arrangements that you feel like to. Again, the point here is to get creative!

47. Make leaf rubbings

You know all those fall leaves that you collected from your hike at Meridell? You are not just letting them rot on your basement! It's time again to put on the table your artistic side. Choose one leaf. You should look for the one with the best texture. Now, place a paper over the leaf, and with some Bagatelle Colouring Pencils, just rub the leaf and will you be surprised with the drawing that is coming out. Enjoy!

48. Make new friends

I bet you are not the only one doing all these fall activities. Since you are enjoying it so much, you should talk to the other people you see, cause you both probably like the same things. Also, you can make new friends to follow you on your fall adventures for the upcoming days!

49. Throw a themed party

Now that you have new friends, it's time to call all of them, old and new, for a fall themed party at your Neohome! A good way to make this work is asking for their help. Make it so that each person takes something to the party, either a chocolate cake, some fruits or even some juice. That will help you a lot, since you need to organize the table and the house.

50. Face painting

Pretending to be something else is guaranteed fun. And face painting is an easy way to play around like that. The Autumn Leaf Face Paint is sold at the NC Mall every once in a while, so you should check that out. But there are also other options in case you don't find it, such as Colourful Fall Face Paint, Fireworks Face Paint and Heart Face Paint.

51. Make some hot chocolate

There's nothing better than hot chocolate for those cold days. And making them makes it look even better. If you don't wanna go through all the work you can always buy some at the Chocolate Factory.

52. Get lost in a corn maze

It's time to get out of your comfort zone and get some adventure! Are you good at orientation? Do you never get lost? Show your skills at a corn maze! I heard there is a really famous one near Meridell.

53. Let the wind blow your hair

Ahhhh.. the wind! If you have never let the wind blow your hair, you need to experience this. So go ahead, close your eyes and open your arms. Some people like to sing too, but that depends on your musical talent. Whether you sing or not, having your hair blown by the wind is definitely one of the most refreshing things ever.

54. Have a picnic

For those sunny days, there's nothing better than enjoying the fall colours with a picnic! You might wanna take only fresh food, since any food that needs to be eaten warm would not be a good idea. Make sure you buy everything you need at the Neopian Fresh Food before inviting your friends. The best place for a picnic in my opinion is Brightvale.

55. Jump in puddles

Yes, that sounds crazy and less fun than jumping in a pile of leaves. After all, you will get all wet, right? No! With proper clothes you don't need to get wet at all. Make sure you and your Neopets are wearing rain coats and boots and jump on in! Now the rainy days won't be boring this fall, yay!

56. Sing in the rain

But what if you do wanna get wet? These fall rainy days can also be refreshing! So what are you waiting for? Go outside, pick a song and show your skills! Some people say that the rain sound can help you with some kind of cool effect; you will have to confirm that for me, though.

57. Pick your Own

Meridell is definitely one of the best spots to spend your fall days. Head down to Meri Acres Farm and for only 400 Neopoints you can play this amazing game. You can walk around the farm and pick different kind of berries. Once you've picked six of them, you have to leave the farm. But then you can go home and prepare a delicious fall dessert!

58. Go for a hot air balloon ride

It's a comfortable way to travel across Neopia and its really enjoyable. The best place to set up a balloon rid from is either the Faerieland or Shenkuu, since those are the higher places. From there, you can just travel to wherever you want.

59. Catch a fish

Some fishes come near the coast only on fall, so it's a great opportunity to catch them. Head to the Underwater Fishing in the old Maraqua and try your luck. You can only try to catch a fish once a day, though. If you aren't catching anything, you should try to read "Fishing Made Easy" to learn some tips. The good thing is, once you catch a fish, you will have a delicious dinner!

60. Shop for winter

As the weather is getting colder, you sure don't wanna get surprised by an early snow. The best way to be prepared is by shopping even before winter comes. Make sure to include winter coats and pants, some scarfs, winter boots and winter hats for all your Neopets.

61. Make some pumpkin soup

With so many pumpkins left from Halloween, we'd better use them for something, right? And a pumpkin soup is totally in!

62. Have a sleepover night

Since the autumn is a relaxing season, it's always good to stay home at nights. Ask other Neopets to come over, and maybe you guys can watch a movie, play some board games or even start a pillow fight.

63. Go on a night-time nature walk

Life is really different during the days and night, and you never know what kind of things you might find. I know that Halloween is past now, but it's not that spooky if you take a flashlight with you right?

64. Wear orange

Some of you might think that orange is a weird color. Well, it's not the most common of them, that I can agree, but it's far from being an ugly one. In fact, it's one of this season's colors, so if you wanna be cool to the rest of Neopia, wear orange at least once. Then, you can see other people's reactions and stuff. And if you like it, there you go, you got yourself a new favorite color to wear!

65. Plant a tree

With their leaves falling and with winter just around the corner, lots of trees won't be able to survive until spring. Start doing your part now and plant a tree, even if it's on your Neogarden.

66. Buy some autumn mystery boxes

Trying your luck can be always fun. Also, those capsules usually reward you with some limited edition item, which means that once the capsules stop being sold at the NC Mall, that item becomes retired! (until some exceptional re-releasement). The fun part of opening a Mystery Capsule is that you never know what is coming out of it. In this case though, you can be sure it's gonna be some fall-related item, which was just what we were looking for!

67. Plan your Winter break

It's time to plan your so deserved break. It's still a bit far, but you sure don't wanna let it to the last minute, otherwise you would pay much more Neopoints. Good places to travel to on Winter include the Terror Mountain, where you can do every kind of snow-related activity, and the Faerieland or Shenkuu, where you can get closer to the clouds and their winter spectacle.

68. Colour some pages

Try the fall colors on some drawings! The Brightvale Colouring Pages is a great choice and can be found in a cabin right next to the Brightvale Castle. This is also a good choice for those who don't have drawing skills, since the pictures are already ready; they are just missing some colours!

69. Bet on a Turdle

The Turdle Racing has been around for so long that I don't even know. But it's always been one of the Neopians' favorite. Since you will be in Meridell for a great part of my recommendations, you should go ahead and bet on a Turdle. It might be your lucky day!

70. Make the Grumpy Old King laugh

C'mon, fall is all about having fun! There can't be someone grumpy around here. So here it is: your mission is to make our grumpy king laugh. Tell him that joke, or even that other one. Oh yeah… that one… HAHAHA

71. Play some Merry Go Round

There is no better way of having a family activity than playing some outdoor games. And one of my favorite is the Roo Island Merry Go Round. You can enjoy a ride on this world famous attraction for only 50 Neopoints. That's why I really like the Roo Island, if the weather is good there are endless things to do there.

72. Visit the Shenkuu Lunar Temple

The change of season occurs because of the Neopia's movement around the Sun, and a good way to study that change is to observe through a telescope. So whenever you have the change of being in Shenkku you might wanna check the Lunar Temple. Also, have a conversation with the Wise Gnorbu who lives there., he seems to know a lot about what's going on in Neopia.

73. Take a family Christmas picture

Christmas is close! It's time to take that family picture. Call all your Neopets and make sure everyone looks good. Then you can put that photo on a Christmas card and send it to your friends! What better way to wish a merry Christmas and to show how happy your family is (you need to make sure that none of your Neopets is grumpy at that moment though, playing with them might help)?

74. Buy a slushie

Winter is here guys. Get into the spirit by buying one of those frozen drinks at the Slushie Shop in Happy Valley. My favorite one is the Strawberry Blend Slushie. It's delicious, but sooooo cold! Yeah, I miss fall already… what about you? It was fun, wasn't it?

75. Shop for Christmas

Now it's time to buy some Christmas gifts! Yaaaaaaaay! For not so close friends, I would buy something simpler like a chocolate bar or some sort of candy. The best place for that is definitely the Chocolate Factory. For closer friends you wanna try to buy something that is specifically related to each of them. The Neopian Gift Shop and the Toy Shop are my recommendations!

76. Write a letter to Santa

Tell him how much you and your Neopets behaved this year (I'm sure that he know everything at this point) and ask for some present! Maybe that expensive paint brush that you can't afford would be a good choice. You have nothing to lose anyways (I mean, if you behaved well).

77. Participate on the Dream Neopet Giveaway

Every year on the Day of Giving you can wish for your dream Neopet, and if your wish is granted, your Neopet will change to your favorite color. So sign your pet up and good luck!

78. Make a wish for the Wishing Well

Hmm, let's say that maybe your wish has not been granted. There are other ways around. The Wishing Well takes wishes from every Neopian, and grants fourteen wishes a day. You can wish pretty much any item! And who knows? Maybe the Day of Giving's magic has spread and reached the Wishing Well too!

79. Get published in the Neopian Times

Take your time to write something for the Neopian Times. But I must let you know, you really need to put effort into it, otherwise you won't get published at all. The first thing you need to do is to choose how you want to contribute for it. If you are good at making art, you might wanna consider drawing a comic. If you don't have any ideas of what to draw, you can always find a partner who has an idea and is looking for someone with drawing skills, this way you both get what you want. Another way is to write an article, and that includes pretty much anything you wanna write about Neopets, that being a guide for a game that you are good at or even an interview with a famous Neopian. The third type of contribution is to write a short story; I love those ones! If you are creative enough you can try these. If your story is not short though, you will have to break it into some parts, making it a continued series. Since fall is the perfect season to read and write stories, there is no excuse for not participating on the next edition of the NT. Be advised that the next one is the 800th edition, which means it's a festive one that a lot of Neopians try to get in. In other words: more competition and more work for you! If I were you, I would try to write or draw something about fall; I think Neopia will love it!

80. HAVE FUN!!!

That's my most important recommendation! All the others are based on my personal experience, so they are all things I like doing on fall or would like to do someday. In the end it doesn't matter what you and your Neopets are actually doing, as long as you are all having fun! Be nice to other people, respect their opinions and try to make new friends. I think that's the best way to succeed on this fall in Neopia. Have a great fall this year!