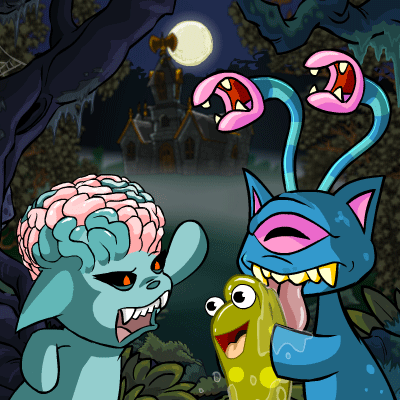 12 Favorite Spooky Avatars for Fall

by madiwoo

--------



Hello, Neopia! This is Madi and I'm here with my friend Lindsay to share a list of our 12 Favorite Spooky Avatars for Fall. If you enjoy taking trips to Haunted Woods for some frightful fun or just love anything spooky then this article is perfect for you.

It's officially fall, which means it is almost time for our favorite holiday: Halloween. If you're anything like us, you like to start showing your Halloween spirit on October 1st. Why only be celebrate for one day when you can be festive the whole month? What better way to do this than by choosing a spooky avatar to use for the entire month of October? It's almost like being able to dress up and have everyone try their hardest at being scary. There are so many great spooky options, but Lindsay and I chose our favorite twelve spooky avatars to share with you today. We are getting this article to you early so you have time to create the perfect matching font for your spooky avatar!

Now let's move on to what you came here for: the spooktastic avatars.

12. Werelupe

Starting off our list is the classic "Werelupe" avatar. Even though Werelupes might look terrifying they actually are very loyal companions. This avatar is ideal for anyone who likes to match their avatar to their active pet and still wants a spooky avatar for the fall.
11. Pteri – Darigan

This fierce Pteri just screams up to no good. Can't you just picture him flying around, scaring young Neopians and wreaking havoc? There's a glint in his unsettling eye that tells me if I got too close I'd be ripped to shreds. If that's the kind of vibe you want to give off when you're being festive for Halloween, then the "Pteri – Darigan" avatar is absolutely perfect.
10. Uni – Nightsteed

The "Uni – Nightsteed" avatar is filled with dark colors we associate with being spooky. The red eyes of the snarling Uni really pop making the whole avatar quite unsettling. Add a dark quote to your font and you're all set.
9. Meowclops

The Meowclops avatar is perfect for anyone who wants a spooky avatar, but also wants something cute. The pink, yellow, and green hues of this avatar just scream Halloween. Using this avatar will show your Halloween spirit in the cutest way. I don't know about you, but I just want to take this Meowclops home with me and spoil it to death!
8. Zomutt

Like the Meowclops, this little Zomutt is the perfect combination of spooky and adorable. Though the face of the Petpet is adorable, the chilling green color screams spooky in a way that's great for Halloween.
7. Mutant Graveyard of Doom II

With a name like this, how could it not be on our list. It has a background that screams spooky, and who doesn't find mutant pets a little unsettling? Add in the Jack-O-Lantern and it is easily a classic to use this time of year. Not to mention it's one of our favorite games to play, so it's definitely one of our go-to avatars to show our Halloween pride.
6. Ghost Krawk

The "Ghost Krawk" avatar is a great spine-chilling choice because the Krawk's glowing red eyes appear to be staring right into your soul! This avatar is a good choice if you don't want one with the typical Halloween colors, but still want to be festive.
5. Count von Roo

The "Count von Roo" avatar is the perfect choice for all of you night owls out there. This avatar is only obtainable from 12 am to 1 am when the Count is awake and up to no good. You know Count von Roo is spooky and dangerous because he runs a game called "Deadly Dice". He prides himself on being a scary Count. Show off your Halloween spirit by using this avatar!
4. Stamp Collector – Haunted Woods

For all the stamp collectors out there, the month of October is the perfect time to show off your "Stamp Collector – Haunted Woods" avatar. The Brain Tree looks more unsettling every time I look at it. This stamp avatar is a great choice for someone who likes simplicity and also wants to show off a fantastic achievement.
3. Edna – Cackle!

If you are lucky enough to have the "Edna – Cackle" avatar bestowed upon you then October is an excellent time to show it off! Simply because this avatar features Edna makes it fit the spooky category. I mean someone who is concocting that many spells has to be up to no good. Plus the added horror of all the work to get the avatar makes it a double contender.
2. Dark Lurker

At number two is Madi's personal favorite spooky avatar, "Dark Lurker". This avatar is simplistic, but is still perfect for Halloween. The black background and dark grey skull really make the eerie red flames pop. The ghostly skull and flaming garnet eyes make this is the perfect ominous avatar for the month of October.
1. Carnival of Terror

Last, but certainly not least is the "Carnival of Terror" avatar. Nothing gets spookier than evil carnival clown Chias. This avatar is probably not for anyone who has a deep fear of clowns, but is perfect for anyone who wants an incredibly spooky avatar to spike terror in the hearts of everyone that sees it.
There you have it, our 12 Favorite Spooky Avatars for Fall. As I said before, there are so many great spooky avatars out there, but these are just our personal favorites. We hope you enjoyed our article and found inspiration for the perfect spooky avatar. Whether you love everything that goes bump in the night or you like the cutesier side of Halloween there is an avatar for you!
Can't decide on just one spooky avatar? Get a Neoboard Pen from the NC Mall and you can use multiple! Neoboard Pens are perfect if you're indecisive like us ;)
That's all we have for you today! We will be hanging out in the Haunted Woods enjoying all the spooky fun activities if you need us! :)