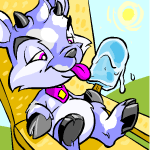 Top 10 Summer Avatars!

by happyinengland

--------

Hey, you! Yes, you… the one with the floppy hat. Come over here and take a seat as I am about to let you in on a little secret.

Summer is here and we all know what that means, right? Sun, sea, sand and most importantly… fun! Summer is one of my favourite seasons as it is for many of you reading this article today. It's a time to relax and enjoy the hot weather, and you're not doing that, you're probably out playing outdoor games or going to parties. Probably.

Although it may be a wonderful season and an ample opportunity to go outside and play… how about those times you want to stay indoors and play Neopets. I can see right now that this is one of those times.

If you don't fancy visiting Mystery Island or Kiko Lake today, how about you spend some time chatting with your friends? What a perfect way to talk to your friends than with a Summery avatar? It's the in thing, you know.

To celebrate Summer, I have created a article solely for you to decide on which bright and fun filled avatar to opt for this season! These avatars in particular are perfect for the warm weather, the cool breezes, the fun times. They are bright, colourful and exciting!

It's time to pick your favourite Summer avatar to pair with your equally pretty and vibrant fonts!

Tuskaninny – Relax
Do you like to relax? Want to make friends with someone who also shares the same interest? You're in luck! The Island Tuskanniny is the perfect Neopet to make friends with. Have you seen his uber stylish sunglasses? He pulls them off like a glamour model (the Clothing Shop shopkeeper would be proud)! Visit one and you will get this colourful and vibrant avatar that will match both of your personalities!

Island Quiggle
Want to make another friend? Spend some time with an Island Quiggle to get this avatar. Look how care free it is! This goofy little Neopet is surely one you wouldn't want to miss out on making friends with. He probably knows all the cool places to hang out in Mystery Island!

Chomby - Colourful
Aside from Tuskanninies and Quiggles, what other Neopets could you make friends with? How about a Chomby? This Rainbow Chomby knows how to have fun. With its colourful exterior, you can tell it's a social and outgoing Neopet that likes to party! You'd be over the rainbow if you spent a day with it. Trust me, its happiness is contagious!

Krawk - Island Fever
There is one more friend I would like you to meet. The Island Krawk and its Island petpet are another pair you surely wouldn't want to miss. As you can see, it is carefree and eloquent – two attributes that are fairly sought out for in Neopia! This is another Neopet who could also be your personal tour guide in Mystery Island.

A Day at the Beach
Have you ever fancied taking a Tiki Tour of Mystery Island? Well, now is your chance! Take your Neopet with you for a fun day out that I can assure you will never be disappointed of! To start off with… it only costs 25np! That is an absolute bargain, right? You will get to meet some lovely natives as well as getting the chance of having plenty of things to see and do. You also get this spiffy avatar as a memento of your trip there!

Kacheek Swim
Do you fancy taking your Neopet to the beach? Want to explore underwater with them? I know just the thing for you! Take your Kacheek swimming at the beach in Mystery Island. I believe it is a pleasant place. What better way to remember the experience than with an avatar of your Neopet with their scuba diving equipment and bubbles surrounding them? Cute is an understatement!

Spike!
This is one elusive avatar that I recommend you get your hands on. The lime green avatar is a must have for the Summer! All you have to do is achieve 800+ points in Mynci Beach Volleyball. What a fun way to spend the afternoon with your Neopet than playing on the beach in Mystery Island! It is an exciting and competitive sport that will get your heart pumping for the rest of the day.

Kiko Pop
Pop on over to the fun game by the Kiko Lake shore! Elvin the Yellow Kiko will let you throw darts at the bright and colourful balloons. What's the point you ask? You can win many amazing prizes including this elusive avatar if you pop a balloon that reveals a question mark icon! It's random so make sure you make some time for this fun and addictive game!

Sutek's Tomb
Sutek's Tomb is another fun filled game you can enjoy during the Summer! Score 2000+ points and you will be awarded with this avatar. What a great way to look back on this day than with an avatar of a Geb! Did you know they were the builders of this exiting puzzle in the Lost Desert? No? Well, now you do!

Must... Keep... Smiling...
Last but certainly not leas is this beautiful, island-esque Kacheek avatar! Kacheek Seek is one of those games that you can't get bored of – not for a while anyway! It's a relatively easy game where you have to - wait for it – seek a Kacheek. The avatar you can get from it is also another random but it is worth the wait. I mean, look at how Summery it is!
Can you believe you've reached the end of my article? I hope that you have enjoyed it as much as I did writing it! It was fun spending the day with you at the beach, desert, lake… wow, we did it all! I hope you have a great Summer that is full of sun, sea, sand, fun and laughter!