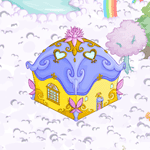 Fly Away Home

by blade0904

--------

Many Neopets love to live in the clouds, but decorating an abode in the sky does propose some challenges. Here are some ways to spruce up your Faerieland Neohome even if you have to forego yard space – and don't worry you can still utilize that fluffy, white lawn!

Bedroom:

This is your Neopet's sanctuary, lair, hideaway – whatever you want to call it. As much as we love our pets it's important for them to have a room of their own to rest in and it can be the most fun room of the house to decorate: just use your pet's personality for inspiration.

Antique Four Poster Bed (NP)

Give this stately bed to your most mature Neopet. They will love the history behind the delicate wrought iron and with beautiful purple bedding, this item will fit perfectly with your other faerie items.

Sparkling Faerieland Bed (NC)

This lovely bed requires some NC to obtain (it is currently buyable in the mall!) but what pet doesn't want to sleep on a cloud? The ultimate experience in comfort, this ethereal mattress will relieve any aches and pains.

Rainbow Bed (NP)

Your quirky, artistic pets will love this colorful place to rest their head at night. Let this unique bed be the room's showcase and choose other items that are more subdued but still complement the centerpiece.

Fyora Print Bed (NP)

The princess of the house will appreciate the chance to wake up refreshed and feeling like the Faerie Queen herself.

Ultranova Wardrobe (NP, $$)

This pretty wardrobe utilizes the powerful battledome element Ultranova and will remind your pets of the faeries' importance in battle. Plus the pale pink looks great with other faerie items.

Fyora Inspired Bedroom Desk (NP) and Fyora Inspired Vanity Table

It's important to make sure your pets have a place to study and this beautiful desk can also double as a vanity. Additionally, you can also buy a Fyora Inspired Vanity Table if you have room for both and your pet will have plenty of room to put together his or her best look and get all A+ grades at the training schools.

Living Room:

It's important to make sure your Neopets have a comfortable place to relax at home after a long day of traveling through the many worlds, fighting at the battledome, eating gourmet foods or reading complex books. Faeries also need a break from saving Neopia with their quests so take some cues from them for a stylish room to kick back in.

Battle Faerie Bean Bag (NP)

This low-key chair will remind your Neopet of his or her inner strength every time they plop down to watch a movie. Not to mention when they have friends over, this will be the most sought out piece of furniture!

Ornate Faerie Pottery (NP)

Decorations are important! This tasteful vase will give some depth and personality to the room. If you feel inclined, add more art around the house as well – there are many different paintings that will add character to your walls.

Purple Wave Sofa (NP) and Fluffy Cloud Sofa (NP, $$$)

This sofa is a work of art with a very modern wave design. The rich purple hue will blend well with your other faerie furniture. However, if you have the funds you can upgrade to the pricey Fluffy Cloud Sofa that could only be obtained through a rare code.

Fyora Inspired Bookcase and Cloud Bookcase (NP, $$$)

It's important to keep several goodreads handy for your Neopets and why not arrange them on some beautiful shelves? The Fyora Inspired bookcase is a great choice but if you can afford to drop the NP needed to score a rare code item, the Cloud Bookcase will certainly impress any visitors.

Regal Purple Petpet Cushion (NP)

Petpets need a place to hang out too! Forego the typical bed and get them a first-class cushion for lounging. It will be all the rage in the neighborhood. Who says petpets can't be pampered too?

10th Birthday Fyora Planter (NP, $$$)

If you're not fond of art, another way to decorate is with a pretty indoor plant. This high-ticket item was obtained through redeeming a NC card several years ago so it may be hard to find.

Bathroom:

Your Neopet will appreciate that even their washroom has a regal air to it.

Elegant Air Faerie Basin (NP)

Even the messiest of Neopets won't mind washing up for supper in such a pretty sink. The gold accents definitely add a sense of prestige. This item has a matching set bathtub, mentioned below!

Elegant Air Faerie Bathtub (NP)

According to the item's description this bathtub always smells like flowers – making a bubble bath the perfect way for pets to recharge after a long day of adventuring. Need I say more?

Marble Wings Faerieland Floor Tiles (NC) and Shiny Faerieland Floor Tiles (NC)

These elegant floor tiles are the perfect way to add some pizazz to an often-overlooked room. Who says the bathroom can't be just as stylish as the rest of your Faerieland Neohome? These are both NC items so some trading for them will be necessary but definitely worth it for such a beautiful item. (Shiny Faerieland Floor Tiles is currently buyable in the mall through purchasing the Faerieland Room in a Bag.)

Outdoors:

Although many Neohomes have lush yards to house extensive gardens and patio furniture, don't despair there are plenty of ways to decorate still – plus, your Neohome comes with a built in view!

Pink Garden Swing (NP)

This fun swing is a great way for pets to spend a sunny day outdoors. They can even jump off, after all those clouds provide a soft landing! Warning: don't try this in any other Neohome gardens.

Pretty Pink Hammock (NP, $$$)

This costly code item provides the perfect place for your pet to curl up and read a new book or take an al fresco nap.

Sugar Bridge (NP)

This adorable pink bridge may look a little out of place in other yards, but it fits in perfectly among the cloud – sweet! Looks like it could be made of cotton candy, yum!

Faeriewing Plant (NP, $$$)

This plant grows right out of a cloud – no wonder it's not found anywhere other than Faerieland. Although it is expensive (another code item) it's the perfect plant for any Faerieland garden.

Heart Stepping Stone (NP)

Wear your heart on your… walkway? Form an adorable path to your front door – pets will have endless fun hopping from stop to stone over the clouds.

As you can see Neohomes in the sky offer endless opportunities for decoration. Get shopping, Faerieland!