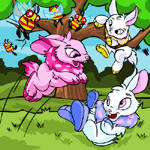 NEOPIA'S TOP 10 CYBUNNY THEMED ITEMS

by mazaii_3

--------

Hi, fellow Neopians! This week, or more specifically, on the 27th day of the Month of Eating, we celebrate Cybunny Day. It's that one special day of year where everyone on Neopia takes a moment to come together and appreciate the companionship of those lovely pets that we call Cybunnies. So, in preparation of this upcoming celebration, we've decided to make you a ranking of items that are vital to the understanding of Cybunnies.

Please note that our list isn't limited to any one category of item. However, we did try to focus only on items that can be bought with Neopoints, so there are no Neocash items included (our apologies!). Now, without further ado, let's get started:

1. A Guide To Cybunny Culture (Book)

First things first, right? This is book is for sure the first item you should grab if you're looking to fully experience the world of Cybunnies. It's a total must have for any reader. How else are you supposed to learn about something you don't know? Reading about the culture of Cybunnies is a great way to grasp a better understanding of their habits and lifestyle. I suggest you go buy a copy of this book right now and get started reading so you can become a Cybunny expert as soon as possible.

2. Baby Cybunny Candy Box (Food)

Since Neopia is still celebrating Easter's arrival (I'm looking at you Topsi, and your Festival of Neggs), what's a more fitting thing to eat on Cybunny Day than little chocolate neggs? There's no better choice. This food is the surest thing to get you in the mood for Cybunny day, and one can never have too much chocolate! Furthermore, I would like to remind you guys we are on Month of Eating, so… it's very important have proper feeding these days. Go grab some snacks!

3. Cybunny Diary (Book)

Cybunny Day is without a doubt a day to remember. It's a memorable event for all of the Cybunny owners around Neopia. And the best way to remember it would be to write down everything you experience on this day. We all want to treasure pleasant memories of our good days, and with our beloved pets this is no different. Buying a Cybunny Diary is the most fitting way to store these experiences. Remember, reminiscing is reliving.

4. Cybunnies TCG Cards (Collectable)

Cybunnies have their own cards in the Neopets Trading Card Game. In fact, there are several Cybunny related-cards. Not all Neopets species can say they have this same relevance in Neopia's history. As we all know, the Neopet's TCG is a game to play with friends and enjoy ourselves by having a good time with our Neopets. Cybunnies are all about this experience; they love having a good time. Here I've highlighted two of the finest Cybunny TCG cards: Pink Cybunny (TCG) and Island Cybunny (TCG). The first one evokes the soft temper and sweetness of these lovely creatures, while the second one brings to mind all their magnificence and beauty. Both are wonderful.

5. Bionic Cybunny Wearable Set (Wearable)

Well, number five isn't exactly a single item related to Cybunnies. It's a few of them. Ever heard of Neoquest 2? Of course you have! There are several enemies in the last chapter of NQ2 named "Bionic Cybunny." Differently from what you and I have talked about so far, these Cybunnies are not cute and harmless creatures. They are evil fighters, who work at preventing Rohane and his friends from saving Faerieland from a terrible fate. If you enjoy the villain type of character instead of the hero one (which we hope you don't), then that's the perfect outfit for your pet. It's all made of steel and even includes an original bionic eye.

6. Cybunny Ears with a Spring Bow (Wearable)

To those users who want to know how it feels like to a Cybunny, but don't want to have to create a new pet, these ears are the perfect item. Not only do they give pets a gorgeous set of ears (ones that look so natural even the harshest critics have trouble telling if they're real), but they're an incredibly cheap item to buy, since they were given away in mass during Rosie's Neggtacular Springtime Celebration Giveaway in 2009. These long white ears and beautiful pastel bow are essential to getting into the spirit of Cybunny day!

7. Cybunny Tuxedo (Wearable)

One of the most elegant shirts in Neopia, the Cybunny Tuxedo is just the way to dress your Cybunny up to the nines if you'd like to take him or her somewhere nice. It's an exquisite black color, which makes it perfect for evenings out, and it's made from a material that is comfortable and smooth. Who wouldn't want to wear such a thing, especially on Cybunny day? It's truly the perfect tuxedo for any Cybunny, as it carries that same suaveness they all seem to have.

8. Cybunny Utility Belt (Battle Magic)

This belt contain absolutely everything one needs to be a successfully Cybunny fanatic, including the most important things: two rich and enticing carrots. What better way to carry around your favorite Neopet's favorite treats? Along with those carrots, the belt holds a pouch (to store any loose odds and ends), a spray can of your favorite perfume, and a huge "C" to broadcast to the world that you're a Cybunny fan! With this belt on your hip, you can't fail to make a positive impression, both in and outside of the battledome.

9. Purple Cybunny Pyjamas (Wearable)

There are plenty articles of clothing that are perfect for walking around during the day in. But there's only one Cybunny related thing that people absolutely have to own for the night, and that's Purple Cybunny Pyjamas. Colorful, cozy, and warm, these pyjamas are the perfect clothes to curl up in bed in after a long day celebrating Cybunnies. Whether you're Cybunny, Kacheek, Aisha, or even Grarrl, be sure to grab this comfy outfit, since it can be worn by any species.

10. Cybunny Morphing Potion (Magic Item)

Finally, there's one last thing that ANY Cybunny fanatic needs to own, and that's a Cybunny morphing potion. Cybunnies, rare and delightful creatures that they are, are unfortunately limited edition Neopets. That means that they can only be created one day a year, on Cybunny day! I can already hear you complaining. But what if I want to make a Cybunny on a different day? In that case, there's one solution—and it's to get your hand on a Cybunny morphing potion! These morphing potions can be used to turn any pet, old or new, into a Cybunny. They come in a multitude of colors, including camouflage, woodland, rainbow, and plushie, and can get a little pricey. However almost any owner will tell you that the potion is worth it, as Neopoints are a small price to pay for a pet as lovely as the Cybunny is.

Well, I guess that's all for today! Let's never forget that the main purpose of this site is taking care of our beloved Neopets. That's what this community was made for. So, we wish you a very special Cybunny day and hope you can great time doing that with your pets this year!