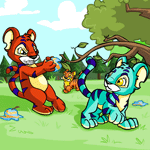 8 Ways to Celebrate Kougra Day

by scubadove

--------

Just in case you don't have your calendars marked, April 22nd is Kougra Day! According to TNT's data, Kougra's are the third most popular Neopet, so there's a good chance that you may own one yourself. If you do, then you already know just how great these pets can be. They are generally very rambunctious, playful creatures, and almost always have an appetite for adventure. If you don't have a Kougra, then consider going down to the Neopian Pound and adopting one - that would certainly make for a great Kougra Day!

Whether you own a Kougra or not, this day will be a great opportunity to do something fun. My own Tyrannian Kougra, Xokue, isn't exactly one for celebrations, so I don't anticipate doing too much more than giving him a nice steak. If you want to plan something special but are unsure of what to do, feel free to take some of my ideas and celebrate Kougra Day in style with your pets.

Fun-filled beach day





Kougras hail from Mystery Island, so why not plan an excursion to the beach to enjoy their pet day? If your pet is high energy, then this might be a great option because of all the different things to do. Be sure to pack some towels, sunscreen, and plenty of toys for playing in the sand and surf. Don't forget a kite, throwing disk, and volleyball - these activities are much more fun at the beach! Mystery Island has a wide assortment of fruity drinks and foods that can't be found anywhere else, so when you get hungry, chow down on the local delicacies.
Relaxing day of reading





Is yours a Kougra a book worm? Consider picking out some new books for a Kougra Day treat. This type of celebration can be great because if your pet is a homebody, you can plan on giving your Kougra the time to read their new books from the comfort of their room. Of course, you can always plan a lovely picnic at one of your Kougra's favorite places and enjoy reading in the fresh air. If you decide to do this, be sure to have plenty of your pet's favorite snacks and drinks close at hand so they can have plenty of uninterrupted reading time. In honor of the pet day, be sure to choose books where Kougras are either the subject or main character.
Luxurious spa day





If your Kougra enjoys being pampered, then light some scented candles, put on your fluffy robes, and get ready for a day or relaxation. There is no shortage of Kougra-related grooming supplies, so plan a spa day for your pet that truly caters to your pet's every need. Depending on your Kougra's preferences, you can enjoy manicures and pedicures, massages, aromatherapy, deep conditioning hair or fur treatments, or anything else that they would like to indulge in. Make sure you allow for plenty of time for this, as the last thing you want is to feel rushed when you're trying to unwind.
Battledome bash





Okay, okay, so maybe your Kougra wouldn't be interested in getting pampered. Maybe your Kougra is more of the battle-hardened type, who feels more comfortable in the Battledome than they do in their own Neohome. If this describes your pet, then consider surprising them with a new weapon. Then, give them all the time they need to duke it out with their friends or foes while you cheer them on. Just be sure to have plenty of healing potions on hand so they don't have to stop the fun for trips to the Healing Faerie. And don't forget to make your way down to the Swashbuckling Academy - Cap'n Threelegs will be offering free training for Kougras on their pet day!
Baby-friendly celebration





Maybe you have a Baby Kougra, and would prefer to celebrate in way that will still allow for their mid-afternoon nap. Surprise your Kougra with some new playthings to fill up their toybox, and spend the day playing with them. If you want to get your pet a new Kougra plushie as a gift, you'll be able to choose from a wide variety of different colors. When it's time for a snack, reach for some Baby Kougra Custard or Caramel Flavored Kougra Milk, both shown above. These delicious treats are certain to be enjoyed by pets of any age.
A Crafty Kougra Day





Here's an idea that Delina herself would approve of! If your Kougra is an artist, then encourage their creative side with a day full of crafting. Gather up every art supply you can think of, organize them neatly, then watch as your pet makes a huge mess creating masterpieces one after another. It may take you a few days to get all of the glitter and glue out of the rug after this Kougra Day celebration, but you might just end up with a work of art you'd be proud to display in your Neohome.
Fashion forward festivities





If your Kougra's customization is starting to look a little outdated, consider surprising them with some new wearables! There are plenty of stylish wigs, accessories, and outfits that only Kougras can wear, so consider using Kougra Day as the excuse you need to add to your closet. If your interested in a species-exclusive outfit check out the Kougra Adventurer, Altador Heroine, Buzzer Costume, Evening, Green Shenkuu Warrior, Noil Tamer, Sailor, Space, Summertime, Warrior Princess, and Winter Ranger outfits.
A Kougra Day feast





No matter what you decide to do for Kougra Day, your should definitely plan for a special meal at some point. If you want to go all out, prepare a multi-course feast with all of your pet's favorite foods. There are plenty of Kougra themed dishes available in the shops all around Neopia, so have fun creating your menu. Consider wrapping up your meal with a Kougra Pudding, like the Chokato one shown above, or have the chocolate, vanilla, or strawberry flavors. This is a great way to feed your pet some new gourmet foods, so feel free to eat until you're bloated!
Of course, these are just a few ideas, so feel free to use any that you think your Kougra might like. Every pet is an individual, so consider their likes and dislikes when planning any celebration for them. Also, don't feel like you have to spend a small fortune preparing a complicated celebration! The most important thing is to make sure that you do something to show your Kougra that they're appreciated. Your pet is certain to appreciate any effort you take to make them feel special.
Have a great Kougra Day, everyone!
Search the Neopian Times


---
Great stories!
---------
---------
---------
---------
---