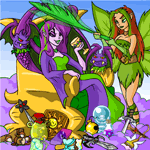 To: the Dearest Sister of Mine, Jhudora

by miu1109

--------



Dearest sister of mine,

Hope this letter finds you in the best of health. Gentle remember that my special day is coming soon, and I'm looking forward to receiving my present from you!

Lots of Love,

Illusen

P.S. Hope you like my gift to you last month on your special day ;)

---

Illusen,

Hope this letter finds you in the worst of health, you goody two-shoes. I despise you. Your idea of a 'gift' is as disgusting as you. Seriously, painting my Bluff lime green would have been fine, but of all colours, you have chosen your green. Complemented by your brown. The most horrible mixture of colours I ever had the misfortune of witnessing.

Do not do that again. I'm putting up spells against you around my Bluff right now.

Jhudora

P.S. On second thought, maybe I shall paint your shameful excuse of a Glade lime green. With purple streaks. That would be doing such a great favour.

P.P.S. Why are you even writing a letter to me? Go bother some other unfortunate Neopian with your existence.

---

Dearest sister of mine,

Thanks for that compliment! I'm the best role model of Faerieland, after all. Glad to know that my aesthetic sense is still excellent! :)

Aww, is that your way of expressing gratitude? I'm so touched! Glad you enjoy my gift so much! I spent so much time and effort working on it. Everyone loves it, just ask your neighbours. They had even helped me paint, that day. We had so much fun together, painting your Bluff into such beautiful, earthy colours.

Since you were not there at that time, I had taken the liberty to the food in your fridge, and all of us ate together. We have all agreed that those chocolates are the most delicious we've ever eaten, by the way!

Love you,

Illusen

P.S. You still haven't get out of your rebellious phrase? Queen Fyora would be so disappointed. :( Don't you know lime is the most evil colour ever existed? Every Villain Is Lime, after all. But don't worry, your dearest sister believe in you! That one day you would turn over a new leaf!

P.P.S. Because you're my favourite sister, of course! How could I ever not make time for you?

---

Illusen,

Those are not complements. Nor am I expressing my gratitude. Maybe your days in your pathetic Glade have deteriorate your intelligence, not like you have much to start with, naturally.

And no, I am not an angsty teenage. I'm the most esteemed Dark Faerie in Neopia, I'm beyond your so-called "rebellious phrase", because that simply does not apply to me. That oh-so-high-and-mighty Queen's feeling matters nothing to me.

Your aesthetic sense is as remarkable as your intelligence, which is to say—in case you cannot understand me—that they are so abysmal that even a petpet, no, a petpetpet would have been far superior.

Who are those 'neighbours' who had helped you? Time to pay them a nice, little visit in true Dark Faerie style payback.

Chocolates? Curses! So that is why those Faerie Chocodrops I have been saving disappeared off to. I'll have you known that it took me so many Neopian questers to gather that few Chocodrops.

I surely look forward to the day you will no longer have any time at all.

Jhudora

P.S. That just shows how superior lime green is. Even villains approve of it.

P.P.S. The day I turn over a new leaf would be the day Fyora announce me as the new Queen of Faerieland.

---

Dearest sister of mine,

I know, I know. It must be hard to admit your true feelings. I've known you for so long, of course I know you are just being a bit shy. Don't worry, your sister understands you crystal clear! :D

It's okay, you don't have trouble yourself by going out of your way to repay us, because kindness does not have to be repaid! We're all just glad that we had made your special day especially enjoyable for you. Plus, we've already eaten those delicious chocolates. You must have prepared them just for us, right? Thank you so much! -no tags here-3

Sister, you are already so old, even older than me! You owe it too all of us Faeries not to be so rude to our Queen, or to join the dark side!

Great aspiration you have there! It's always important to have a goal in life and work towards it!

Best of Luck,

Illusen

P.S. Sadly, usually I don't have that much time, seeing that there are so many Neopians I have to attend to. Luckily, I have lots of free time recently to write letters to you! Aren't you happy?

---

Illusen,

I'm not even going to comment on that. Seems like I was wrong in saying that you don't have much intelligence, because you don't have any, at all.

I hope one of you have also eaten that Poison Muffin on the table.

I'm your older sister, certainly I will always be older than you. I don't care if I'm rude, she's the one who started it. And what are you talking about? I'm a Dark Faerie, I'm born in the dark side!

Illusen, it seems as if you have forgotten the content of my previous letters to you. Let me reiterate: I hate you so, so much.

Jhudora

P.S. I'm not happy at all. Stop sending letters.

---

Dearest sister of mine,

You know, love has three stages, and the first stage is denial. Glad to see you finally opening up to your favourite sister!

Unfortunately, none of us did. I do remember seeing a lime green muffin, and deciding to throw it away, 'cause you know, it's lime green.

You might be born as a Dark Faerie, but your birth does not define you! You can be anything you want to be, and I have confidence that you'll make your life great again!

Haha, I love you too~

Hugs and Kisses,

Illusen

P.S. I'm still waiting for my present from you!

---

Illusen,

You are a nuisance. This is getting out of hand. Maybe that quote on not arguing with idiots have some truth, because I would have been brought down to your level had I continue to dance to your tune.

Expect no more letters from me after this.

Jhudora

P.S. Nor present from me.

---

Dearest sister of mine,

You meanie! :'( But I know, deep in your heart, you've already prepared the most special gift for me! Of course you have!

Well, Illusen Day is in less than a day, I shall find out tomorrow!

Waiting Excitedly,

Illusen

---

Illusen,

Hope you enjoy the gift I have sent you.

Jhudora

---

Dearest sister of mine,

Imagine my delight and joy upon receiving your gift! What a beautiful doll you have made of me! Are those pins on the doll's head a new hairstyle?

Many Thanks,

Illusen

P.S. I have sent you a box of the Poison Muffin you have mentioned previously, since they sound like a delightful treat, and I insist on returning a gift of mine. You must've love to eat them a lot, to hope that I would have eaten yours.

P.P.S. But lime green is such an evil colour, so I've glazed them over with coloured icing sugar. Hope you like it!

---

Jhudora pauses, mid-chew, the realisation that is dawning on her suddenly morphs into a steady, coiling horror.

"Oh sheeee…" And she faints, foaming at the mouth.

The End.

Author's Note: That was fun! Can you sense Illusen's 'clueless' sarcasm? Feel free to neomail me to review, critic, or clarify any doubts you have for this story!