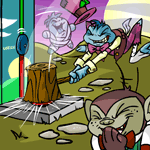 Testing Arnold's Strength

by auraphic

--------



Frustration is the first word that comes to mind when you visit the Deserted Fairground. It's pretty pathetic when the best chance you have at striking it rich is on a lousy scratchcard. That's the reality of a trip to the ghost-filled fairgrounds deep in the Haunted Woods. Everyone has been scammed by that shady Lupe at the Bagatelle stand at least once or have gone nuts over the coconuts that the kooky Quiggle has glued down to his Coconut Shy stand. No matter how many clowns we take down or how many pies we take to the face, the Carnival Of Terror avatar has remained out of arm's reach for many, and it's at the point where I won't even go near the Wheel Of Misfortune anymore.

Among all of these infuriating games, the one that tops the chart (although you can't top its chart) is Test Your Strength. This "game", if you want to call it that, requires your pet to take a sledgehammer and hit a red button as hard as possible. The stronger the pet, the more you score. Hold on...it's not how strong your Neopet is? Nope! It's however Arnold decided to rig the machine that day. It doesn't matter if your pet has been training at the Secret Ninja Training School for months, their strength does not matter one bit in how high they'll get the marker to go. It doesn't even matter how often you go; once every six hours or once every six years. It's completely random if you'll get some disgusting grubworm or a Halloween Paint Brush. The word "fair" may be in the name of the Haunted Fairgrounds, but this place is far, far from it. So how does one become a Neomillionaire and achieve a trophy at games such as these?

Luck. 100% luck. There are some theories that float around the community from time to time, but it seems they have all been debunked. Some people think that if you hit in the center, you will do better, others swear that you have to hit the outside edge of the button. There are theories that having a pet with strength, defense, movement, level, intelligence, and HP all ending in the same number will increase your chances, but that seems to be totally baseless. Some angry Neopians have even tried to lure Arnold into the Battledome to beat the answers out of him rather than beating the button, but a scammer as great as him knows how to go into hiding and avoid the threat.

He couldn't avoid me, though: reporter extraordinaire. I can track down anyone for an interview, whether through some nice Neomails or cornering them in a dark graveyard while they were just trying to get home. I'm here to ask the tough questions and test the strength of my targets. While Arnold was wrapping up at his stall and going for one of his many 6-hour naps, I showed up on the scene.

Interviewer-

ARNOLD! ARNOLD!! STOP RIGHT THERE!!

Arnold-

*running away* YOU'LL NEVER GET YOUR MONEY BACK!!

Interviewer-

*tackles Arnold* I don't want money, I want an interview!

Arnold-

Oh..erm..uh...okay then.

Interviewer-

Thanks for sitting down with me today, Arnold. People everywhere are so curious about you and your game!

Arnold-

...Is it sitting down with you if you're sitting on me?

Interviewer-

*laughs* Oh, Arnold. There's that Haunted Woods humor we all love! Tell me more about Test Your Strength.

Arnold-

Test Your Strength is a typical carnival game fashioned after the classic strength tests, it's in the name. You pick up my special mallet and smash down on a big red button, and depending on your strength I will award prizes.

Interviewer-

Oh, really? It's based on strength?

Arnold-

What else would it be?

Interviewer-

Well...we've had a lot of very strong Neopets play the game and get scores like "pathetic" and "useless". A lot of people think that you are scamming them out of their money and that the game is rigged.

Arnold-

Rigged?! *snickers* No way, not my game. It's not my fault if your pet is too weak to get the marker to budge. I run my game fair and square, I wouldn't be allowed in the Deserted FAIRground if I cheated.

Interviewer-

It's pretty well known that ALL of the vendors in the fairground cheat their customers...

Arnold-

Blasphemy! We run a tight ship here, we make sure everyone can win.

Interviewer-

How exactly do you make sure everyone can win?

Arnold-

It's all about luck! Maybe the odds aren't in your favor, but everyone gets lucky sometimes. You can win some big prizes with a little bit of luck!

Interviewer-

Luck...I thought your game was about strength? Is there something you aren't telling us, Arnold?

Arnold-

What?! Did I say luck? I meant those...those other games...those other games are about luck, see? My game is about strength! Testing your strength!!

Interviewer-

You seem a bit nervous, almost like you're lying...

Arnold-

Me? Lie? Never! I'd never lie to anyone, especially the media. You guys would hang me out to dry!! These are facts, all facts.

Interviewer-

These facts don't seem like the facts I've compiled in my research.

Arnold-

WHAT DO YOU KNOW?!

At this point, Arnold was able to push me off of him and smack my microphone out of my hand. I halfheartedly tried to scurry after him but I guess he gets a lot of practice outrunning people, because he was gone into the woods before I could catch up to him.

Perhaps we'll never know the truth about Test Your Strength, or any of the games in the Deserted Fairground. As far as I'm able to discern about these games, they are all a scam and that is why the fairground is deserted: no one wants to lose their hard-earned Neopoints to a bunch of shifty characters who just want to line their own pockets. On the other hand, Arnold did reveal a precious secret..."It's all about luck! Maybe the odds aren't in your favor, but everyone gets lucky sometimes. You can win some big prizes with a little bit of luck!!"

So it seems that while the odds are overwhelmingly against you and not in your favor, there is a wee fraction of a chance you will walk out of there rich or with a new item you can happily place in your gallery. If you want to press your luck, head over to the Deserted Fairground and give it your best shot. Besides, what is the worst that could happen?