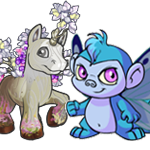 Elda & Eaime's Winter Beauty Review

by bizniscorg

--------


Lezmelda, or Elda, is a Woodland Uni and aspiring fashion and beauty blogger living in Faerieland. When she's not swatching, she loves to ice skate.
Eaime is a Faerie Mynci living in the Haunted Woods. She's passionate about rock music and what she calls "alternative beauty."
Elda: The holidays are creeping closer and closer, and you still haven't figured out what color lip you're wearing to dinner. With most Neopians experiencing some seasonal changes, it's important to switch up your beauty routines to maintain yourself despite the dry, harsh air. If you're at a loss for where to start, or just looking for some fresh products to add to your arsenal, you're in the right place!
Eaime: For this guide, I'm gonna be representing those of you out there who look forward to this time of year because it means you can break out the dark palettes. I recommend products for people like me who dig hanging out in graveyards and smashing stuff for fun. We're gonna start out with my recs for the season, and then get to Elda's.
Eaime's Faves
Coffee Perfume

Everybody pretty much ignores fragrances when they talk about beauty, but it doesn't matter how good your face looks if you smell like you've been digging in the trash. I love this scent because I love coffee breath, and I thought, hey, I would totally dig smelling like that all the time! This is a great pick for winter since it reminds everyone who gets a whiff of a hot, relaxing drink. Get some friends with weak noses, then get this perfume!
Dr. Sloth Hair Pomade

Okay, so I know he's like, an evil overlord or whatever, but this stuff has A-MAZING hold. As much as I don't want to give Dr. Sloth my Neopoints, I just can't stay away from this product. No other hair pomade I've tried is as long-wearing without coating my faux-hair in a layer of plastic impossible to wash out. For me, this is a must-have for the cold weather AND year-round. If you're like, bothered by supporting the big green guy, you can always purchase it from user shops so he won't see any of your coin.
Decimated Black Lipstick

So, the first time I tried this was after I found it in the lot in front of Chesterdrawers', just rolling around on its own. I was a little surprised when I went to buy a new tube and found it looked just as used as the one I'd found, but I didn't mind. I fell in love with this immediately; I even loved the waxiness. It's extremely opaque, which makes up for only providing you with half the lipstick as a normal tube. It's a little pricier than what you'd typically find at the Grooming Parlour, but it's totally worth it if you wanna scare your normie cousins at holiday dinners.
Dramatic Meepit Eyeshadow

Nobody knows big, bold eyes like the Meepits. I got this palette because I wanted my eyes to be seen from Virtupets Space Station, and that's exactly what I got. The only real downside to this for me was everyone asking me if I'd seen a ghost all day, which was annoying, mostly because I wish I HAD seen a ghost, but otherwise I loved it. I would avoid this if you're someone who doesn't like eye contact.
Black Cherry Lip Balm

Even though chapped lips are pretty punk rock, there's nothing more punk rock than moisturizing. The black cherry flavor of this balm is awesome 'cause it's way more punk than regular cherry, plus it's tinted just enough to give you some slight color.
Illusen Blue Waterproof Mascara

Dry winter air can make your eyes watery, and it's not at all cute to have your mascara streaking down your face, so you definitely wanna pick up something with some staying power. Luckily, my girl Illusen's got us with this great mascara! Despite the garden-y spring tube, this is amazing for winter because blue mascara is a great way to add some color to your winter makeup looks. Just don't forget to invest in a good makeup remover!
Elda's Faves
Breeze

Who doesn't love a good hair mask? As a Uni, taking care of my mane is extremely important, especially when the dry winter air wants to wreak havoc. This product keeps away all frizz and tangles, leaving your mane smooth, shiny, and manageable! Even if you wear hats all week to keep out the chill, you won't have to deal with having a deconstructed hay bale for a mane.
Honey Lotion

Moisturizing your skin is just as important as moisturizing your hair, and that goes double for any Neopians painted Woodland like I am. It's normal for us to be dry throughout the year, but that doesn't mean we shouldn't be doing all we can to fight off that extra flakiness in the colder months. What makes this lotion stand out for me is that it totally blocks the ice; no matter how cold you get, you won't have to thaw yourself out before running errands because some pesky sheet of ice froze you in place! You don't even need to worry about bugs because it's too cold for most of them to be out.
Award Winner Glow Sparkling Powder Puff

If you ever needed an excuse to be glittery and gaudy, the holidays is your time to (literally) shine! This powder puff comes in adorable pastel box and doubles as a foundation and highlighter. It's better for events and special occasions rather than everyday use, but you'll have plenty of chances to use it throughout the season. It adds a bit of sparkle and glow to an otherwise dull winter complexion!
Candy Cane Lipstick

This lipstick in an obvious choice for winter! If you don't think you can pull off something as bold as a striped lip, this lipstick is a soft pink instead of the vibrant red we all associate with candy canes, making it easier to wear. It's long-wear and non-drying, making it super comfortable, even with all the cold wind whipping against your face.
Hypoallergenic Face Cleanser

Everyone knows that great beauty starts with great skin. Everyone also knows that the last thing you want is irritated skin, especially during the winter, when everyone's extra-sensitive. This cleanser is extremely gentle, so it won't take off your heavy makeup without wipes or remover, but it will rid your face of all the gunk it collects throughout the day without causing any nasty side effects like dryness, redness, or acne.
Poinsettia Face Cream

This face cream made my list for its cute packaging and holiday theme, as well as its effectiveness. I use this both as a moisturizer at night and a cold cream to remove any heavy makeup from the day, and love it for its non-greasy formula and intense hydration.
*Keep this away from Kadoaties and other petpets, as the poinsettia is harmful to them!
Elda: We hope you enjoyed our list of our beauty faves for winter Y19!
Eaime: And even if you didn't find anything on this list for yourself, we hope you got some rad gift ideas. Happy Holidays, dudes!