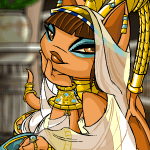 Essential Items for Your Perfect Princess

by pepper_imp

--------

Everyone's Neopet goes through a Princess stage at some point. It is important that your wannabe-Princess feels like she can achieve her dreams! This guide will take you through some essential items your perfect Princess needs to help her get started in the world of Neopian royalty.

Faerieland Forever

Every princess thinks she knows all there is to know about Faerieland. With its history steeped in war, curses and of course, its archetypal fall from the very clouds themselves, it is one of the most essential places for your perfect princess to school themselves on. What better way to do so than by reading this uplifting and beautifully bound tale?

Delicate Acara Spring Vase

Let's be honest, the suitors are going to be lining the streets for an audience with your royal highness soon enough, and she'll need to be prepared for an veritable onslaught of the floral variety. This vase is the ultimate choice for a wannabe-royal: charming, classic and just a little capricious in colour.

Being a Princess

An obvious choice, but quite the classic. This wonderful tale of a young Zafara who dreamed of being a Neopian princess, and her rise from rags to riches, is exactly the kind of inspiration to offer your pet in this time of high whimsy. Don't be afraid of letting your Neopet believe they really can follow their dreams!

Usul Princess Plushie

This lovely plushie will bring your princess all kinds of joy. Let her rejoice to imagine herself adorned in a gown of royal blue, the envy of all her friends in the school playground.

Princess Hat

This hat may seem a little audacious, but rest assured your royal Neopet is going to simply adore its pastel hues and sparkling adornments. This hat could make any pet feel simply spectacular, a true Neopian princess – and you can bet it will turn heads!

Lavender Scented Soap

A princess simply must smell divine, and this lavender scented soap bar will ensure she does. Better yet, this soothing scent will leave your Neopet calm, relaxed and full of natural slumber come bed-time: and we all know a perfect princess needs her beauty sleep. For even better results, pair your soap bar with Lavender Scented Perfume, Lotion and Toothpaste.

Fyora Shampoo

A princess needs shiny tresses, and our wonderful Faerie Queen Fyora is quite the example with her luscious lavender locks. Lather this illustrious liquid up in your hair or fur and experience the full faerie hair care experience. Follow up with matching conditioner, dry and style to your heart's content and set your new do in place with some Faerie Ixi Hair Spray!

Air Faerie Hair Brush

Air faeries are renowned for their beautiful blonde locks which flow in the wind so very graciously. Now your princess smells delicious and her hair has been dressed divinely, it's time to invest in a hair brush worthy of royalty. Take inspiration from your favourite faeries and pick up one of these highly sought-after hair brushes, which guarantee your hair will be left as soft and fluffy as a cloud.

Diamond Flower Tiara

Your neopet has undoubtedly spent hours, hours and more hours pouring over magazines, looking for her perfect princess tiara. Neopia has a vast variety of options, from stoic crowns to delicate headdresses. However, we have picked out the ultimate – yes, the ultimate – choice in royal headwear. The Diamond Flower Tiara is sparkly, it's sophisticated, it's set with thousands upon thousands of hand-crafted diamonds from the far corners of Neopia. It is a true work of majesty, and we can bet it is this tiara your Neopet wants to fulfil her princess dreams.

Sparkling Usuki Lipstick

Your neopet's look would simply not be complete without a touch of lipstick, and this sparkly affair is the one to go for. The Usuki franchise is extremely popular with young Neopians with royal aspirations, and this pink-hued lipstick has followed suit.

Light Faerie Harp

Everyone knows a princess should be well-educated, and aside from spending her time in the extensive libraries of Neopia's well-established cities, your pet should certainly strive to learn at least one musical instrument. Our recommendation is, of course, the harp – elegant, delicate and versatile, the perfect instrument for an aspiring princess. This Light Faerie Harp is sure to complement your pet's wardrobe of shimmering golds, and the sweet, syrupy chords it produces are sure to win over any audience.

Angelic Notebook

Princesses simply must keep a diary. If anything, it will be excellent practice for your pets inevitable stint as a prisoner in a Draik-guarded tower, for one thing. This pastel blue affair will almost certainly fill your neopet with a deep, whimsical urge to write. Poetry, prose, or simply life's day to day musings, dreams and whimsy will simply spill onto these parchment pages.

Candy Cane Cupcake

With the festive season fast approaching, your neopet will need to learn some basic baking skills, and quickly! These candy cane cupcakes are simple to make, simple to bake, and they are quite the hit at family gatherings and royal high teas alike. With sweet pink icing, a jam-filled sponge and a sugary candy cane decoration, your princess will certainly be considered a star baker in everyone's eyes. If you're lucky, you may even attract a Candychan or two, too!

Blue Kadoatie Music Box

A beautiful music box is a must-have for any Neopian princess. This music box is hand-painted in perfect princess colours of pink, purple and blue. It emits a sweet, tickling tune when wound which is sure to lull your pet into a dream-filled sleep.

Beautiful Bride Usuki

Princesses love to dream of their wedding to Prince Charming, and what better way to help them live their dreams than to offer them this sweet Usuki doll? It comes complete with dress and veil so your pet can plan the details of their big day just right!

By now you should be feeling a little more relaxed about how to help your Neopet make the most of this exciting, whimsical time in their life. It's of great importance that you show your Neopet that she can do whatever she desires, and achieve great things! So make your way to the wild and wonderful stores of Neopia, and pick up some of these fantastic gifts to make your pet's dreams of perfect princess-hood come true!