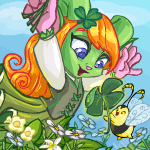 A Green Celebration of Spring

by binky1260

--------

When my Neogarden becomes a profusion of bright yellow daffodils and the sweet perfume of Blossoms fills the air, I know spring has arrived. It brings with it nature's affirmation and the promise of bright days ahead. Because spring is a time of earth's renewal, the color I most associate with it is green. Beautiful green in all its glorious shades of chartreuse, emerald and teal. My affinity for this lovely color puts me in a celebratory mood, and if you feel that way also, then please join with me in a green celebration of our Neopian springtime.

1. Be Green.

If you currently find yourself in dire financial straits and your Neopet is pressuring you to follow through with that new paint brush color you have been promising him, you need not feel guilt-ridden any longer. Now that spring is here, the fabulous green color he is sporting will be the height of fashion. What better way to celebrate the springtime than to literally be the color green? And to complete his trendy look, give your Neopet a Petpet to match. Carmas, Firs and the ever-popular (and adorable) Slorgs are all affordable green options. If you prefer a Petpet who is a bit more upscale, present him with an Arkmite or Pawkeet. Throw on a Petpetpet such as a Greevix or a Fleaf to complete the look (but only if you do not have to break the bank) and your Neopet will be in vogue while all others will be "green" with envy.

2. Eat Green.

The multitudes of shops in Neopia are teeming with foods that will enhance your springtime festivities. You need not limit yourself to shopping only at Neopian Health Foods, though admittedly you have an excellent chance of finding foods that even our nature-loving faerie, Illusen, would happily consume. But if your Neopet tires of Celery, Parsley Juice and Cabbage Quiche, treat her instead to Chocolate Mint Swirl Illusen Cake. Now, before you protest the wholesomeness of the aforementioned cake, allow me to remind you that "green" is the keyword here. This cake is a delectable concoction of flour, sugar and eggs all skillfully blended together to create a culinary masterpiece of green deliciousness. Besides, Illusen herself could not possibly object to a beautiful creation baked in her honor and bearing her name.

3. Wear Green.

Begin with a basic background such as the monochromatic Starry Green Background, or choose one with the full panoply of glorious green shades such as the Mysterious Forest Clearing Background. Add a Stately Tree Foreground or Shrubbery for even more layers of beautiful color. Other alternatives are the delightful backgrounds that are specifically named for the season, such as Lovely Spring Morning Background and Spring Topiary Garden Background, both of which could be obtained by participating in the Festival of Neggs. Once you have a suitable background, you can customize your Neopet to your heart's content. The possibilities are endless and too numerous to elaborate on here, but bear in mind that it really is not possible to blunder. As long as you are pleased with the results and your Neopet is happy and comfortable, no mistakes can be made. Undoubtedly, your 'pets will be pleased by your sincere effort to provide affectionate and fashion-conscious care for them.

4. Read Green.

A good book can enhance any special occasion, and the advent of spring is certainly no exception. There are many excellent choices available in the fine bookstores of Neopia, but in the interest of brevity, I will present a smattering of my favorites.

Green!

This book is an obvious choice as it is a must-read for any fan of the color green. If you insist upon having all things "green" in your life, then this informative volume provides many possibilities beyond your wildest dreams. Your Chia can graduate from wearing boring and mundane Green Bloomers and instead dare to don the exotic Sparkling Green Chia Wig. Is your poor Lupe sick of a meal of Fresh Green Salad and Green Grapes? Give his taste buds a boost with a cup of Glowing Green Soup and a generous portion of Green Ham. He will thank you for it, and you will be secure in the knowledge that your 'pet is living green.

On Illusens Wings

This beautifully written biography details the incredible life and times of our favorite Earth Faerie. It begins with a heartwarming account of her carefree days spent with her fellow Faeries in Faerieland and leads to the present as it describes her role as a famous benefactor of Meridell. Most notably, the author provides a graphic account of the rift between Illusen and Jhudora, the Dark Faerie, and reveals exclusive and shocking details that have never been previously exposed. This book will not disappoint devotees who have longed to know all the intimate secrets of the illustrious Illusen.

Green Thumb Guide

Whether you are a beginner who has only rudimentary plans for a Neogarden or an experienced horticulturist who is literally enjoying the glorious fruits of his labors, this educational selection is for you. It includes a handy troubleshooting section which provides excellent tips for solving the most peeving of challenges a gardener encounters in maintaining a healthy and productive garden. For example, if you should find that a lack of sufficient dirt is a problem in your garden, the author suggests that the frustrated gardener plant a generous number of Dirt Seedlings to generate the production of dirt. Then just watch your dirt troubles bite the dust. In addition, included is a section of colorful illustrations that will provide instruction in the most effective and attractive uses of birdhouses, birdbaths, benches, bridges and barbecues.

5. Gift Green.

Most celebrations tend to elicit our generous natures. If you find that joyful festivities and giving go hand-in-hand, then the advent of spring is a perfect time for gifting opportunities. It is not difficult to find a season-appropriate present in a lovely shade of green that your Neofriends would like to receive. Natural gifts are always appreciated. Send a sweet 3 Leaf Clover which will set you back a mere five Neopoints or, if you are feeling especially generous and have an extra 57,000 NP, splurge on a 4 Leaf Clover if you want to really impress that cherished friend. As an appropriate alternative to your green theme, select from nature's bounty and present a cheerful Basket of Cherries to brighten her day and the kitchen table in her Neohome. Or perhaps you would like to surprise your friend with a gift that comes straight from your newly cultivated garden. Consider gifting a Pile of Dirt because your friend will never know when dirt will come in handy. Any of these Illusen-approved gifts will convey your admiration and reflect your impeccable good taste.

It is my fondest hope that you have found in this article a suggestion or two that will spur your imagination and serve to enhance your enjoyment of the season. My wish is that you and all your Neo-family have the most joyful springtime ever, and may its splendor remain in your hearts and minds all the year through.