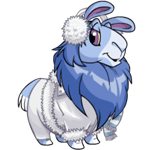 Customization Diaries of the Gnorbu Obsessed #1

by 987654321_hj

--------

Hi, I'm Hayley. If you don't already know me, here are a few things you should know:

1. I love Gnorbus.

2. I have a fabulous royal boy Gnorbu called Sopramus.

3. Get a Gnorbu.

4. I also have a beautiful white Aisha, baby Ogrin and pastel Blumaroo, who I created in honour of a Neofriend I'll never forget.

I also love customization. I don't have a big budget and don't like to follow the trends, but I enjoy creating new looks and using the amazing items Neopia has out there to their full potential. So welcome to the first part of my customization diaries, a series of me rambling on about my favourite items and looks, and I hope you'll enjoy it and maybe discover some items yourself.
Gormball Field Flowers Foreground. (approx. 12,000nps) Above is a picture of my Aisha wearing the foreground. When I first saw it in the news, I thought it looked like a nice, Neopoint alternative to the Blooming Flower Hearts Neocash item, which I own and love. But alternative? Nope, this item is so much better in my opinion. I love the realisticness of the flowers, it helps the Gormball Field Flowers Foreground to look a lot more natural in the nature themed customizations I keep on drifting to. The pop of green is beautiful as well. The foreground is large enough to cover the bare bottoms often on backgrounds, but small enough to not hide four legged pets. Red is a bold colour seen in many wearables, and the foreground perfectly ties the customization together, making the red wearables fit in. The cheap price makes it a bargain, and something any Neopian should own!
Last year when I saw the background sale along with 6 new 100NC backgrounds in the Neocash mall, it felt like an early birthday present. I snapped up 4/6 and regretted buying the last 2, because they were all a huge bargain and I saw some gorgeous customizations with them. My favourite of that lot is White Sands background. A simple stretch of sand, very easy to add whatever you want to, making something truly unique. The sky reminds me of staring out at gorgeous sun rises and provides a beautiful point of interest. The Woodland Creek Background from that set is visually beautiful, but not being a fan of autumny customizations myself I had difficulty using it.
Anyway, this year I instantly bought all 3. I bought the Nighttime Lake Background because I regretted not buying the Desert Night Background last year. This background, however, has a beautiful twinkling star animation and reminds me of a blank canvas-put your creativity to the test to make something very impressive!
The Garden View Background, though not the most popular from what I saw on the boards, was love at first site for me. GREEN! PURPLE! FLOWERS! NATURE! SKY! The colour palette is gorgeous and goes together flawlessly. The bare bottom half provides plenty of room for your favourite foreground. Though I've yet to use this background at the time of me writing this, trust me, I will. Probably with my favourite pet. And Garden View Background is never ever leaving my hands.
Rainbow Field Background was instantly popular, and I can see why. It is beautiful, there's no better way to describe it. Sweet pastel colours all around, beautiful flowers, subtle and realistic looking rainbow. It looks like a complete outfit all in itself. Even I refused to put more than a simple garland on it, letting it's beauty shine through, as seen on my baby Ogrin bellow.
Though there were less backgrounds this year, I was very impressed with them, and I can't wait to see what other wearables are released in the future. At the time of me writing this, there's only 2 days until the new MME morphs, and I am super excited!
Q: What's your most recent purchase?
A: Casual Blumaroo Trousers.
I say this about Gnorbus, but it's true with Blumaroos too. There are a lot of affordable great looking Neopoint wearables for them. Except that for Blumaroos, there are a lot of everyday, casual items. Simple versatile shoes, plain white gloves, trousers and jackets and wigs that can be mixed and matched with almost everything.
I bought the trousers for this look, Kawoka's current valentine customization.
Both the trousers and shoes are species specific without any Neocash required. They match the youthful look of the wig and cute top, adding the perfect finishing touches.
Q: Most underrated Neocash item?
A: Pink Flower Hair Accessory.
This item is so pretty! I originally traded for it for my Gnorbu because while not many wigs fit right on them, bows and other hair accessories look perfect on them, without them looking bald like other pets do. And because they make most pets look bald, they're unpopular and have a very low value, like this gorgeous hair accessory-only 1-2 caps! If you have a feminine Gnorbu of any colour, I'd definitely recommended this little beauty.
Surprisingly, though, mine isn't currently sitting on my Gnorbu, but my Woodland Eyrie. The warm pink matches the other colours present and it doesn't look out of place, like a wig might.
I am really looking forward to the spring wearables coming up! While for some reason, despite me trying, I cannot make autumn customizations I love, my pets are often decked out in spring all year round. Flowers! Nature! More flowers! So much to love. The most used pieces in my closet are probably the original shrubbery and the earth faerie frame (both cheap and Neopoint) for this reason. Add them, and viola, instant spring. All that's needed is flowers, which I proudly have more than a few of in my closet and safety deposit box. But I can't wait to add more, so come on Neocash mall! Me and Sopramus are waiting for you!
I hope you enjoyed my first issue of the customization diaries, as much as I enjoyed writing it. More will be coming up with more tips, favourite items, and trends old and new, and my favourite items in preparation for the holidays ahead. And Gnorbus. I did say I love them. See ya next time Neopian Times!