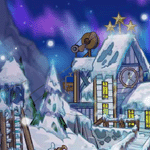 Holiday Worthy Backgrounds

by oliviagy

--------

Ahhh… winter is finally here and with it comes the wonderful season of the holidays. And what better way to express your excitement and love for this beautiful month of December than dressing-up all your beloved Neopets with the most festive clothing found on Neopia? It surely is one of my favorite things to do.

So you start to search for all the cool winter clothing and items on your wardrobe… But careful, clothing is not everything. NO outfit is truly ever complete without the right background to go along with everything else.

This is why I came up with this article! After a few hours of searching and digging around all the Neopian' backgrounds I've come up with a short collection of some of my favorite Holiday and Festive themed backgrounds.

I hope this list can inspire you to create great looking Neopets for this Holiday Season -- I am warning you from now though, although most of the backgrounds that I show you here are obtainable, there are also a few that are either already retired or too expensive to purchase.

Don't let that discourage you though! I know that all your pets will be more than thankful with you if you take the time to have fun dressing them all with this season's holiday spirit of Christmas.

Let's begin then!

Holiday Home Background (NP: Around 25k – 35k)

"This cozy holiday home scene is sure to put anyone at ease. This was given out by the Advent Calendar in Y9."

One of the most classic and thankfully still obtainable Holiday season background! Definitely a 'most' have wearable item for the festive days of December. Also, those cookies and glass of milk look delicious.

Super Festive Holiday Home Background (NC)

"Your neighbors won't be able to compete with YOUR Neohome this year!"

This was a Limited Edition NC Mall item. One of those backgrounds that you either have or wish you could get your hands on! Just look at those adorable and joyful candy canes. So pretty…

Holiday Decorated Money Tree (NP: Around 6k – 8k)

"Even the Money Tree is decorated for the holidays!"

Good news! You can actually get this background with neopoints. Isn't it a wonderful picture? You can see the joy of the season in the Tree's smile and those colorful gifts definitely make me all excited about Christmas.

Cosy Cottage Holiday Background (NC)

"The best part about living in Terror Mountain is having a Neohome with a fireplace."

Another wonderful Holiday season background that most of us can't get! This item is unfortunately already retired from the Neo Mall. Don't you wish you could own it?

Snowy Cottage Background (NP: Around 12k – 17k)

"Look at all the snow!"

One of my favorite backgrounds that can be bought with neopoints! All the snow and the cozy cottage in the background make this a great addition to your Seasonal wearables.

Snowy Mountain Background (NP: Around 6k – 8k)

"Just look at that view!"

A wonderful and clean winter-time background. A great background for any Neopet and their holiday time outfit! Just make sure to dress them warm. Also very affordable.

Snowy Igloo Garage Sale Background (NP: Around 7k – 9k)

"Ahhh… garage sales are so much fun!"

You can buy this with neopoints. It's a fun and playful winter time background for your Neopets to have! This was awarded to players who completed one of the challenges in Day #1 of the 2009 Games Master Challenges.

Snowy Forest Background (NC)

"A walk in these woods is sure to bring adventure"

Once again we got another wonderful background that is difficult to obtain. But we can also dream! This item can only be obtained through a Winter Nature Mystery Capsule found in the NC Mall.

"Brrr… its chilly! This Terror Mountain Snowy Hillside Background is only available if you have a virtual prize code from BURGER KING(R) in Canada!"

This item is already retired since it was given out in 2008. One of those items that most of us couldn't ever dream of getting – unless of course, you lived in Canada and went to a Burger King on 2008.

Visiting the Advent Calendar Background (NP: Around 4k – 6k)

"Visit the Advent calendar every day of the year with this festive background"

One of my favorite backgrounds I think. Not only do I love the snow and the grey sky, but I also really like the building far in the back of the background! Your pets would look great standing right in the middle of this picture.

Caroller Doorstep Background (NC)

"Knock Knock! Would you like to hear some holiday songs? This NC item was awarded through Shenanigifts"

Unfortunately – again – this is one more background for this holiday season that most of us will never get our hands on. This was a prize that was awarded only during the Shenanigifts games at the NC Mall. We can still look at it and appreciate its wonderful holiday spirit right?

Christmas Music Parlour Background (NC Mall Prize)

"It is much easier to sing beautifully beside a warm hearth than out in the cold. This NC item was awarded through Shenanigifts"

Looking at this background is a bitter-sweet experience to many of us. Sweet because it's probably the most beautiful, elegant, and holiday themed background I've seen yet. Bitter because it's obviously very hard to get since it was only awarded during the Shenanigifts games on the NC Mall.

Sparkling Icy Winterscape (NP: Around 10k – 15k)

"Brrr… this beautiful landscape is very cold!"

Simple and straight forward. This is an icy and cold looking background great for this winter season! Luckily this is a background we can all purchase with neopoints. This was one of the prizes awarded to players that participated in the Atlas of the Ancients plot back in 2009.

Winter Landscape Background (NP: Around 4k – 6k)

"Hopefully your Neopet has something warm to wear!"

If you are a big fan of snow then you have found a great background for your Neopets! Look at all that pure white and fluffy snow, doesn't it make you start a snow angel? One more buyable background for your winter collection.