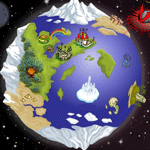 Bucket List: 20 Things You Must Do in Neopia

by krispykritter6

--------

Good morning fellow Neopians! I am a member of the newest pet species to Neopia, the Vandagyre family. We were first born just over a year ago, on the 15th day of Storing, Y16. At the time of writing this article, I have been here for 372 days. I can't believe how fast the time has gone by.

When I first arrived in Neopia, I was very lost and disoriented. At first glance, Neopia seemed like an overwhelming place to explore. I was dropped off in Neopia Central with my fellow pets, and we were only shown a few nearby places. The rest was up to me and the other Vandagyres to figure out on our own.

In retrospect, I wish that someone gave me a list when I first arrived, like a bucket list of the best things to do and see in all of Neopia. That would have really helped to get me started on my travels, and to figure out what places to visit first. I would like the next new species that comes to Neopia to have a better starting point and know where to begin on the grand tour of their new home.

Over the past year in Neopia, I have lived like a tourist. I wanted to explore my new surroundings before settling down. I have travelled to every land, and have seen and done a lot of incredible things. I kept a journal that I wrote in every night, detailing my adventures. At the end of the year I decided to look through my journal and pick out my favourite memories, and to compose a list to pass along to whatever new species comes after me. Nobody knows when the next species will come, but when it does, I hope to be able to arm them with a good guide to getting to know the best parts of Neopia.

My Top 20 Favourite Things to Do:

1. Start by browsing through the 'many' shelves at the Neopian Bookshop in Neopia Central. You can increase your intelligence level by reading lots of books. Knowledge is the key to everything, so read as much as you can. There are also many other bookshops that you can find throughout Neopia, so make sure to stop in to any that you come across during your travels.

2. Approach Coltzan's Shrine in the land of the Lost Desert. In addition to simply reveling in its beauty, you just might walk away feeling richer. I heard rumours that some Neopets have won one million neopoints here before! I wasn't that fortunate, but maybe you will be.

3. Visit the Art Centre complex in Neopia Central where there are plenty of fun activities to take part in. Take a walk through the Art Gallery. Learn how to draw your favourite Neopet. Stop by the Neopian Times and see where the magic happens. Read some poetry at the Poetry Contest. Don't forget to stop in for some coffee with the locals at the Coffee Shop. Who knows what friends you might make in there? I highly recommend the Caramel Iced Coffee with Extra Caramel – delish!

4. Take a tour of Brightvale Castle and see how King Hagan lives. If you visit at the right time of day you can even meet the King himself. Share some wisdom with him, and if he's impressed enough he will give you a token of his approval.

5. Catch a concert in Tyrannia Plateau. I was fortunate enough to see quite a few concerts during my stay. My favourites were the popular 'Chomby and the Fungus Balls' and the '2 Gallon Hatz'. There are performances to suit everyone's taste, so make sure you check out the schedule at the Ticket Booth to see what options you have. You will meet a lot of other young Neopets there and hopefully make some new friends.

6. One of the oldest and best attractions in the Kingdom of Meridell, Turdle Racing is a must see for every Neopet. It's so much fun to bet and cheer the Turdles on as you watch the live action racing. You might even make a few neopoints while you're visiting! Follow that up with some Round Table Poker next door - enjoy a night of cards with your new friends and hopefully win even more. Please note: as with any gambling games, be responsible and know your limits.

7. Visit the Money Tree in Neopia Central, maybe it will be your lucky day. Maybe.

8. Visit the land of Kreludor and discover its fascinating history. The Grundos were originally found on this space rock by Dr. Sloth, and some still live there today. Be sure to stop and poke the meteor with a stick at the Meteor Crash Site 725-XZ. You might even be so lucky to find a souvenir at the site to take with you… how cool is that? Keep your eyes open for evil robots.

9. Want to experience the most fun ride in all of Neopia? Take a spin on the world famous Merry Go Round on Roo Island and enjoy the scenery as it whizzes by you. I once rode this for six hours straight!

10. Walk around Moltara City and collect materials to take to Tangor's Workshop. He will transform them into a new Petpet for you. You will love having a buddy to keep you company! After that, stop by the Obsidian Quarry and grab a piece of Shiny Obsidian. It's not very rare, but it's a really cool souvenir of your time there.

11. Take a ferry ride to Mystery Island and visit the Island Mystic. Get your fortune told and see what your Neo-future holds!

12. Take the icy tunnel to the 'Top of the Mountain' in Terror Mountain and find Taelia in the Snow Faerie Quests igloo. She will reward you if you help her with spell. Plus, it's always fun to meet a Faerie! When you're done, go meet Mika and Carassa at the Igloo Garage Sale – they are so kind! You can find some great bargains in here, so have a look around.

13. Check out the amazing restoration of the Governor's Mansion in Krawk Island. While you're there, you should also visit the Smuggler's Cove to admire the various treasures. After leaving the cove, hunt for some Buried Treasure where you can win an item or up to 20,000 neopoints! Imagine what you could do with those winnings… you could afford to go back and visit your favourite places all over again!

14. Hit The Beach in Mystery Island and play a game of volleyball on the warm sand. Cool off after the game with a swim, relax in a lounge chair and soak up the rays! Most beautiful beach in all of Neopia.

15. Make your way to the Rainbow Fountain in Faerieland and witness Neopets being transformed into magical colours. Dream of one day being painted with your very own beautiful brush and becoming something spectacular.

16. Stop by Roo Island Properties and find out everything you need to know about Neohomes. You can create a new Neohome, or just check out some of the new furniture available. Even if you don't build one now, this is really useful information to have for your future Neolife.

17. Visit the Hall of Heroes in Altador, and talk to the janitor. He will start you off on a 14 day journey where you will truly experience the culture and history of Altador. You will be asked to complete various tasks, and will also get to see spectacular places like the Flat Rock Quarry and the Altadorian Archives (say hi to Finneus the archive keeper for me!).

18. Pick out a Poogle to cheer on at Faerieland's Poogle Races. The way they run is really funny, so it's entertaining to watch! If your Poogle happens to win, you'll even get some neopoints and a cute new avatar.

19. Visit the Ruins of Maraqua and test your patience with some early morning fishing at Ye Olde Fishing Vortex. After catching a fish or two, stop by the Bubbling Pit to check out the various Maraquan pets that are available – they are quite spectacular! It's really cool to see them making all those strange little bubbles.

20. Go for a fun boat ride with Glass Bottom Boat Tours in Kiko Lake. Look beneath the glass floor and see all the magical sea life below. Make it a sunset cruise while sipping on a glass of Phear Juice Tonic. Take a dip in the lake with the local Kikos. You've never seen water like this before – it's a pretty amazing sight!

There are so many more incredible places for you to explore, and it was really hard to pick just twenty. There are also many special events that take place over the course of the year in Neopia. Depending on what month the new pets would be exploring, there will be other really fun things to do. For example, the Altador Cup is a "must see" tournament that takes place every year in the Month of Relaxing, and the Advent Calendar is a really fun (and generous!) place to visit in the Month of Giving. I highly recommend that any new Neopet checks out the Neopian Calendar to see what is taking place at the time.

So when the next Neopets species is introduced, if you happen to come across any, please point them in this direction so they can benefit from my experience. If you are fortunate enough to be the proud owner of one, I hope you will remember this and share the experience together.

Happy travels, and Welcome to Neopia!