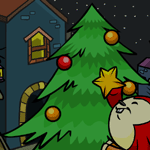 Preparing for the Month of Celebration, Part 2

by yuri445

--------

If you couldn't tell already, then I'm going to say it. I love Christmas. There's something magical about the Christmas season regardless of one's age. I love the decorations and the feeling of anticipation and the rush of love that people show each other. I love that for one day each year people are usually kind to each other. I love the carols and songs that play in the stores as people shop for food and gifts for their loved ones, then rush home with their treasures. I love the Christmas lights, decorated homes, the Christmas scented candles and fragrances, the decorated storefronts. There is so much to love about this time of year. So if you read part 1 of Preparing for the Month of Celebration, then keep reading for more Christmas preparations. Now that you're finished decorating the tree and hopefully your neohome, shop , and gallery, it is time to focus on other aspects of the Christmas holiday. It's almost time for holiday cheer, shopping, cards, parties, and sweets. Holiday food is something that can't be overlooked. It is in a class on its own. When it comes to food, Christmas is one of the holidays that can't be beat. From the month-watering turkey and vegetables to the scrumptious sweets and drinks, the food choices are almost infinite.

Let's first start with the sweets and drinks. Neopia has a wide range of sweet goodies and yummy drinks to keep you warm through the cold months.

Drinks

Some of the most tasty and delicious drinks pop their heads out during the holidays. The pumpkin, the spices, the hot chocolate with marshmallow and cream are at their most delicious during this time of year for some reason. Grabbing a hot drink during a cold winter night while snuggling on a sofa with the fire roaring by is the perfect way to spend an evening in. Some of the best drinks I suggest making for your neopets are Pumpkin Spice Coffee, Kiko Christmas Hot Chocolate Mug, Frozen Strawberries and Cream, and Walk The Plank.







For some Neopian, it really isn't Christmas until they've had a glass of eggnog. This drink is perfect for those cold Christmas nights. That sweet, thick, creamy, butterscotch-colored liquid is the beverage of choice this time of year and Neopians go crazy for it. There are many different kinds of neggnogs out there, but the best ones are the Roast Chestnut, Neggnog, Flying Holiday Neggnog, Mega Neggnog Smoothie, and the Rainbow Neggnog.




Desserts
'Tis the season to satisfy your sweet tooth with Christmas desserts. Whether you're looking for an impressive cake for your guests or cookies to deliver as gifts, make a gingerbread house, or looking for the perfect pudding, I've got you covered. The obligatory Fruit Cake is a holiday tradition. At least having one at home during the holidays will set you up for that uninvited guest who crushes your holiday party. Pies are something that can't be ignored. this dessert has a proud place at the table. Looking for the very best pie recipes? You only need to read one book, 4 Billion Pie Recipes. Just make sure you have some double magnifying glasses to read the tiny fonts that make this book hold 4 billion recipes. Although pies are very traditional, I would recommend spicing it up and trying different flavors like Coconut Custard Pie, Honeyplume Pie, or the Luxurious Vegetarian Star Pie. These are different and will keep your guests full and satisfied.





When it comes to cakes for your party guest, the options on Neopia is almost infinite. I highly recommend Chocolate Raspberry Ganache Cake, Holiday Gift Cake, Winter Snowflake Cake, Feather-shaped cake, Tomato Cheesecake, and Holiday Yule Log.






There are many seasonal puddings in Neopia. Finding the perfect one takes awhile because you either have to make all of it or buy it all. From the Christmas Pudding, Chocolate Seasonal Pudding, Strawberry Seasonal Pudding, and others, you might have a difficult time choosing the best one to grace your holiday table. But fear no, I am here to help. I would suggest going for the Flaming Christmas Pudding, Pumpkin Seasonal Pudding, Vanilla Seasonal Pudding or Plum Pudding. These puddings would show your visitors how hard you worked, or didn't work, to make these scrumptious holiday treats.




Looking for a project to do in the kitchen with your neopets? Then look no further than making a gingerbread house. There are many options in Neopia but I would recommend Homemade Gingerbread House or Gingerbread House. Up for a more challenging house? Then consider Holiday Gingerbread Mansion or Miniature Gingerbread City. These would take you days, if not weeks to complete.




Cookies
It can't be called Christmas without the cookies and milk. Making the best cookies and milk and leaving it for the big guy might just get you the very best present ever! Looking for cookies for the jolly old man in a red suit and white beard? Well, look no further. The choices are endless when it comes to choosing the right type of cookies and milk. Don't forget his Reindeers. They need to eat something too. Homemade cookies are the best for him because I've heard that it fuels him during his long journey. He needs strong bones to carry his humongous bag from house to house. Look for Holiday Milk and Cookies, Cookies and Milk, Milk and Cookies, Plate of Holiday Cookies, Plate of Warm Holiday Cookies, Plate of Christmas Kookith Cookies, Tyrannian Holiday Cookies, Biscuit Assortment, and Tree Shaped Cookies.









These fabulous holiday confections taste divine and will absolutely dazzle on your dessert table. Prepare to wow!
Cooking the Main Meal
Impress your friends and family by cooking an amazing Christmas feast. Cooking for the big day can be as easy as 1, 2, 3. There are many dinner option for your Neopets on Neopia. You can make something as easy as Turkey and Potato Dinner, Turkey Dinner, Ham and Turkey Feast, or Sliced Turkey Dinner for the traditionalist in you. For those that want to branch out and go crazy, I would suggest the Omelette Turkey, Chocolate Turkey or Turkey With Candy Cane Stuffing. Whichever option you decide to do with, your guests won't be disappointed with all these delicious foods. For your Christmas feast don't forget a side of mashed potatoes. Potatoes and Gravy and Garlic Mashed Potatoes are all very great options and simple to make.





Going for gourmet meal for your guests and forgoing the whole turkey business? Well, it's not as difficult as you might think and an easy feet to accomplish with some very easy how to steps. Following the steps of Neopia's brilliant and finest chefs like Cooking With Chef Flotsam, Chef Boulgar, Chef Biggles and Chef Boggles will help you cook that gourmet meal as well as they can, if not better. The first step is to take a look at some books, Book of Gourmet Recipes from Chef Biggles and Book of Better Gourmet Recipes from Chef Boggles, for ideas on how and what to prepare for your guests. I would highly recommend Fancy Rack of Lamb with Fruit, Headless Horsefish, Roast Pork, and Steak Surprise for that fancy dinner party.




Cooking for the holidays can be tiring, but fear not! If you're tired or just lazy and don't want to cook anything, there is hope for you. Try getting your hands on the Freeze-Dried Holiday Meal or Holiday Dinner In A Can. Yes folks, Neopia make things easy for you to have that dinner party or just eat alone if you want.


Christmas Carols
The sounds of Christmas, merry sounds, that come once a year telling us it's Christmas time again. The sounds of carolers caroling. the sound of snow against the window panes. the snap and crackle of the fire is something that is welcomed during this time of year. What I love about the holidays are the food, holiday songs, and getting a chance to spend time with your family and friends. If I absolutely had to chose one of these things I would say that the music is my number one favorite. You are instantly put into the holiday mood just by hearing a holiday song. Neopia has many talented bands and musicians you can enjoy at the Tyrannian Concert Hall. Every month of celebration there are two bands that has a special Christmas performance. The coolest band in all of Neopia, Jazzmosis, and Chomby and the Fungus Balls perform their Christmas special concerts at the Tyrannian Concert Hall. The Jazzmosis Xmas Speical Tickets are fairly cheap to buy. Your Neopets would love you if you take them to see the show. You can also buy and enjoy their album, Jazzmosis Seasonal Album , at your neohome this coming holiday.




While listening to holiday beats by these two amazing bands, why don't you try getting your hands on some Christmas carol books to sing along? I would suggest trying the Tropical Holiday Carols, Meepit Carols, or Kreluden Christmas Carols for something nontraditional. For the traditionalist in you, Neovian Carols or Neopian Carol Book are at your disposal. You can also consider specie specific carol books like A Christmas Quiggle Carol, Bruce Carols, Christmas Wocky Christmas Carols, or Cybunny Carols.




Presents
Last but not the least are all the gifts you'll be giving your loved ones. Your neofriends and neopets look forward to this day because let's be honest, Christmas is all about the presents. With thousands of Christmas gift ideas for even the trickiest of your neopets and neofriends, I've got the perfect solution. Gift giving is what we all look forward to during the holidays. You can watch your neopets run down the stairs in all their excitement and head straight to the Christmas tree for their presents. There are many things you can give your neopets and neofriends. Depending on who your neofriends are, I would say that you can't go wrong giving them some neopoints. I mean who wouldn't want to wake up to free neopoints. How do you give away neopionts you ask? Well, it is very easy and there are different ways of doing it. You can give neopoint to a friend by buying from their shop. You can arrange the amount with your neofriend and maybe buy a junk item at their shop. This would go straight to their shop till. Another way is for your neofriend to set up a trade and you go trade on that lot with the amount you want to gift. Or, you can give your neofriend an item and allow them to sell it for neopoints. Either way, it's a win win for all.

Apart from neopoints, you can give something you know your neopets and neofriends would love. You know them better than anyone. If you have no idea of what to give your neofriends and your neopets friends, then go for a gift basket. Who wouldn't love a basket filled with different things they can marvel at. That would cover all your bases. I think getting Celebratory Gift Basket, Mysteriously Overflowing Gift Basket, Cheesetacular Gift Basket, or Adoring Gift Basket is a great idea. Don't forget to give a present to your enemies as well. They would never suspect it.





After buying presents for everyone you now need to wrap it beautifully. You don't want to just hand them what you bought without the anticipation of unwrapping do you? Unwrapping a Christmas present is part of the tradition of the holidays that need to be observed. With that said, the options here are many. I would suggest the Seasonal Gift Box, Brightly Wrapped Presents, and Beautifully Wrapped Present. The opportunity to watch your neopets and friends unwrap their present is something not to be missed.



There you have it folks. This article has all been about my love of Christmas and everything that has something to do with the holiday. Thank you very much for taking the time to read and have a safe and festive holiday!
Search the Neopian Times


---
Great stories!
---------
---------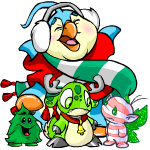 What Wintery Petpet Should You Get For Your Neopet?
There are plenty of fun things to do all month such as shopping or having snowball fights with your friends. This is also the perfect opportunity to go and buy your pets a wintery petpet, so that they have someone to have fun with during the holidays.

by milestrong
---------
---------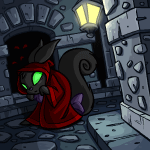 Chronicles of a Caped Crusader: Long Shadows: Part One
"I don't like this plan," Aisheena said, watching over the monitor as the guards entered the cell. "I've read her file; she was a real psychopath. We have one Nefarious trained villain running around; this could so easily blow up in our faces."

"Yes, it very well could," Loraine acceded. "However, we're no closer to finding Iniquitous as it is, and we're out of options."



by kristykimmy
---