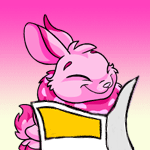 Usuki Singing Stars #27: MORE Publishing Problems

by downrightdude

--------



"Hey girlfriends!" Sparkles cheered as she entered the Neoschool cafeteria. The pink Bruce strutted towards her friends, took her seat next to Patricia and placed a copy of the Neopian Times open-faced on their table. "Look, I brought something for us to read while we eat," she said with a beaming look on her face.

Scary rolled her eyes. "Oh please," scoffed the purple Bruce. "Sparkles, you totally reek of desperation…among other things."

Ignoring her sister's comment, Sparkles eagerly opened the Neopian Times and flipped towards the short stories section. She smiled proudly as she gazed at the short story she was able to get published in the newspaper: The Princess of Meridell. Still bubbling with excitement over her very first NT submission, Sparkles turned to Patricia and asked, "So, have you read any interesting stories in the Neopian Times this week?"

Patricia shook her head. "I was too busy babysitting my brothers to even look at the NT," said the faerie Shoyru.

Sparkles pointed to her story. "Doesn't this look exciting, though?"

"I never cared for princess stories before," Patricia confessed.

"Neither have I," said Scary, "but at least you weren't forced to read it when it came out three days ago!" She banged the table with her fist. "And I hated that thumbnail picture they used, too! What's so great about a royal Zafara?"

"Well I think this story was super amazing and a great read," Sparkles insisted. "In fact, it completely changed my life for the better."

Finishing her juice box, Patricia stood up and left the table. As soon as she left, Scary snarled at Sparkles and asked, "Did you even remember to tell Patricia about your stupid story!?"

Sparkles shrugged. "I thought she'd recognize my name and read the story, all by herself." She looked down at the NT and muttered nervously, "Then again, I suppose a teeny tiny mention would have worked a lot better than whatever I just tried to pull."

"You were definitely desperate," chimed Scary.

Sighing, Sparkles took the NT and folded it in half before disposing it in a recycling bin. Despite being in the NT for three days, she had yet to receive a single comment about her story…well, one that would have been useful for her. Scary kept saying she despised it, and their owner Snaw was too busy toaster shopping to even open the NT. It also seemed to Sparkles that nobody in all of Neopia Central had even glanced at her story yet. If somebody had, then why were there no reviews for her in the review section? Why have no Neoschool students approach her yet to say they've read her story? Maybe if I wait just a few more days, a miraculous force will appear and force somebody to read my story, Sparkles thought hopefully. Maybe then I can relax and continue to pursue a career with the NT and be noticed by everybody in Neopia.

***

Two days later, Sparkles entered the Smoothie Shop and looked around at all the different patrons. She secretly wished somebody within the shop was discussing her short story, and, more importantly, was praising it as an artistic masterpiece. These Neopians seems smart enough to know good literature when they see it, thought Sparkles, taking her seat at her friends' table. "Hi girlfriends!" she said eagerly.

Scary groaned. "Can you stop addressing us as your girlfriends?" she demanded. "And why are you so peppy?"

"Because I just read the most amazing story in the NT today," Sparkles said in a loud voice, hoping to attract attention from the other patrons. "It literally changed my life!"

"I saw a funny comic about a Bruce when I read the NT yesterday," Patricia commented, "And this other one about a Chia and her Meepit visiting the Haunted Woods."

"The comics are for babies and require very little effort to create," Sparkles insisted. "Now a written piece, like a short story, requires many hours of hard work, determination, commitment, dedication-"

"Well I also finished reading a series yesterday," Patricia intersected. "It was about Jerdana, and it had a neat mystery as a subplot."

A pink Uni walking by stopped and said, "I just finished reading the final part, too! Didn't you love it when Jerdana was able to find the jewel thief before her sidekick was arrested?"

A blue Kacheek approached the Uni and nodded. "That was definitely the best part of the whole series."

"I hope the author publishes a sequel," said Patricia. "The characters were so developed; it'd be a shame to not continue their adventures." The Uni and Kacheek nodded.

Sparkles coughed loudly and said, "Well I read another story that was far more fascinating. It's about a beautiful Zafara-"

"Sorry, but I have to go," said the Kacheek. She waved goodbye to Patricia and walked away, the Uni following right behind her.

"They seem very nice," remarked Patricia.

And they didn't say a word about my story! Sparkles fumed. Seriously, how difficult is it for Neopians these days to read one measly short story in the NT?? Is it really that time-consuming to read a 1,400 word story nowadays? What does a Bruce have to do to nab attention in the NT?

After finishing her smoothie, Sparkles got up and walked towards the shop's trash can, where she eyed a red Gelert flipping through a copy of the Neopian Times. In a few moments the Gelert got up and left the shop, leaving his NT issue open-faced on the table. "This isn't my story," Sparkles fumed quietly as she walked past the table. She added silently, Two more days until the next NT issue comes out. Surely by then I would have received just one teeny reply from someone in Neopia Central.

***

"Oh no! It's Friday!" Sparkles shrieked, rushing downstairs to the kitchen table. "I can't believe my time in the NT is over!"

Snaw clapped from his spot at the oven. "And now my new series shall be showcased in the compaka section!"

"There IS no compaka section," Scary grunted, jabbing her bacon with her fork.

Sparkles took her seat and sighed wistfully. "But there is a short story section…one that will feature no stories starring a royal Zafara."

"Are you ever going to shut up about your one hit wonder, Sparkles?" asked Scary. "You already had your seven days of fame!"

"But I haven't receive a single review yet," moaned Sparkles, "and I'm just so antsy about my story. I mean, what if nobody in Neopia read it??"

"Who wants pancakes?" asked Snaw, twirling around the kitchen with a frying pan in hand. "If I can fly, then my pancakes will morph into winged Snorkles and gold will rain from the ceiling."

Scary moaned and stuffed her face with scrambled eggs. After swallowing her mouthful, she asked Sparkles, "Did you really submit your faerie tale to the NT just to receive some recognition?"

"Only a little," said Sparkles, blushing. She covered her pancakes with berry syrup. "Anyways, it's not like my story was super horrible, right?"

"Maybe not to babies," Scary grunted.

"Then surely I deserve just a little bit of respect," Sparkles insisted. "You know, just enough to motivate me to continue my possible NT career."

Scary jabbed her bacon harshly. "So what you're saying is that because you received little to no attention for your story, you're now feeling like the time you spent on your faerie tale was a waste?"

"That's not true!" Sparkles insisted.

"Face it Sparkles," Scary sneered, "you're nothing but an NT attention seeker! Your whole scheme through all your petty complaining was to gain sympathy for being ignored, when in reality YOU didn't even tell one other soul about your story being published. Then you expected to be catapulted into NT stardom, which will serve has 'motivation' to continue submitting stores. Like, even!"

Sparkles was quiet. Staring at her bowl of cereal, she wondered whether or not Scary was telling the truth. Did she really only care about NT recognition? Was there anybody else, besides her family, she had informed about her story? Feeling queasy, Sparkles finally groaned loudly and blurted out, "You're right! All this time I should have been happy about being in the NT and receiving my first NT trophy! Instead, all I cared about was receiving praise from my friends and strangers."

"And whatever happened to your trophy?" asked Scary. "I thought for sure you'd be carrying it everywhere in your tacky flower-print purse."

"I think Snaw placed it amongst his NT trophy collection," said Sparkles. "Not like it matters. I'm too much of a 'wannabe NT star' to deserve a gold quill trophy, anyways, so why keep it?"

"Well if one Neopian was stupid enough to read your story, then shouldn't that satisfy you?" asked Scary.

"But nobody read it," Sparkles insisted.

"Then just pretend somebody did," Scary suggested. "Just tell yourself they were too lazy to write you a fan mail. There, now you can stop crying and continue your wannabe NT career."

Sparkles stood up. "Scary, you're a genius! And now I feel like writing a new story for the NT. To think the only thing I needed was some self esteem." She grabbed her jacket off her chair and left the kitchen.

Scary glared at her. "Where are you going? Aren't you going to finish your breakfast?"

"I'll eat something later," said Sparkles, smiling eagerly. "Right now I'm going to see Patricia. I can't wait to tell her about my NT story and maybe she can provide some feedback." Her face continued to light up when she said, "But first, I need to find my NT trophy. I can't leave without it!"

The End.