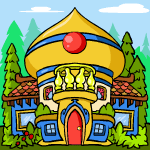 The Traveling Neopian: Neolodge Reviews: Stop #9

by cadetbush

--------

Don't spend your holiday in a tent! Read a review from your buddy, Brent! That's right, my loyal readers, I'm back with yet another quality Neolodge review for you. Before I can get to that, however, I need to give my obligatory background information for all of my new readers.

My name is Brent, and I am blue Ixi with rather fantastic hair. Frosty hair gel is the secret, in case you were wondering. I am employed as a journalist for the Neopian Times, and I have been asked to take a long vacation. This is because I am such a valuable journalist, not because I eat all of the maple doughnuts at the office. I have been tasked with the responsibility of reviewing all ten Neolodge establishments. In order to properly review them, I'm staying at each establishment for four weeks, all expenses paid, naturally. That can be really fantastic at some hotels, like Moutain Lodge and the Hotel Opera. However, it's really too much at other hotels, like Cockroach Towers and the Fleapit Motel

My review will be organized into five plainly titled sections. The first section is titled "About the Hotel," and it's where I talk about the hotel. It's location, the number of stars it has, the class of hotel it is, how much it costs, what it looks like, what I've heard about it, maybe even some of the history. The next category is called "First Impressions," and I discuss, well, my first impressions of the hotel on the first day of my holiday. After that is my "Second Impressions" category, where I discuss my impression of the hotel after having stayed there for two weeks. Then I write my "Final Impressions" category, which is where I discuss my impressions of the hotel after having stayed there for four weeks. My last category is entitled "What to Bring" and this short section is where I list all of the items that I would recommend bringing with you if you planned a holiday there. That pretty much summarizes the format of my review, so I think it's time for me to move on to the actual review. It's going to be a good one; I'm reviewing Presidential Palace today!

About the Hotel:

Presidential Palace is an extremely luxurious resort located on the eastern shore of Mystery Island. It has fifteen floors that stretch up high into the sky, as well as five lower floors that sink below the island's surface and underwater for some spectacular aquatic views. It's crafted mostly from bamboo and transparashield to offer an authentic island feel, and large tropical flowers are artfully grown all over the place. For a single night's stay, it costs a mere 200 neopoints, 260 neopoints for an all-expense paid night, and a total of seven thousand, two hundred and eighty neopoints for an all-expense paid four week stay. It's very pricey, but a five star deluxe hotel isn't going to be cheap. I just hope that it's worth it!

First Impressions:

I was very impressed by the size of this hotel. While most buildings on Mystery Island are one story bamboo huts with straw roofs, this building reached an astonishing height, so high that I couldn't even see the roof. Steering away from the height, it has many elements of native architecture. The construction materials really do a lot for it. There was a soft sandy path leading up to the resort, lined with poles connected by weathered ropes. Right in front of the hotel was a neat line of comfortable rickshaws pulled by coconut JubJubs for visitors that wanted a tour of the island. It looked absolutely wonderful!

After stepping across the straw welcome mat, I was greeted by a powerful blast of cold air conditioning that smelled like tropical flowers. It felt great, especially because it was such a hot day on the island. After recovering from the shock of the frosty air conditioning, I was finally able to take a good look at the lobby.

I have never seen a lobby as big as the one at Presidential Palace. Most hotel lobbies have a fountain, a couple of chairs, a coffee table, maybe some side tables, possibly a throw rug and a few throw pillows, and a check-in desk. This was so much more. I'm not even sure how to start describing it! It's so over the top! A cool grey stone floor, sturdy bamboo walls, enough tropical plants to start a personal jungle, comfortable seating, a brightly coloured firepit lined with toasting forks, a coconut themed juice bar, a Tiki Tack retail gift shop, a craft station where you could custom-make sand bottles, a sandbox stocked with all the sand toys a baby Neopet could want, a tranquil meditation corner complete with fountains and squishy mats, an aquatic petpet petting zoo, bubble blowers, and tropical scented candles. It took me at least ten minutes to find the welcome desk.

"Hello and welcome!" an island Cybunny said cheerfully. "Hey! You're that reviewer aren't you? Brent!"

"That's me," I said as modestly as I could.

"I'm Cara. I've read all of your articles!" she exclaimed. "My favorite so far was the one about Mountain Lodge. I'm totally booking my next holiday there! If there is anything you need, just give reception a call! Presidential Palace is happy to have you!"

"Thanks!" I replied, handing her the neopoints for my room. "I'll take one room for the next twenty-eight days."

"Would you prefer an island view or an aquatic view?" she asked.

"Which would you recommend?" I asked.

"Well, both views are absolutely breathtaking. You can't go wrong with either. However, I would recommend the aquatic view. You can't get a view like that anywhere else on the island," she said.

"It sounds perfect!" I exclaimed.

"Here's the key to your room," she said, handing me a brass key on one of the most unusual keychains I have ever seen. It was a piece of driftwood with small shells and bits of coral embedded into it.

"Thanks a lot!" I exclaimed.

"I really hope that you enjoy your stay here!" she said excitedly. "Oh! And before I forget, Mike, my manager, has instructed me to give you a tour of the hotel whenever you're ready."

"I'll take you up on that later," I replied. "Right now, I'm eager to get a good look at my room."

"Of course!" she exclaimed. She rang a little bell on her desk, and an island Draik in a spiffy green uniform came up to me.

"May I take your bags, Sir?" he asked.

I handed him my suitcases, Cara gave him the room number, and he lead me over to a steadily winding staircase. We walked/flew down five flights, and then he showed me to my room.

"I'm sorry that it was such a long hike, Sir. However, I can assure you that this floor has the finest underwater views in the hotel," the bellhop said.

"Oh, it's all right. After trekking up and down stairs at eight other hotels, five flights isn't a lot to worry about," I assured him. "They sure were long flights though. The rooms must have really high ceilings."

"Well, not exactly, Sir," he replied.

"What do you mean?" I asked.

"See for yourself," he said warmly, opening the door to my room.

The first thing that I saw was the glass wall. I raced over to get a better look. I had never seen such an array of colourful coral. There must have been fifteen different types, at least! I saw a family of Baby Blus making a cosy home in a purple reef just a few feet away. Above them, I watched as four Tanizards chased each other around, creating a swirl of bubbles. And someone must have sprinkled some Negg flakes on the surface because dozens of Catamara started paddling towards the surface. I had never seen anything like it.

"Where should I place your bags, Sir?" the bellhop asked.

I had completely forgotten about my bags.

"Just set them anywhere," I said, turning around for the first time. That's when I realized; my room had two stories. I could see the glittering brass railing of the second floor about seven feet up.

"There are two stories?" I asked.

The bellhop nodded.

"Wow," I said, too amazed to say anything else. I then realized that I hadn't tipped him yet and a fished through my pocket for a one hundred neopoint coin. It was the last of my earnings from my stay at Ye Old Ship Inn.

"You're very generous, Sir!" he exclaimed.

"Well, the service was excellent," I replied.

"Is there anything else you need, Sir?" he asked.

"Nothing at the moment. Have a wonderful day!" I said cheerfully.

"The same to you, Sir," he said respectfully. He then left me to my exploring and unpacking.

The first floor had a comfortable sitting area with plush seats, coconut lamps, and a highly polished coffee table. Laid out neatly on the coffee table was a crisp copy of the Neopian Times, the latest issue of Mystery Island Monthly, the new issue of Neopia Weekly, and a neatly folded copy of Local Happenings, and in the very center of the coffee table was a brightly painted fruit bowl filled with an assortment of native fruits. Off to the left of the sitting area was a very clean kitchen with a stove, a toaster, and a coffee pot, and to the right was a wooden desk with a comfortable armchair. I knew that I was going to be getting a lot of work done.

On the second floor was the bedroom and the bathroom. The bedroom was incredibly clean, and I loved the sunset coral bed. I was sure that the craftsmanship was Kiko Lake's. Next to the bed was a coral side table set with a small lamp. The closet was large, and I had more than enough space to store my clothes. The bathroom next to this room was very nice as well. The floor was made from a sandstone-coloured marble and several large mirrors paneled the walls. A large bathtub had been sunk into the floor, and by looking at it closely, I could tell that it was a jacuzzi. There was a coconut sink and toilet set, and the linen closet was stuffed with fluffy towels, organic shampoos and conditioners, tropical scented soaps, relaxing bubble baths, lotions, creams, bath salts, and everything else that I could possibly need. It looked absolutely fantastic!

Since I had finished exploring, I unpacked, grabbed a twirly fruit from my fruit bowl, and headed down to the lobby to meet up with Cara. She was only too happy to show me around.

"Where would you like to start?" she asked.

"How about the swimming pool?" I suggested.

She showed me the pool, and I was impressed. Not only was it twice the size of any other pool in the hotels, but it had a pair of diving boards (a high one and a low one) and not one, not two, but three deluxe waterslides. There was also a shallow pool for baby Neopets, complete with a small waterslide of its own. Lounge chairs and towel racks lined the room, and the east wall was a giant window, letting in plenty of natural sunlight.

Right next to the pool were the tennis courts, which had just been resurfaced. There was an ample supply of tennis rackets and balls for anyone who didn't have their own. Right across the hall was the fitness center, equipped with all of the latest exercise gear and five drinking fountains.

After touring all of the exercise facilities, Cara showed me the spa, which seemed to be a sea of mud baths, coconut milk baths, hot water baths, cold water baths, twirly fruit and lotus soaks, hot rocks, soothing stones, facials, seaweed wraps, nail and hoof treatments, scented candles, hot towels, loofahs, and fluffy bathrobes. There was also a line of neat little makeover stations if you like that sort of thing. The sauna looked nice though. Nice, hot, and steamy, just the way I like it. Then she showed me the laundry room across the hall which was well-staffed with trained professionals in laundry. Each garment was washed in the proper manner, steamed, pressed, and sent promptly back up to the room. It was a very impressive and efficent service.

The last stop on the tour were the dining facilities. We started off with the burger bar, which was a buffet that seemed to be a quarter of a mile long. White buns, whole wheat buns, rye buns, sourdough buns, altadorian buns, buns shaped like every Neopet, jelly buns, onion buns, parmesan herb buns, qando buns, yeasty buns, and toasted versions of all of them. Then there were beef patties, chicken patties, crab patties, and tofu patties at any level of grilling, followed by over two dozen cheeses, four kinds of lettuce, two types of tomatos, six different kinds of onions, four colours of peppers, three types of bacon, more sauces than I have ever seen, and four varieties of pickles. Following that were the side dishes, featuring endless chips, salad, tropical fruit salad, deceptive salad, soups, baked potatoes, grilled shishkafruit, grilled neggs, and ice creams. I don't think you could ever run out of combinations. There was also plenty of seating and a long drink bar serving pretty much every kind of drink.

The restaurant was incredibly fancy with long tablecloths, ornate place settings, crystal dishes, more utensils than are usually necessary, tropical centerpieces, and embossed menus with more than ten pages of choices. The kids menus were even embossed! How does anyone make a decision around here? There are just too many options!

As soon as the tour ended, I helped myself to as much food as I could hold and went to bed feeling more full than I had ever felt in my whole life.

Second Impressions:

After two weeks, I have usually experienced everything there is to experience at a hotel. There usually isn't that much to do. But I've only started to cross things off of my checklist. You could spend an entire day in the lobby alone. In fact, I did that one day. I sampled eleven different fruit juices at the juice bar and all of them were delicious. I went shopping at the Tiki Tack store and purchased some souvenirs for my friends back at the office. I took a meditation class. I learned all about aquatic petpets and how to properly feed, handle, and care for them. I played in a sandbox, which I haven't done for a very long time and still enjoyed. I prepared my own breakfast, lunch, and dinner over an open fire pit. I even made my own custom sand bottle, with a seashell shaped bottle and layers of blue, green, purple, and black sand. And you know what? I think I'll do it again before I leave this hotel!

Outside of the lobby, I'd have to say that my favorite place is the pool. I've always loved swimming, and the waterslides here are awesome! I've been on all of them at least ten times. The diving boards are top notch too! I've had so much fun at the pool here!

There's another benefit of visiting the pool so often; it's a great way to burn off calories. I've really needed that, because I've eaten so much food. It's outstanding! Why, just yesterday I woke up, had a cup of azzle coffee, ordered a fruity swirl souffle for breakfast, had another cup of azzle coffee, went down to the lobby for a morning meditation class, had a coconut cocktail, decided to get a coconut fruit cup, a serving kelp lasagne, and some roseatte ice cream. I got hungry a little later and snacked on some oyster salad. Later, I went to the restaurant and ordered some mango crab salad, a lobster berry surprise, and a chocolate orange volcano. Then, as night closed in, I found the latest Neopian Times issue, grabbed a piece of fresh fruit from my fruit bowl, and soon nodded off. I would highly recommend any of the food items listed above, along with the strawberry salmon and seven layer mousse. Delectable!

I've also had a chance to check out the island. I paid one of the coconut JubJubs outside the hotel to show me around, and I've taken the tour three times. Mystery Island is a beautiful place, and you can never see it often enough. I'll never get tired of that tropical sunset. Sometimes, it is so beautiful that I regret taking an underwater room. But then I get back to the room and decide that I made the right choice after all. From my room, I get a view unlike any other. Coral, sea sponges, and dozens of aquatic petpets can be seen any hour of the day from my window. It feels like I get a preview of all of the secrets of the deep. It can be a bit dark a night and I miss having natural sunlight to light my room in the morning, but the room is still well lit by coconut lamps.

I still have yet to check out the tennis courts, the fitness center, and the sauna, and I'd still like to climb up to the top of Techo Mountain before I go. Ah, well, that just means that I'm not going to be bored.

Final Impressions:

Well, it's my last day at Presidential Palace, and I can hardly believe it. There is still so much that I haven't had the chance to get done! I did manage to check out the hotel facilities. The tennis courts are very nice, the sauna is the most relaxing one I have been in for a long time, and the fitness center is perfect for a good workout. I also managed to climb all the way to the top of Techo Mountain and spend another entire day in the lobby. But there are still thirty-two juice flavours that I haven't tried at the juice bar, countless dishes that I haven't tried yet, infinite burger combinations left undiscovered, and a lot of places that didn't get as much attention as they deserved. I think that another holiday may be in order. Presidential Palace, I'm coming back to you one day! And hopefully that day will be soon!

I'd also like to give a big shout out to maid service. My hotel room was perfectly kept at all times, my news was always right on time, sometimes earlier than I expected, and the weekly fruit bowls left in my room were absolutely marvelous! Thank you for twenty-eight days of excellent service!

What to Bring:

One last category; my list of things that I would recommend bringing to the hotel. It's going to be short, but here it is:

-Sunscreen- I'd recommend something strong. You can soak up a lot of sunshine on Mystery Island!

-A pocket calendar- To help you keep track of all of the things you'd like to get done.

-A notebook- Something big and thick. You may want to write about your experiences.

-Neopoints- You're going to want to tip the service a lot here.

Well everyone, that's it. Everything else is here for you. On a holiday like this one, you will never ever be bored, and you will never run out of things to do. That's what I love about this hotel: You can do as much or as little as you would like, and it's all wonderful. I'm really sorry that I have to go now, but also really excited about going to Astrovilla later today! Wow… I'm going to Astrovilla, rumored to be the finest hotel experience in Neopia. I don't know how anything can top this! I guess I'll find out. Stay tuned, my loyal readers, one last time. Astrovilla is going to be my final stop, and then it's time for me to get back to work. My colleagues are going to miss the maple doughnuts that they have been able to consume in my absence. This is Brent, setting down his quill.