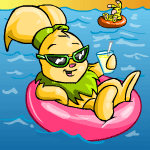 A Lady's Guide to Summer Fashion

by aprildewdrops

--------

Greetings from Neopia Central! Miss April here, with the latest on summer fashions. As we all know, summer tends to get hotter towards the second half of the season, and I'm here to help stay cool and fashionable this season.

The key to a great look is deciding on your focal point, that's where these backgrounds come in handy.

1. Bog Shanty Background

This background is located in the NC mall and costs 200 NC at the time this article was written. It features a delicate balance artfully mastered between floating lanterns and the rustic scene of the backwoods. It screams of easy summer nights spent out celebrating with friends.

2. Docks of Altador Balcony

Sure, the beach is the antithesis of summer, but who says you actually need to be at one in order to be in a summer mood? This 200 NC background features beautiful bouquets of flowers closer to the foreground and a beautiful view of the Altadorian coastline in the back. This background breathes of peaceful days spent relaxing.

3. Neogarden Background

This is a background that can range at the shop wizard anywhere from 2,700 NP to 60,000 NP at the time this article was written. However, despite the price it is a great background to have. Every respectable lady should have a beautiful garden to retreat to, and with beautiful stone paths and a gazebo, this garden will make you want to stay all day.

4. Underwater Background

Do you have a Maraquan pet? Even the ladies underwater deserve to be pampered. What self respecting lady would walk into Kelp while just floating aimlessly in a field of white? The Underwater background features a beautiful view of the ocean floor with some various flora and sunlight shining down. This background is fairly expensive though, and can cost around 490,000 np.

5. Pretty Tropical Lagoon Background

Does your Neopet love the water but doesn't want to be completely submerged? Or are they a Maraquan visitor to the land? The Pretty Tropical Lagoon Background an interactive water background that allows your pet to cool down in the cool lagoon without getting themselves too far into the water. A beautiful lush jungle is visible in the background, making it a perfect place to splash and play. At the time this article was written it cost 200 NC in the NC mall to purchase.

Now that you know where your Neopet is, we can dress them for their surroundings. A pet on the beach can get away with a swimsuit, whereas you would want to be more covered up if your pet is out at night.

1. School Girl Shirt

Yes, I know it's summer,but just because school is out doesn't mean that this classy look is. It can cost anywhere between 32,000 to 72,000 NP in the shop wizard. A plain white shirt featuring a blue bolo tie, it is the epitome of class, even when school isn't in session!

2. Sunny Tuskaninny Dress

Of course, a beautiful sundress can make dressing your neopet super easy. Featuring spaghetti straps and a dark orange trim garnished with flowers around the otherwise yellow dress, your pet will feel like a ray of sunshine all day long. A Sunny Tuskaninny Dress can cost anywhere around 12,000 to 42,000 NP at the shop wizard at the time this was written.

3. Summer Dream Dress

This dress is self explanatory, floating off the pages of a story, the Summer Dream Dress elegantly flows from the top of it's light blue, crystal encrusted straps to its flowing, white and blue striped skirt. Flattering on nearly every Neopet, this is a beautiful look that is truly to die for. At the NC mall, this dress costs 150 NC.

4. Tulle Cloud Skirt

Summer evokes images of freedom, and what better way to proclaim your love of freedom and carefree days than a skirt that reminds everyone around you of a cloud? Soft and light, this skirt is a great choice for a lady who wants to spend a day browsing the streets of Kiko Lake or taking a boat tour! It costs 150 NC at the NC mall.

5. Delicate Blue Dress

Have an important dance or fancy dinner party to go to? Impromptu trip to Kelp? This is the perfect dress to help you stand out in the fancy crowd. A light blue overdress covers a seafoam tulle skirt to give the skirt some volume, while seafoam trim and beads adorn the top layer and give it a touch of class. A smattering of white lace covers the neckline and upper bodice, giving it a unique look that invokes thoughts of a cresting ocean wave. Beautiful for any and all Neopion ladies, this is a dress that will make others stare in awe. It is available in the NC mall for 150 NC.

Now that we have a few clothing options, we need to talk accessories. The perfect accessory neither takes away nor draws attention to your Neopet, it simply compliments their outfits.

1. Pink Sun Hat

Any lady of class knows that a sunburn on your face is not a good look. Protect your pet's face from the sun's harmful rays with this cute purple bonnet. Long, pink ribbons cascade down the back of this hat, donned with small three small red flowers and a blue ribbon. At the shop wizard you can buy this item from anywhere around 20-250 np. It's also available at a shop in Neovia called Prigpants and Swolthy, Tailors.

2. Delicate Lace Parasol

Antique lace beautifully strung along teak poles define the charm of this old world novelty. The sun is not a friend to a lady living in a sunny part of Neopia like Kiko Lake, Altador, Mystery Island, or the Lost Desert. To avoid sunburns, use this delicate parasol to shield your little lady from the hot Neopian sun. Available in the NC mall for 150 NC.

3. Red Chevron Umbrella

If parasols aren't your thing, than an umbrella may be more your style. The Red Chevron Umbrella offers good looks with an easy, comfortable style. Available at the NC mall for 150 NC, your pet will be the talk of the town when strolling down busy sidewalks bearing this umbrella proudly.

4. Elephante Peanut Umbrella

If you're looking for an accessory that can stand alone, then look no further. With the color and texture of a peanut, the Elephante Peanut Umbrella is a perfect statement piece. It is available from the Shop Wizard for anywhere between 2,500 NP to 13,500 np.

5. Wigs

Different wigs tend to look better with different neopets, if your pet hails from Maraqua then I suggest the Maraquan Ombre Ocean Wig that is available for 150 NC in the NC mall. The Golden Underwater Wig also is a great idea for anyone whose neopet lives under the sea, it is also available for 150 NC in the NC mall.

A few other great wigs are the:

Curly Blonde Skeith Wig- costs 20,000 NP and up

Tied Bandana Wig- costs 150 NC

Starry Auburn Wig- costs 150 NC

Aisha Maiden Wig- costs around 11,300 NP

Blue Wocky Wig- costs around 100,000 NP

Blumaroo Shepherdess Wig- costs anywhere from 29,000 NP and up

These are not your only choices for summer fashion, but are examples that can be used to keep your Neopet calm, cool, and collected in these hot weathered months.